Juan Francisco Estrada vs. Roman Gonzalez Fight Analysis & Predictions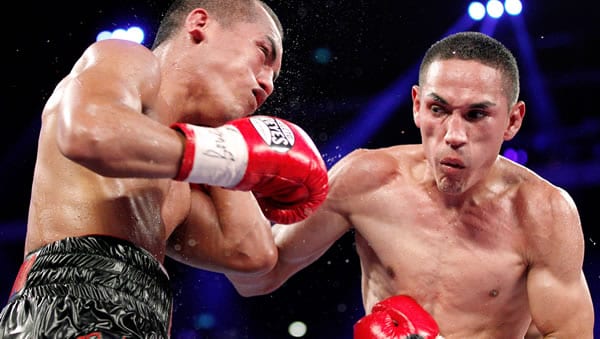 Juan Francisco Estrada (41-3, 28 KOs) vs. Roman Gonzalez (50-2, 41 KOs)
When: Saturday, March 13, 2021
Where: American Airlines Center, Dallas, Texas
TV: DAZN
Weight Class: World Super Flyweight Championship
Betting Odds: Juan Francisco Estrada (-150), Roman Gonzalez (+120)
Fight Analysis:
Juan Francisco Estrada takes on Roman Gonzalez for the World 115-Pound Championship in Dallas on March 13. We're looking at two of the most-illustrious fighters in the lower weight classes in modern times. And with a ton of really good fighters at or around 115 pounds, you have two of the biggest names here. Estrada, 30, has already avenged two of his three defeats and now looks to have beaten every man he ever faced by defeating the man who beat him in 2012. But the tables have turned since that night, and it is now Estrada who is favored. Let's break this one down!
When they first fought in 2012, Gonzalez was on the cusp of becoming considered one of the best fighters on the planet. The diminutive Nicaraguan was running roughshod over everyone in his path, but he got a good fight from the young Mexican in defense of his 108-pound belt. They're heavier now, eight years older, and a lot has since happened. Gonzalez, now 33, which is somewhat ancient for fighters at this low of a weight, saw his 46-0 record come crashing down with two brutal losses to Thai Srisaket Rungvisai, who also beat Estrada. But whereas Estrada was able to exact revenge, Gonzalez was not.
The thing is that usually, when a fighter at this low of a weight goes on a long run and then gets beaten a few times, it's the beginning of the end. Gonzalez is getting up there. No one fancies him as a top guy anymore. But he won't go away, either. In fact, it's admirable that he's been able to level off the forecasted deterioration. While no longer the impenetrable ultra-skilled take-no-prisoners slugger with speed and power to overwhelm his foes, he's still a big handful.
Gonzalez's comeback bid didn't get much notice, and he didn't look great in spots, but in springing an upset KO over 26-0 Khalid Yafai to win another belt at 115 pounds turned some heads. And with a title defense over Israel Gonzalez in October, he has managed to stay active. But the fighter he beat eight years ago is no longer the same guy, and Gonzalez will need to recapture some of his prior form if he hopes to spring the upset on Estrada.
The champion known as "El Gallo" is not the wispy kid Gonzalez saw all those years back. At 115 pounds, he's a steely and grizzled world champion with enormous credentials. For the better part of a decade now, he's been handing out Ls to the best in two different divisions. A supremely-skilled and resolute battler with oodles of intensity and drive, Estrada is everything you want in a fighter. He can box beautifully. He can get in there and rip shots seamlessly to the head and body. He's not the first of his kind, but his kind is a serious problem for opponents. He's one of those great Mexican champions who embodies all those typical characteristics—guts, skill, power, and finding a way to dial up the right recipe. Since he came into his own, only the great Thai was able to beat him, and that was by majority decision in a loss he later avenged.
Gonzalez has beaten him before. One could see why that would bolster the hopes of a potential Gonzalez backer in this spot. A backer could also sign off on the notion of greatness. Gonzalez, for whatever he is now, is a man who reached heights that few others have in the history of this sport. There have been lower-weight great fighters who operated off the radar on foreign soil before, but very few rose to the levels Gonzalez has, and at one point, some considered him to be the best pound-for-pound fighter in the world.
The way Gonzalez has been able to get back in the mix is admirable. And when great fighters have one last chance to add that big diamond centerpiece to their resume, you can't undersell them. Gonzalez is still dangerous. He has tricks, the result of a long career spent fighting the best. He first won a belt at 105 pounds back in 2008. This is his fourth weight class, having been a champion in all of them. That's a lot of craft, a lot of know-how, a lot of having dealt with different styles and having always found a way to win—except for one guy who just had his number. And it's not just any guy, being that it's also the only guy to have beaten Estrada while he was in his prime.
In other words, there is a route to the winner's circle argumentatively for Gonzalez if one were inclined to make that case. Again, these are weight classes where you don't see fighters thrive for very long. Most are wrapping it up by age 30, and the best ones might get 5-6 years at the top. Gonzalez is in his 14th year of world championship combat. That doesn't happen by accident. Betting against Gonzalez simply isn't an easy thing to do.
It's just that Estrada is so darned good. He has really come into his own, and as it sits now, he looks to be one of the best 115-pounders I've ever seen. That doesn't mean he can't lose. But if I were to pick against him, I'd like to see a more ideal set of conditions. Gonzalez is a little worn-out, a little depreciated from the guy we saw 6-7 years ago. And I just don't see a fighter on the downward descent of his career having the wherewithal to outlast Estrada in a protracted battle. I'll take "El Gallo" in this one.
My Prediction to Win the Fight:
I'm betting on Juan Francisco Estrada at -150 betting odds. Estrada is at the peak of his career, and Gonzalez is not. Last time, that very thing decided their fight, when a prime champion Gonzalez outdueled the not-ready-for-primetime Estrada. The pendulum has swung, and now it's Estrada's turn. Bet your Estrada/Gonzalez pick FREE by scoring a 100% real cash bonus on your first deposit of $100 to $500 at BetNow Sportsbook! They're GREAT at getting credit cards to work for deposits!