Jake Paul vs. Ben Askren Fight Analysis & Picks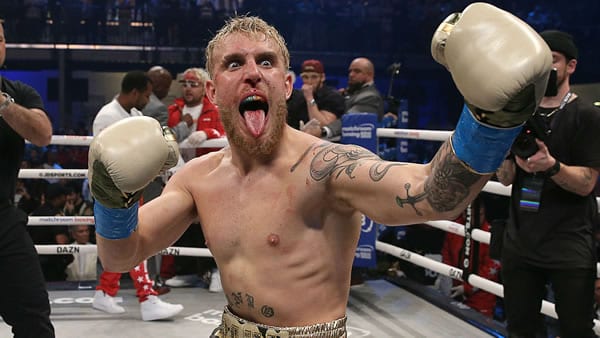 Jake Paul (2-0, 2 KOs) vs. Ben Askren (Pro Debut)
When: Saturday, April 17, 2021
Where: Dignity Sports Park, Carson, California
TV: PPV
Weight Class:
Betting Odds: Jake Paul (-270), Ben Askren (+210) Bet your pick LIVE in progress at the best live wagering platform on the planet —> Bovada Sportsbook! Credit cards work for deposits and they'll give you a generous 50% signup bonus!
Fight Analysis:
Jake Paul takes on Ben Askren in an 8-round cruiserweight bout in Carson on April 17. This is a new kind of boxing. Generally, a 2-0 pro who never beat a real boxer facing a debuting fighter would not command betting action. But with Paul's large internet following, these novelty bouts are getting a lot of attention. And after Paul opened some eyes by starching former NBA star Nate Robinson, some have actually started taking his boxing halfway seriously. He will now fight a real fighter in Askren, albeit an MMA fighter who was never known for his hands. Nevertheless, it's an interesting fight to break down.
The first thing to do is to make sure we're not carrying any baggage into this fight. With Jake Paul, you have a guy that many would like to see get beaten up. There is something about him, mostly by design, that makes you want to punch him in his face. In his last fight, I let it get the better of me. I figured an athlete good enough to win slam dunk titles would be more than enough for this punk, but no such luck. Not even close. Robinson simply couldn't fight.
For whatever we might think of the kid, he has worked hard to become a boxer. He is not without some athletic ability. And the work has paid off, as Paul does look like he's getting better and taking this seriously. And let's remember—he's not taking on other pro boxers. His first fight was against a ghastly non-boxer before he blitzed Robinson. Now he gets a waning MMA star whose recent work leaves questions on whether he's still got what it takes. In other words, Paul is not being pushed into the deep end. Against this level of fighter, maybe he can make this work.
There are advantages for Paul. While it has been in completely different contexts, Paul is winning, and Askren is not. And sure, Paul hasn't had to face monsters like Jorge Masvidal, but trajectory counts for something. Paul is also a bigger man, standing six-one and a well-proportioned 190 pounds. Askren had a dad-bod at 170 and probably could have made 155 if he wanted to. He will be giving up several inches in height and reach. And in a sport that favors youth, Paul being a dozen years younger at 24 is also worth considering.
It's difficult to assess Askren for the purposes of this fight. An MMA fighter who was almost completely dependent on wrestling, the idea of him boxing doesn't elicit a lot of hope. Recent memories count too, and losing to Damien Maia and getting stiffened by Masvidal in his last two fights doesn't paint him in a great light. An undefeated fighter when he came into the UFC, 2019 was a disastrous year for him and his legacy. After taking 2020 off, what does he really represent at this point?
NOTE: WE ALSO OFFER MMA PICKS!
By the same token, however, Paul has never beaten a fighter. With Askren, you have a guy who has beaten guys like Douglas Lima, Robbie Lawler, and a slew of dangerous welterweights, all of whom would rip Paul's head off if they fought. Granted, he didn't beat them with boxing. Still, beating righteous fighters, however that might come about, is something that Askren has done, while Paul has not. The question is that now that he's being stripped of his best fighting skills, will Askren still be effective?
While he never relied on his boxing, Askren is an MMA fighter. Exchanges are going to happen. And to his credit, Askren does have six stoppages where his punches played the determining role. And yes, his wrestling was a key part of that, as well, with opponents fearing his extreme wrestling skill and allowing Askren to land some punches as a result. He won't have that luxury in this fight.
But on some level, fighting is fighting. A former collegiate and Olympic wrestler, Askren has been locked into this one-on-one style of sports for the past two-plus decades. The bottom line is that Askren has faced far more-dangerous men and won. He was able to not get knocked out by far more fearsome strikers. Unlike Paul, he has been in there with real people in the fight business. That has to count for something, right?
In cases like these, maybe one should follow the money. Jake Paul and his brother have ushered in this new kind of fighting, a version of celebrity boxing that has gotten a lot of attention. Taking this Jake Paul thing as far as they can could yield a lot of money. There would be no such money if Askren won. It would put a crimp into this whole phenomenon. The money is if Paul wins. There's no money in this if Askren wins.
That alone doesn't mean Paul is going to win. But it does count for something when it's this abundantly clear what the organizers of the event want to see happen. And perhaps this calculated move is the right one for Paul. While the name Askren does command a certain measure of respect in the fighting world, he is not what he once was. His stay in the UFC was cut short and in fairly definitive fashion. At the end of the day, you have a depreciated fighter who has had his lights turned off recently. You have a fighter who simply isn't that good with his hands. And I think a bigger boxer like Paul, even in the early stages of his career, might be too much for Askren in this context. I'll take Jake Paul.
My Prediction to Win the Fight:
I'm betting on Jake Paul at -270 betting odds. While Askren is the only one of the two who has succeeded against legitimate fighters, Paul's size and greater exposure and aptitude with actual boxing should see him through. Bet your Paul vs. Askren pick FREE by taking advantage of a 100% REAL CASH bonus on your first deposit of $50 to $500 at BetNow Sportsbook!
100% REAL CASH up to $300

USE BONUS CODE:
PREDICT100