Sports Betting Tools & Picks
Bet Smarter.
In their last meeting, the Raptors gave the Celtics a Boston Beatdown in a 113-102 game that was not quite as close as the final score indicated. Last season, Boston was a top-10 home team, and the second best home team ATS in the NBA. In order for Toronto to keep their momentum going, they'll need to hit Boston's defense where it hurts. And that is right at Kyrie Irving. Kyle Lowry is – as they say in the business – a "bulldog;" he'll bite your head off without chewing. Kawhi Leonard is the superstar of the Raptors' roster, but every Lone Ranger needs his Tonto, and Lowry is that guy. Can Lowry take it to Irving again and keep the C's from writing a revenge story line? Raptors vs. Cs
Louisiana-Lafayette is facing off against their second top-10 team in as many games after being subjected to the wrath of the Tennessee Volunteers in their last outing. They do have a solid game to build on however. UL scored 120 points in their home opener and are making 11 3-point field goals per game, and their 18 ppg senior forward JaKeenan Gant is a legitimate problem for opposing teams. Is getting hot from beyond the arc the only way the Caguns can stay within 21 points? KC has his basketball prediction! Louisiana vs. Kansas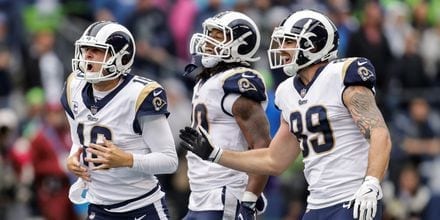 Sportsbooks say the Rams are more than a FG better but do the numbers align with this thinking? The key stat that separates these teams and the only statistical blemish for the Rams is red zone efficiency. This is the chink in the Rams armor that may end up holding them back down the stretch. They are only scoring touchdowns on 56% of their trips to the red zone, good for only 16th in the league. The Chiefs are scoring touchdowns at a 71% clip, good enough for 6th in the league. Keith Allen takes a deeper look at the matchup and gives his prediction.
---
---
---
---
---
---
---
---
---
---
.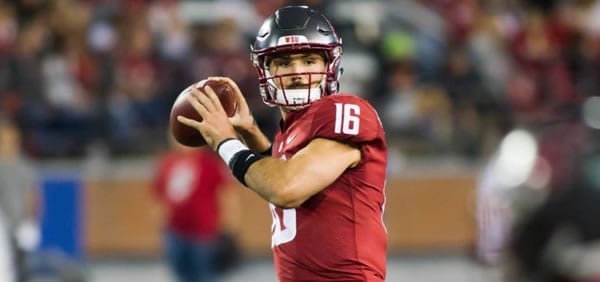 Washington State scored the last 31 points on route to a 31-7 road beat down of Colorado. The team will look to continue their fine play when they host an under-rated Arizona team who has played tough in all but one of their PAC-12 matches. The 10-point line seems to be on the high side forcing Wilson into playing the the total. Check out his analysis.
---
---
---
---
---
---
---
---
.
It is clear that this Seattle Seahawk team is limited in certain phases but they are still near-elite in others, including leading the league in rushing at 152 yards per game. Coach Pete Carroll will not be shy about deploying that running game against the 22nd ranked rush defense of Green Bay. Is that matchup advanatage enough to make Seattle the favorite here? Ted Walker gives his NFL prediction. Packers vs. Hawks
In Thursday night AAC action, the Green Wave head to Houston to take on the Cougars. The sportsbooks now lists Houston as a -9.5 point favorite for this contest (down from 10) with a O/U total line of 67 points. Predictem college football handicapper Jay Horne thinks that the dog may be worthy of a play here. Read Jay's pick. Wave vs. Cougars