Sports Betting Tools & Picks
Bet Smarter.
It's been an… uneven start to the season for the Lakers. Between on-court fights, chemistry issues, Magic-Luke Walton tension and Carmelo-to-LA rumors, it's a tumultuous time for the King in his new home. I'm not sure what is more amazing to me: the fact that the Lakers have fought their way back to 9-7 with a +1.2 point differential, or that LaVar Ball has managed to keep his mouth shut. Despite all that, LA has Lebron and Cleveland doesn't. Sportsbooks essentially have Lebron being worth 9 points. Kyle Cash has his own numbers. Lakers at Cavs
North Carolina looks like it usually does at the start of a season… long on talent and great coaching, which has consistently made it one of college basketball's blue-blood programs. NC wasn't afraid to risk its status playing Wofford and Elon on the road, and they have shown more than just bravery, as they hasn't been held below 90 by anyone besides Wofford. Texas averages 77 points per game so how do the Longhorns close that gap? DJ breaks down this match up. NC vs.TU
Thanksgiving Football Picks
When these teams met in week 3 with identical 1-1 records in Atlanta, the Falcons were 4 point favorites. Both teams were considered top 3 teams in the NFC, both had an equal chance to be 9-1 coming into this game, and it appeared it would take injuries for one of these teams to be 4-6. The Falcons were considered a slightly better team. Since winning the week 3 OT game, New Orleans has been clicking. Everything has gone wrong for the Falcons. Atlanta looks to turn it around as bettors ponder the sportsbook's +12. Saints vs. Birds
This Chicago defense is for real. Their front-seven is immense, with one of the best run-stopping groups up-front. And with Khalil Mack, Roquan Smith, Danny Trevathan, and Leonard Floyd at linebacker, they make a lot of plays. Mack has shown what he can do when the field is balanced with other star players around him. This might be the best Chicago "D" since they won the Super Bowl over 30 years ago. Will the Bears shut down the Lions or will the Lions manage to score like they did a few weeks ago? LL has your Thanksgiving pick! Bears vs. Lions
A lot of people were surprised by the Cowboys 2nd straight road win last week. After going on the road to beat Philadelphia, the Cowboys continued on to take down the Falcons and climb back to .500 on the season and within striking distance of the playoffs. Last week's win over Atlanta was the most impressive when you consider the Cowboys defense held the explosive Falcon offense to just 19 points with a makeshift defensive line. Most betting websites show Dallas -8, suggesting the Cowboys indeed have momentum. Boys vs. Skins
It's the Mississippi State Bulldogs vs. the Mississippi Rebels in the Egg Bowl kicking off Thanksgiving night at Vaught-Hemingway Stadium. MIssissippi St. is a large -9.5 point spread favorite with the total line not yet available. Our college football handicapper Jay Horne weighs out the sportsbook's odds, how these two stack up, and where the advantage lies. Read his take on where your money should land. Miss vs. Miss St.
We finally get the match of the modern golf age when Tiger Woods takes on Phil Mickelson in a made for TV showdown this Friday, November 23rd. Golf handicapper Ted Walker breaks down the match and gives out his projected winner. Phil vs Tiger Pick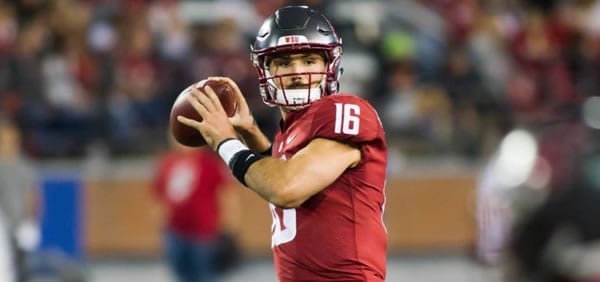 Washington State scored the last 31 points on route to a 31-7 road beat down of Colorado. The team will look to continue their fine play when they host an under-rated Arizona team who has played tough in all but one of their PAC-12 matches. The 10-point line seems to be on the high side forcing Wilson into playing the the total. Check out his analysis.
---
---
---
---
---
---
---
---
.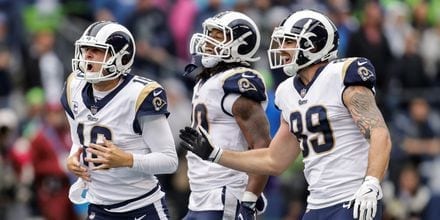 Sportsbooks say the Rams are more than a FG better but do the numbers align with this thinking? The key stat that separates these teams and the only statistical blemish for the Rams is red zone efficiency. This is the chink in the Rams armor that may end up holding them back down the stretch. They are only scoring touchdowns on 56% of their trips to the red zone, good for only 16th in the league. The Chiefs are scoring touchdowns at a 71% clip, good enough for 6th in the league. Keith Allen takes a deeper look at the matchup and gives his prediction.
---
---
---
---
---
---
---
---
---
---
.