[et_pb_dcsbcm_divi_breadcrumbs_module hide_homebreadcrumb="off" homebreadcrumbtext="Home" separator="sep-raquo" hide_currentbreadcrumb="off" homebreadcrumborientation="left" _builder_version="3.8″ fontsbreadcrumbs_font="Lato||||||||" fontsbreadcrumbs_text_color="#000000″ fontsbreadcrumbs_font_size="15px" fontsbreadcrumbs_line_height="16px" fontsseperator_font="||||||||" fontsbreadcrumblinks_font="||||||||" fontsbreadcrumblinks_text_color="#2567cf" custom_margin="25px|||" custom_margin_phone="30px|||" custom_margin_last_edited="off|desktop" custom_css_main_element="font-family: Helvetica Regular;" disabled="on" global_module="3641″ saved_tabs="all"][/et_pb_dcsbcm_divi_breadcrumbs_module]
Iowa State Cyclones vs. Iowa Hawkeyes Basketball Pick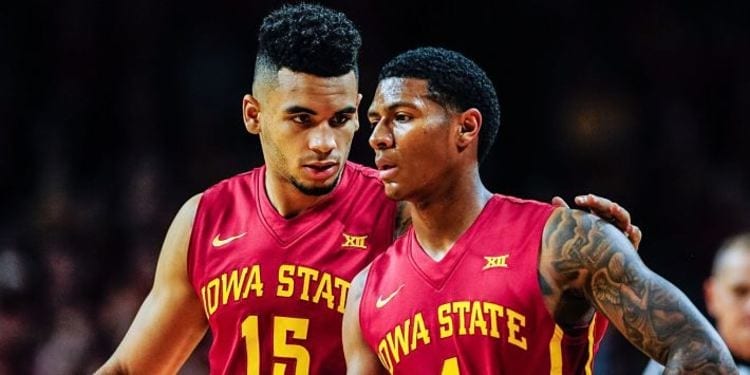 Iowa State Cyclones (7-1 SU, 4-2-2 ATS) vs. Iowa Hawkeyes (6-2 SU, 2-6 ATS)
When: Thursday, December 6, 2018 – 8 PM ET
Where: Carver-Hawkeye Arena, Iowa City, Iowa
TV: FS1
By: Dan Jamison, College Basketball Handicapper, Predictem.com
Point Spread: ISU -1.5/IOWA +1.5 (5Dimes Sportsbook)
Total: O/U 152.5
Last Time Out: Iowa State routed North Dakota State 81-59, Iowa lost at Michigan State 90-68.
Analyzing the Cyclones:
Iowa State might only go five deep with its talent now that Lindell Wigginton is out with a foot injury, but the Cyclones have proven that they can get big nights out of anyone and be successful. With five players averaging more than seven points per game, the Cyclones don't allow opponents to shut down any one thing that they do well, because they'll simply adjust to whatever the defense is willing to give them.
Usually, Marial Shayok has averaged 19.4 points per game and Michael Jacobson adds 16.8 of his own, but the Cyclones have shown that they can get by with one of them having an off night. Spreading the responsibility has helped Iowa State rank 17th in offense per Ken Pomeroy, and they'll need to prove it against a rival they've handled seven times in the past nine meetings.
Analyzing the Hawkeyes:
The shine has come off the Hawkeyes in the past two games, as they've fallen at home to Wisconsin before getting routed by Michigan State. Iowa now stands exposed as a team of mostly the same players as last year and the same problems. The Hawkeyes rely too much on Tyler Cook to do the job, and when a team holds him to under 20 points, Iowa becomes much easier to defeat.
What Iowa doesn't have is depth, and if the Cyclones can wear them down or get Cook and Nicolas Baer in foul trouble, as Michigan State did, either strategy should lead to victory. If the Hawkeyes can get Cook some help, however, Iowa has the edge.
X-Factor:
Iowa freshman Joe Wieskamp. First, will he play in this game? He sprained an ankle against Michigan State and had trouble putting weight on it when the Hawkeyes left East Lansing, and coach Fran McCaffery has said that Wieskamp is a game-time decision. Odds are that he'll play unless he has an unexpected setback, as this is Iowa's only chance to play its in-state rival this year. So that leads into the second question: if Wieskamp does play, how effective will he be? It's never easy to come back from an injury, especially against an opponent as good as Iowa State. Iowa needs him to get hot from 3-point range, so if he isn't on his game, the Hawkeyes will have a hard time keeping up with the Cyclones.
Iowa State Will Cover if:
The Cyclones can extend their possessions beyond a single shot. Iowa State ranks 51st in the nation in rebounding and isn't shy about attempting the 3-pointer, which can lead to some long rebounds. All five Cyclone starters average at least five rebounds per game, so a game full of crazy bounces off the rim favors Iowa State. If they get two or three shots at the hoop per trip, they'll get enough to go down to silence the Carver-Hawkeye Arena crowd.
Thursday Night NFL: Jags vs Titans
Iowa Will Cover if:
The Hawkeyes find their shooting stroke after watching it disappear in East Lansing. McCaffery preached patience for Iowa when it has the basketball after its loss to Wisconsin, but the Hawkeyes went even further in the opposite direction against Michigan State, shooting 32.8 percent and getting blown out by 22 points. This game absolutely demands Iowa take the pleas of its coach seriously, because the Hawkeyes are not likely to win a rebounding battle with the Cyclones should they miss two-thirds of their shots again.
Dan's Pick to Cover the Spread:
Historically, these games are fairly close contests. The rivalry is intense on both sides, and Iowa and Iowa State's fan bases are both scattered throughout the state, allowing both groups to travel well.
But I'm taking the Cyclones here because I think they've been the more consistent squad. Argue that if you like. But, we've seen how Iowa State has reacted to losing a talented player in Wigginton. Sure, the Cyclones would have preferred to have him in the lineup, but they've notched wins over Missouri, Illinois and San Diego State without him and nearly had Arizona beaten. Iowa State will be a better team when Wigginton returns, but Steve Prohm's crew is perfectly fine without him.
Conversely, Iowa has yet to play a full game without Wieskamp. Even if he plays, he will not be at 100 percent, requiring an adjustment on the Hawkeyes' part. A rivalry game against an opponent as good as Iowa State is not the time to be making adjustments, and this one's a rather important one given what Wieskamp means to the Hawkeyes.
Throw in that Iowa State has won seven of the past nine in this series, and there really aren't many reasons to expect Iowa to win this game. The line is low at 1.5 points and the Cyclones will be hyped to take their rival's ranking for themselves, which they'll likely do if they can leave Iowa City with a win, so I'm going all in on Iowa State to win in the Cy-Hawk Rivalry.
<h4 class="widgettitle">More NFL Picks</h4><!-- [et_pb_line_break_holder] -->