[et_pb_dcsbcm_divi_breadcrumbs_module hide_homebreadcrumb="off" homebreadcrumbtext="Home" separator="sep-raquo" hide_currentbreadcrumb="off" homebreadcrumborientation="left" _builder_version="3.8″ fontsbreadcrumbs_font="Lato||||||||" fontsbreadcrumbs_text_color="#000000″ fontsbreadcrumbs_font_size="15px" fontsbreadcrumbs_line_height="16px" fontsseperator_font="||||||||" fontsbreadcrumblinks_font="||||||||" fontsbreadcrumblinks_text_color="#2567cf" custom_margin="25px|||" custom_margin_phone="30px|||" custom_margin_last_edited="off|desktop" custom_css_main_element="font-family: Helvetica Regular;" disabled="on" global_module="3641″ saved_tabs="all"][/et_pb_dcsbcm_divi_breadcrumbs_module]
ACC Pick: Louisville Cardinals vs. Syracuse Orange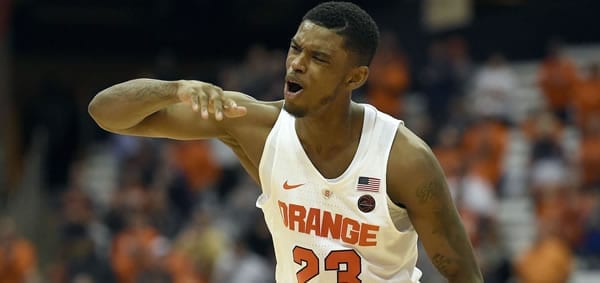 No. 18 Louisville Cardinals (18-8, 14-10-2) vs. Syracuse Orange (17-8, 14-11 ATS)
When: Wednesday, February 20th, 2019 – 7:00 pm ET
Where: Carrier Dome – Syracuse, NY
TV: ESPN
Point Spread: LOU +2/SYR -2 (Bovada)
Total: 133.5
This is why we don't trust John Calipari. A 20-point second half lead wasn't enough for the Wildkittens to hold on to as they allowed the hapless Tigers to climb back into the game and, more importantly, cover the number. Interesting that a Calipari-led team suspiciously blows a cover on the same day that ESPN publishes an extensive tell-all story about Tim Donaghy. My hometown's own Tim Donaghy, I will add. Proud Delco alumni right here.
There's a pretty fun game happening in Chapel Hill on Wednesday night at 9 pm ET, but let's "whet our whistles" with another ACC showdown as an appetizer. The last time we joined our heroes, the Louisville Cardinals avenged their reputation-ruining collapse to Duke with a nail-biter victory over Clemson, and the famed Syracuse Orange were buried under a barrage of 3s by a 6'0" white dude named Braxton. Tonight, they'll both look to keep their sliver of hopes for an ACC title alive by adding another conference victory to their respective resumes. With the game being played in Syracuse, the Orange are a slight 2-point favorite with the total set to an industry-standard 133.5 points. Let's get this show on the road!
Loser-ville
With the way I've been acting towards Louisville, you would totally forget that they comfortably covered the number that I said they would in their Duke loss. My reaction to the collapse is more so from a place of a concern than it is for any wrong they performed against me. I loved Chris Mack as a hire for Louisville, and I think they'll rise like a phoenix back into the contender conversation sooner rather than later. But a win last week would've put them on my short-list of title long shots, and I can't help but feel robbed of a potentially juicy futures bet on them. I promise that I'll get over that loss someday.
But if the Syracuse Orange have anything to say about it, I'll be weeping for the Cardinals yet again. On Syracuse's home court, it's essential for Nwora and McMahon to dust themselves off and get back into the groove. The easiest way to rattle the Orange is to make 3s early and often, and Louisville is going to need their backcourt to deliver on that front.
With the Duke loss firmly in the rearview mirror, it's important to note that Louisville remains one of the more dangerous teams in the ACC and the country. Exceptionally well-coached teams with elite upperclassmen don't just fall out of the sky, and Ken Pom backs up the eye test that this is a dangerous 3- or 4-seed heading into the tournament. With top 25 marks in both adjusted offense and defense, don't discount the possibility of a get-right game for the Cardinals and a #RevengeGame on the national stage.
Orange You Glad It's Almost March
My Mount Rushmore of Most Annoying College Basketball Fans I've Seen in Person consists of Georgetown (number one with a bullet), Duke, Louisville, and Syracuse. So let's just say that there won't be any rooting interests going on in the Cash household for this one. Let's just say that I feel the same way about Jim Boeheim as Wes Mantooth feels about Ron Burgundy: I stone cold hate him – but goddamnit do I respect him.
Tonight, let's see if my gratitude for Boeheim's accomplishments will help spur him on to a victory. There was a time earlier this season that I feared that Tyus Battle was going to haunt my dreams, but he's far too inconsistent as a scorer to really be feared. Offensively, Syracuse has its typical lackluster attitude. But defensively, their slow pace and elite scheme is a nightmare –, particularly for visiting teams. Syracuse is only 12-4 at home this season, but their 13 combined steals/blocks per game are enough to scare any opposing ball handlers. With Louisville's backcourt still potentially seeing a mirage of Zion lurking in the shadows, don't be shocked if you see a vintage defensive showcase from the Orange tonight.
Best Bet
College basketball is the land of gimmicks, and few, if any, are more effective than Syracuse's 2-3 zone. Any team whose point guard possesses a basketball IQ higher than that of a middle schooler can break it down in 2 passes: entry to a forward who flashes to the free-throw line, kick-out to a corner 3 or a backdoor cut. I watched the tanking Knicks employ a 2-3 zone against my 76ers last week, and they were swiftly met with the aforementioned game plan. It's embarrassingly simple and boringly methodical to defeat. And therein lies the magic. The greatest trick Jim Boeheim ever pulled was convincing the world that there was a better way to beat his zone. Superstar guards try to dribble around it, flummoxed bigs try to power their way through it, and in Boeheim's wake lies a sea of bodies of those too foolish to operate a simple 1-2 punch. Louisville's Chris Mack is a solid coach, but after watching the debacle that unfolded versus Duke's zone last Tuesday night, I have a hard time believing that Louisville will fare any better tonight. I don't like Syracuse – but I like money. And they're going to make me some tonight.
Final Score Prediction: Syracuse 65 – Louisville 61