Utah State Aggies vs. UNLV Runnin' Rebels Pick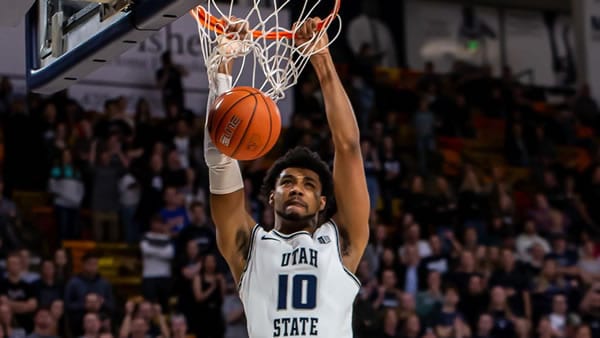 Utah State Aggies (12-5 SU, 10-5 ATS) vs. UNLV Runnin' Rebels (6-6 SU, 6-3-1 ATS)
When: Wednesday, January 27, 11 p.m.
Where: Thomas and Mack Center, Las Vegas
TV: FS1
Point Spread: USU -5.5/UNLV +5.5 (Find the best sportsbooks - Double your bankroll with a 100% real cash bonus!)
Total: 136
Last Time Out:
The teams played each other on Monday, with UNLV winning 59-56.
About the Matchup:
If UNLV wants back in the Mountain West race, this is the time to do it. Thanks to the Mountain West's COVID setup of having teams play back-to-back games at the same place, the Rebels still have two shots left at Boise State and might even have two shots left at San Diego State (that series was canceled by COVID), so there's still time for them to charge into the picture. But to do that, they've got to complete the sweep of Utah State.
This is the perfect time to try to do that because the Aggies have now lost two straight games and have seen the schedule start to catch up with them. Utah State started brilliantly by win-ning its first nine games in the league, but the first six were against San Jose State, Air Force, and New Mexico, who have proven to be the three weakest teams in the Mountain West (a combined 4-26 in the league). After falling as a 6.5-point favorite two days prior, can Utah State bounce back and avoid a third straight loss in the league?
Scouting the Aggies:
This wasn't supposed to happen to Utah State at this point in the season. The Aggies certainly weren't supposed to get beat in the Dee Glen Smith Spectrum (where they'd won 19 of their past 20 conference home games) by Colorado State, and they weren't supposed to follow that up with a loss at UNLV. But that's precisely what's happened, and now the Aggies are in danger of falling by the wayside in the Mountain West long before they ever get their shot at league leader Boise State.
If they're going to get back on track, someone has to shoot better among the starting five. Utah State gets virtually no help from its bench (the five bench players the Aggies used were a com-bined 2-for-13 from the floor and scored four points Monday), which means Marco Anthony either has to give the Aggies more accuracy or Brock Miller has to take more shots. Anthony led the Aggies with 18 points in Monday's loss, but he had to take 15 shots to do it and still needed six foul shots to get to that total.
The dirty secret around Utah State right now is that Anthony is not shooting well by any stretch of the imagination. He's the Aggies' second-leading scorer, but he hasn't shot better than 33 percent in any of Utah State's past five games. Part of that can be explained by the fact that two of those games were against San Diego State, which plays defense as well as anyone in the nation. But Colorado State's not known for its defense, and Anthony couldn't get going against the Rams either. If the Aggies are smart, they'll feed Justin Bean and Miller in this game and try to get their offense from another source because it isn't happening right now for Anthony.
More Picks: Get all of Dan's college basketball picks each day
Scouting the Rebels:
UNLV's defense impressed absolutely nobody in the opening game of the year when the Rebels gave up 91 points in a home loss to Montana State. But with Montana State leading the Big Sky, the loss to the Bobcats is looking better than anyone expected, and losses to North Carolina and Alabama are certainly no reason to be ashamed. The schedule has gotten a lot softer in recent games, and UNLV's defense has become much stiffer as a result.
What UNLV has to figure out is what it wants to be on the offensive side of the ledger. The Re-bels lost Marvin Coleman for the season to a stress fracture, and without their point guard, the UNLV offense has had a lot of trouble figuring out how it wants to play.
Bryce Hamilton has been the leading scorer for each of the Rebels' past two games, but he's also the top assist man for UNLV, and that combination usually doesn't tend to work out well. Hamilton was directly responsible for 12 of UNLV's 20 baskets against Utah State, but he also shot 4-for-16, taking the most shots of anyone on the team. When too much of the offense goes through one man, it can be a real problem.
X-Factor:
Turnovers. Here's one big reason why you don't want your best scorer to be your best point man: when he's continually trying to decide whether to shoot or pass on every possession, you're going to end up with a lot of mistakes. Hamilton has turned it over 12 times on his own in the past two games, and UNLV has averaged 16.5 turnovers in those contests.
Utah State has no such excuse, but the Aggies had 17 turnovers of their own Monday, which di-rectly led to their defeat. Whichever team can clean up the mistakes and take care of the ball will likely get the win here.
Utah State will Cover If:
The Aggies either get Anthony to start hitting his shots or passing them off. Utah State depends on Anthony for a lot, but if he's consistently leaving his team with empty possessions, all he's doing is helping the Rebels. The rest of the Aggies have to create space for their shots and knock them down or give him the space he needs to start hitting again.
UNLV will Cover If:
The Rebels can keep up the defensive performance that they've shown over the past few games. To be fair, two were against non-Division I opponents, and two were against New Mexi-co, whose offense looks usually looks like something that was killed crossing the street (the Lo-bos have been held under 55 points seven times in 12 games this season), but UNLV did hold down Utah State's shooting and forced the Aggies into 17 turnovers. Something similar is need-ed for another victory.
Dan's Pick to Cover the Spread
Utah State is better than it's shown over the past two games, and while the spread is more than I'd like after the Aggies botched the first game, there's a chance that the public will drive it down a point or two and give us a better number. The worry is Anthony's shooting, especially after the past five games, but he's eventually going to break out of this slump, and UNLV's de-fense appears to be something of a desert mirage.
Utah State's been the more consistent defense, and the Aggies can't afford to drop this game and fall behind Colorado State in the standings. I'll take the Aggies to bounce back here. Question: Did you know that you could by laying -105 odds instead of -110? Making the switch to reduced juice betting will save you THOUSANDS of dollars over the long run! Find this killer offer at BetAnySports!
STOP LOSING TODAY! START WINNING WITH DOC'S TEAM OF PROFESSIONALS! GET A FREE NO STRINGS ATTACHED $60 FOR THIS WEEKEND'S GAMES!