Tulane Green Wave vs. Auburn Tigers Pick 9/7/19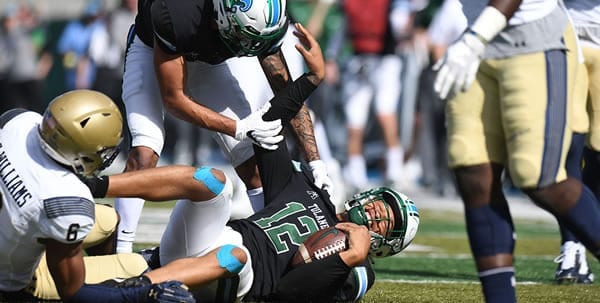 Tulane Green Wave (1-0 SU, 1-0 ATS) vs. Auburn Tigers (1-0 SU, 1-0 ATS)
College Football Week 2
Date/Time: September 7th - 7:30pm EST
Where: Jordan-Hare Stadium - Auburn, AL
TV: ESPN2
by Bob, NCAA Football Handicapper, Predictem.com
Point Spread: TUL +18/AUB -18 (5Dimes)
Over/Under Total: 49
THE MATCH-UP:
This Saturday night, the 1-0 and 10th ranked Auburn Tigers will be hosting the Tulane Green Wave who also enters at 1-0. Auburn comes in as an 18 point favorite at home while the total points are set at 49 combined. These two teams have not met since 2006, and that game ended with Auburn getting the victory by a score of 38-13. Before that contest thirteen years ago, the last time these two played was back in 1955 and with that said, believe it or not, Tulane leads the all-time series over Auburn with a record of 17-14-6. Of course, college football has changed a lot in the modern era, and these programs are in very different places than they were almost a century ago. Auburn is the huge favorite this year but can they play up to expectations after their huge come from behind win over the Oregon Ducks? THAT is the real question this Saturday.
HOW THE PUBLIC IS BETTING AUBURN AND TULANE:
As of early Tuesday morning, Auburn was the huge favorite to cover the spread this Saturday night. 71% of the betting action liked Auburn to get the job done over the Green Wave. Not only does the public like Auburn minus the points but they also like this game to go over the posted total of 49 points. 65% of the action is on the over. Something tells me to stay far away from the total, but my gut also tells me to stay off of Auburn with this spread too…the public is far too confident of the Tigers and as we know, the public is usually wrong.
WHY TULANE WILL COVER THE SPREAD:
First off, I am in no way saying that Tulane will win this game…not a chance. However, with Auburn coming off such a massive win over a ranked opponent and with this game being looked at as a "guaranteed win," I can see it being a tad more difficult than expected. For many years Tulane had become more of a cupcake and a laughing stock in college football than anything, but ever since the hiring of Willie Fritz, the Green Wave has slowly become more competitive. In 2018, Tulane finished the season with a 7-6 record and made just their second bowl game in sixteen years. The 2019 Tulane squad is even more improved offensive attack. Quarterback, Justin McMillan as well as the receiving crew led by Darnell Mooney will have the ability to create some issues for the Auburn defense. The key to the success of Tulane, however, will be how the offensive line handles the Tigers defensive front. If they can at least keep McMillan upright and give him time to make plays, Tulane could make things very interesting .
WHY AUBURN WILL NOT COVER:
Yes, I realize Auburn is the better team, and that is without question. Yes, I know that the entire Auburn Tiger Nation has fallen in love with Bo Nix more so than any QB to grace the Plains since Cam Newton. But let's pump the brakes here for a second and not be so quick to crown Auburn as some national power and SEC Title contender just yet. Remember, Oregon was in complete control versus Auburn for about 90% of that game this past weekend….Oregon….Not Clemson, Not Alabama…Not Georgia, Ohio State, or Oklahoma…OREGON. I am not taking shots at the Ducks, but this team is still a year or so away from being back where they were for many years in the early 2000s till about three or four years ago. It was an excellent win for Auburn, but it also made me believe that Auburn is a tad overrated. At this time, with a true freshman quarterback, I just think Auburn is primed for a couple of let downs in 2019. They already have the gauntlet of having to face LSU, Georgia, Alabama, and a Texas A&M team that is getting a lot of hype and praise so far. Looking forward to games like that could potentially lead to playing down to their opponent. Trust me, I am a life long Georgia fan and suffered through the Mark Richt Era…anyway, trust me. I am not basing this on numbers, stats, or anything else. I am relying on two things for my prediction: The public perception and my gut feeling. I like the Auburn Tigers to win, just not in a blowout fashion.
WHAT WILL HAPPEN ON SATURDAY:
This Saturday night, we will have an interesting game on our hands. The first half Auburn will struggle to get the offense clicking while Tulane finds a way to keep things interesting. Auburn will have a slight halftime lead something like 14-10. The second half, Auburn's talent and experience will take over propelling the Tigers to a 28-13 win over the Green Wave. Bo Nix will again be the hero, and the Auburn defense will get lots of credit for a stellar second half. But in spite of all that, Tulane will cover.
Bob's Pick to Cover the Point Spread: TAKE THE TULANE GREEN WAVE +18 POINTS AGAINST THE AUBURN TIGERS.
50% Cash up to $250