[et_pb_dcsbcm_divi_breadcrumbs_module hide_homebreadcrumb="off" homebreadcrumbtext="Home" separator="sep-raquo" hide_currentbreadcrumb="off" homebreadcrumborientation="left" _builder_version="3.8″ fontsbreadcrumbs_font="Lato||||||||" fontsbreadcrumbs_text_color="#000000″ fontsbreadcrumbs_font_size="15px" fontsbreadcrumbs_line_height="16px" fontsseperator_font="||||||||" fontsbreadcrumblinks_font="||||||||" fontsbreadcrumblinks_text_color="#2567cf" custom_margin="25px|||" custom_margin_phone="30px|||" custom_margin_last_edited="off|desktop" custom_css_main_element="font-family: Helvetica Regular;" global_module="3641″ saved_tabs="all"][/et_pb_dcsbcm_divi_breadcrumbs_module]
2018 MLB All-Star Game Picks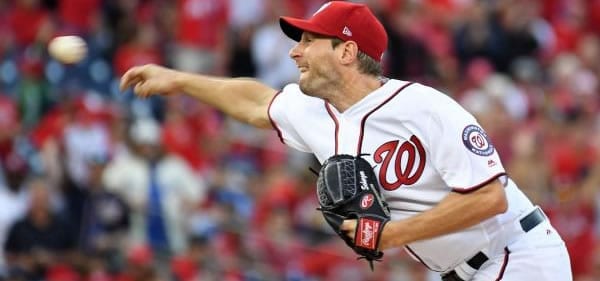 MLB's elite meets for the 89th edition of the MLB All-Star game Tuesday night at Nationals Park in Washington, DC (8:15 ET, Fox). How are we playing this contest with our free MLB betting picks?
The MLB Betting Line
The early MLB All-Star game betting odds opened the American League, which is the home team for this contest, at around -125 over the National League, with an over/under of 7 runs. As of early Tuesday morning, most books had bumped the AL about a dime,
to the -135 range.
The American Leaguers could also be found getting upwards of +165 giving the run and a half on the All-Star run line.
All-Star Game Set-Up
Perhaps the most important aspect of betting this All-Star game is remembering that this game no longer decides which league own home-field advantage for the World Series. That particular aspect of this game was done away with last year. So we're back to a glorified scrimmage, which means we're very leery about betting a side in this contest.
Last year the American League extended its All-Star winning streak to five in a row with a 2-1 victory in 10 innings at Marlins Park in Miami. The AL won that game as a +105 underdog on the All-Star betting line, and the game played way under a total of 8.5 runs.
The AL and NL have split the first 88 All-Star games, each winning 43 times, with two games ending in ties, including that infamous affair in Milwaukee back in 2002.
All-Star Pitching Staffs
Tuesday night's starting pitching match-up is a rematch of last year's All-Star game, that 2-1 AL victory. Boston lefty Chris Sale (10-4, 2.23) gets the start for the American League, while Max Scherzer (12-5, 2.41) gets the call for the National League. But neither of these guys is likely to see the third inning.
After Sale the American League can go with guys like Cleveland's Trevor Bauer, Houston's Gerritt Cole and Charlie Morton, the Yankees Luis Severino and Boston closer Craig Kimbrel.
After Scherzer, the NL can then go with guys like the Mets Jake deGrom, Arizona's Zack Greinke, and Milwaukee strikeout machine Josh Hader.
It almost seems a bit counter-intuitive, but we're going to give the American League our handicapping check-mark in the comparison of the pitching staffs.
The Sticks
The American League starting batting order looks like this; Boston OF Mookie Betts, Houston hit machine Jose Altuve, Angels great Mike Trout, Boston bopper JD Martinez, Cleveland 3B Jose Ramirez, Yankees giant Aaron Judge, Baltimore trade bait Manny Machado, White Sox slugger Jose Abreu and Kansas City C Salvador Perez.
The National League counters with Cub phenom Javier Baez, Colorado 3B Nolan Arenado, Arizona's Paul Goldschmidt, Atlanta's Freddie Freeman, Dodger Matt Kemp, home run contest champion and DC home-towner Bryce Harper, Brave Nick Markakis, San Francisco SS Brandon Crawford and Cubs C Wilson Contreras.
We imagine guys like Seattle's Jean Segura and Nelson Cruz and Houston's George Springer will also get at least a couple of at-bats for the American League, while Milwaukee's Jesus Aguilar, Cincinnati's Joey Votto, and Colorado's Charlie Blackmon will also get chances for the NL.
Top to bottom, though, we're also giving the American League the check-mark with the sticks for this All-Star contest.
Totals Report
The unders are 24-22 in games played at Nationals Park this season, which are averaging 8.8 total runs per.
The unders are also 8-4 over the last 12 MLB All-Star games, which have averaged just over 6 runs total.
Free MLB All-Star Game Picks
The AL gets two of our handicapping check-marks for this game, so we're betting the favorite in this All-Star game. Also, with recent All-Star games trending very low-scoring we're betting under on the total. The All-Star game takes on more meaning when you have skin in the game – get signed up at a top betting site and get yourself in the game.
<div class="widget105"><!-- [et_pb_line_break_holder] --><h4 class="baseball">Baseball Sportsbooks</h4><!-- [et_pb_line_break_holder] --><table id="dimeline"><!-- [et_pb_line_break_holder] --> <tr><!-- [et_pb_line_break_holder] --> <th></th><!-- [et_pb_line_break_holder] --> <th width="110px">10¢ to:</th><!-- [et_pb_line_break_holder] --> <th width="110px">20¢ to:</th><!-- [et_pb_line_break_holder] --> </tr><!-- [et_pb_line_break_holder] --> <tr><!-- [et_pb_line_break_holder] --> <td><div class="col1"><a href="https://record.commission.bz/_BhTQDVOVie23_O3IiMN7EWNd7ZgqdRLk/1/"><!-- [et_pb_line_break_holder] --> <img src="https://www.predictem.com/wp-content/uploads/2018/06/SportsBettingDark.png" width="150" alt="SportsBetting" /></a><!-- [et_pb_line_break_holder] --> </div></td><!-- [et_pb_line_break_holder] --> <td>-200</td><!-- [et_pb_line_break_holder] --> <td>-279</td><!-- [et_pb_line_break_holder] --> </tr><!-- [et_pb_line_break_holder] --> <tr><!-- [et_pb_line_break_holder] --> <td><div class="col1"><a href="https://www.predictem.com/betting-sites/heritage-sportsbook/"><img src="https://www.predictem.com/wp-content/uploads/2018/06/heritage-xs.png" width="150" alt="Heritage" /></a></div></td><!-- [et_pb_line_break_holder] --> <td>-200</td><!-- [et_pb_line_break_holder] --> <td>-240</td><!-- [et_pb_line_break_holder] --> </tr><!-- [et_pb_line_break_holder] --> <tr><!-- [et_pb_line_break_holder] --> <td><div class="col1"><a href="https://affiliates.5dimes.eu/tracking/Affiliate.aspx?idBook=1&mediaTypeID=220&AffUrlID=80&LandingPageID=2"><img src="https://www.predictem.com/wp-content/uploads/2018/06/5Dimes_sm.png" width="150" alt="5Dimes" /></a></div></td><!-- [et_pb_line_break_holder] --> <td>-195</td><!-- [et_pb_line_break_holder] --> <td>-266</td><!-- [et_pb_line_break_holder] --> </tr><!-- [et_pb_line_break_holder] --></table> <!-- [et_pb_line_break_holder] --><div class="widget-footer"><a href="https://www.predictem.com/best-sportsbooks/mlb-dimeline/">See all Dimeline Sportsbooks</a></div><!-- [et_pb_line_break_holder] --></div><!-- [et_pb_line_break_holder] --><!-- [et_pb_line_break_holder] --><style><!-- [et_pb_line_break_holder] --> #dimeline {border: 0px;}<!-- [et_pb_line_break_holder] --> #dimeline th{color:#000;}<!-- [et_pb_line_break_holder] --> #dimeline td{padding: 2px; text-align: center;}<!-- [et_pb_line_break_holder] --> #dimeline td, #dimeline th{padding: 8px 2px; text-align: center;border-bottom: 1px solid #bbb;}<!-- [et_pb_line_break_holder] --> .img-hover {border: 1px solid #fff; padding:5px}<!-- [et_pb_line_break_holder] --> .img-hover:hover {background: #edeef0; border: 1px solid #008156; margin-top:1px; padding:5px}<!-- [et_pb_line_break_holder] --></style>
<div style="width:340px; margin: 0 auto;"><!-- [et_pb_line_break_holder] --> <a class="twitter-timeline" data-width="340" data-height="500" data-link-color="#008156" href="https://twitter.com/PredictemPicks?ref_src=twsrc%5Etfw">Tweets by PredictemPicks</a> <script async src="https://platform.twitter.com/widgets.js" charset="utf-8"></script><!-- [et_pb_line_break_holder] --></div>