[et_pb_dcsbcm_divi_breadcrumbs_module hide_homebreadcrumb="off" homebreadcrumbtext="Home" separator="sep-raquo" hide_currentbreadcrumb="off" homebreadcrumborientation="left" _builder_version="3.8″ fontsbreadcrumbs_font="Lato||||||||" fontsbreadcrumbs_text_color="#000000″ fontsbreadcrumbs_font_size="15px" fontsbreadcrumbs_line_height="16px" fontsseperator_font="||||||||" fontsbreadcrumblinks_font="||||||||" fontsbreadcrumblinks_text_color="#2567cf" custom_margin="25px|||" custom_margin_phone="30px|||" custom_margin_last_edited="off|desktop" custom_css_main_element="font-family: Helvetica Regular;" global_module="3641″ saved_tabs="all"][/et_pb_dcsbcm_divi_breadcrumbs_module]
Boston Redsox at NY Yankees Pick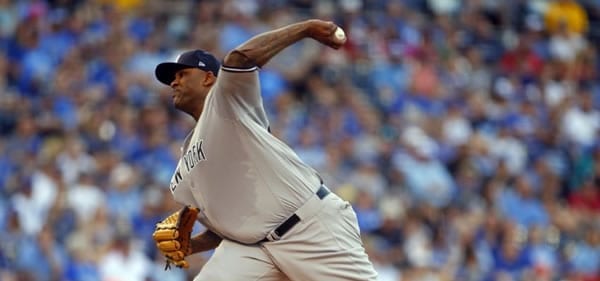 This MLB season begins to get interesting as the Red Sox and Yankees open a three-game set in the Bronx Friday night (7:05 ET). How are we leaning with our daily free MLB picks on this contest?
The MLB Betting Line
If you are using one of the dimeline sportsbooks you probably saw Friday's MLB betting odds opened New York and CC Sabathia at around -115 over Boston and Eduardo Rodriguez, with an over/under of 9 runs. The early betting action then bumped the Bombers about a nickel, to the -120 range.
The Yanks could also be found getting +160 giving the 1.5 runs on the run line.
Set-Up
Boston just swept three games from the Angels this week, including a 4-2 victory Thursday night. The Sox trailed that game 1-0 into the bottom of the fifth inning but scored the next four runs and hung on from there. Boston won Thursday as -160 favorites on the MLB betting odds and covered against the run line.
So the Red Sox have won four games in a row and six of their last seven.
New York, meanwhile, just took two of three games at Philadelphia, missing out on the sweep and securing the under, by losing Wednesday 3-0. The Yanks managed only four hits Wednesday in getting shut out for just the third time this season. However, all three of those shutouts have come in their last 17 games.
Last weekend the Pinstripes got swept three games at Tampa Bay.
Big-picture, at 55-27 Boston leads the AL East by one game over 52-26 New York. Also, the Yankees lead the American League wild-card race by three games over Seattle and seven games over Oakland.
These long-time rivals have split six games so far this season, although Boston's outscored New York 40-30. Also, the overs are 3-2-1, as Sox-Yanks games have averaged almost 12 total runs per.
Friday's Starting Arms
This pitching match-up is a rematch of a game played back on May 10, a 5-4 Boston victory.
Sabathia (4-3, 3.18), by our strict accounting, is just 5/14 on quality starts this season, but two for his last four. Last Friday he limited the Rays to two runs – one earned – through 5 1/3 innings, and over his previous four starts he's allowed just six ER through 25 2/3 innings. New York is 7-7 with Sabathia this year, with the unders going 9-5.
Back in that May 10 game, Sabathia gave up four runs and nine hits in just four innings of work. But in four starts last year against the Sox Sabby allowed only three runs through 26 innings. The Yankees won all four of those games, and all four games played under.
Fellow lefty Rodriguez (9-2, 3.86) is only 5/15 on quality starts this year, but a lot of that has to do with a short leash. Last Sunday he gave up five runs – four earned – in just four innings against Seattle, but over his six previous starts he allowed just nine runs through 35 1/3 innings. Boston is a profitable 13-2 (+$960) with Rodriguez this season, with the overs going 8-7.
Back in that May 10 affair, Rodriguez tossed five innings of one-hit, shutout ball, with eight strikeouts. In two starts last year against the Yankees Rodriguez gave up five runs over 11 innings. The Sox lost both those games.
Friday's Batting Splits
Boston ranks 8th in the Majors this season against left-handed pitching with a .257 team batting average, 16th with a .318 team OBP and 12th with a .413 team slugging percentage.
New York ranks 11th against LHP with a .255 BA, 3rd with a .342 OBP and 2nd with a .471 slugging percentage.
Despite recent mediocrity, we're giving the Yanks the edge with the sticks for Friday.
The Bullpens
Red Sox relievers rank 5th in the ML in ERA at 3.07 and 5th with a 1.19 WHIP, while converting 27 of 34 save opportunities.
The New York bullpen ranks 3rd in ERA at 2.68 and 2nd in WHIP at 1.09 while going 24/32 on save opps.
Both these bullpens rate in the top five in all of baseball, but the Yanks pen holds a slight overall edge.
Totals Report:
New York is on a 20-2 run on the unders including three in a row. Basically, the Yanks are getting some excellent pitching, while their bats have cooled from earlier this year.
The overs are 21-19 in games played at Yankee Stadium this year, which are averaging 9.4 total runs per.
Both these teams have played more unders than overs this year – Boston 41-38, New York 42-34.
MLB Pick:
New York is 18-5 this year against LH starters, while Boston is 12-9. And the Yanks own two of our baseball handicapping check-marks. We're betting the Pinstripes here at home at a short price. Join in the discussion and let us know if you agree.
<div class="widget105"><!-- [et_pb_line_break_holder] --><h4 class="baseball">Baseball Sportsbooks</h4><!-- [et_pb_line_break_holder] --><table id="dimeline"><!-- [et_pb_line_break_holder] --> <tr><!-- [et_pb_line_break_holder] --> <th></th><!-- [et_pb_line_break_holder] --> <th width="110px">10¢ to:</th><!-- [et_pb_line_break_holder] --> <th width="110px">20¢ to:</th><!-- [et_pb_line_break_holder] --> </tr><!-- [et_pb_line_break_holder] --> <tr><!-- [et_pb_line_break_holder] --> <td><div class="col1"><a href="https://record.commission.bz/_BhTQDVOVie23_O3IiMN7EWNd7ZgqdRLk/1/"><!-- [et_pb_line_break_holder] --> <img src="https://www.predictem.com/wp-content/uploads/2018/06/SportsBettingDark.png" width="150" alt="SportsBetting" /></a><!-- [et_pb_line_break_holder] --> </div></td><!-- [et_pb_line_break_holder] --> <td>-200</td><!-- [et_pb_line_break_holder] --> <td>-279</td><!-- [et_pb_line_break_holder] --> </tr><!-- [et_pb_line_break_holder] --> <tr><!-- [et_pb_line_break_holder] --> <td><div class="col1"><a href="https://www.predictem.com/betting-sites/heritage-sportsbook/"><img src="https://www.predictem.com/wp-content/uploads/2018/06/heritage-xs.png" width="150" alt="Heritage" /></a></div></td><!-- [et_pb_line_break_holder] --> <td>-200</td><!-- [et_pb_line_break_holder] --> <td>-240</td><!-- [et_pb_line_break_holder] --> </tr><!-- [et_pb_line_break_holder] --> <tr><!-- [et_pb_line_break_holder] --> <td><div class="col1"><a href="https://affiliates.5dimes.eu/tracking/Affiliate.aspx?idBook=1&mediaTypeID=220&AffUrlID=80&LandingPageID=2"><img src="https://www.predictem.com/wp-content/uploads/2018/06/5Dimes_sm.png" width="150" alt="5Dimes" /></a></div></td><!-- [et_pb_line_break_holder] --> <td>-195</td><!-- [et_pb_line_break_holder] --> <td>-266</td><!-- [et_pb_line_break_holder] --> </tr><!-- [et_pb_line_break_holder] --></table> <!-- [et_pb_line_break_holder] --><div class="widget-footer"><a href="https://www.predictem.com/best-sportsbooks/mlb-dimeline/">See all Dimeline Sportsbooks</a></div><!-- [et_pb_line_break_holder] --></div><!-- [et_pb_line_break_holder] --><!-- [et_pb_line_break_holder] --><style><!-- [et_pb_line_break_holder] --> #dimeline {border: 0px;}<!-- [et_pb_line_break_holder] --> #dimeline th{color:#000;}<!-- [et_pb_line_break_holder] --> #dimeline td{padding: 2px; text-align: center;}<!-- [et_pb_line_break_holder] --> #dimeline td, #dimeline th{padding: 8px 2px; text-align: center;border-bottom: 1px solid #bbb;}<!-- [et_pb_line_break_holder] --> .img-hover {border: 1px solid #fff; padding:5px}<!-- [et_pb_line_break_holder] --> .img-hover:hover {background: #edeef0; border: 1px solid #008156; margin-top:1px; padding:5px}<!-- [et_pb_line_break_holder] --></style>