[et_pb_dcsbcm_divi_breadcrumbs_module hide_homebreadcrumb="off" homebreadcrumbtext="Home" separator="sep-raquo" hide_currentbreadcrumb="off" homebreadcrumborientation="left" _builder_version="3.8″ fontsbreadcrumbs_font="Lato||||||||" fontsbreadcrumbs_text_color="#000000″ fontsbreadcrumbs_font_size="15px" fontsbreadcrumbs_line_height="16px" fontsseperator_font="||||||||" fontsbreadcrumblinks_font="||||||||" fontsbreadcrumblinks_text_color="#2567cf" custom_margin="25px|||" custom_margin_phone="30px|||" custom_margin_last_edited="off|desktop" custom_css_main_element="font-family: Helvetica Regular;" global_module="3641″ saved_tabs="all"][/et_pb_dcsbcm_divi_breadcrumbs_module]
MLB Pick: LA Dodgers at San Diego Padres 7/11/18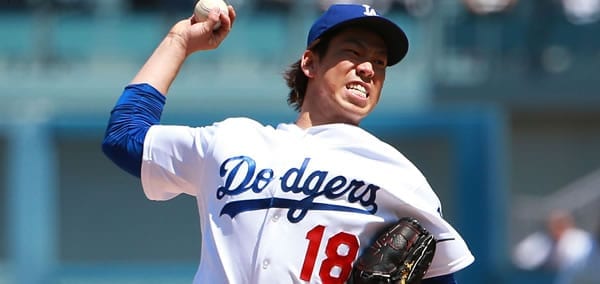 Event: Dodgers vs. Padres
Date/Time: July 11, 2018
Location: Petco Park
Money Line: LAD -148 / SD +138
Total line: 7
By Darin Zank
The Dodgers and Padres continue a four-game series at Petco Park Wednesday night (10:10 ET). Which way are we playing this contest with our daily free MLB picks?
The MLB Betting Line
Wednesday's MLB betting odds opened LA and Kenta Maeda at around -155 over San Diego and Joey Lucchesi, with an over/under of runs. The early betting action then pushed that line down about a couple of bucks, to the -153 range at most betting sites with the best line we could find on the favorite over at 5Dimes listing LAD -138.
The Dodgers could also be bet at around -105 giving the run and a half on the run line.
Set-Up
Los Angeles took the opener of this series Monday night 8-2, but the Padres won Tuesday night 4-1, cashing in as +140 dogs on the MLB betting line. San Diego put up a four-spot in the bottom of the fifth and got 8 2/3 innings of one-run ball from rookie starting pitcher Eric Lauer for the victory.
>With Tuesday's loss, the Dodgers are 2-3 over their last five games. At 49-42 overall Los Angeles trails first-place Arizona by a game and a half in the NL West and also sits a game and a half behind Atlanta in the battle for the second National League wild-card spot.
Even with Tuesday's victory, the Padres are only 7-17 over their last 24 games. At 40-54 San Diego sits 12 games back in both the NL West and the wild-card race.
The Dodgers lead this season series seven games to four, outscoring the Padres 62-35.
Wednesday's Starting Arms
Rookie lefty Joey Lucchesi (4-3, 3.27) is just 2/13 on quality starts this season, but some of that can be attributed to a very short leash. Last Friday he held Arizona to two runs and three hits through 5 1/3 innings, although San Diego lost that game 3-1. And over his last three starts, he's allowed just two runs and five hits through 14 1/3 innings. The Padres are 5-8 with Lucchesi this year, with the unders going 7-6.
In his only career start against the Dodgers back on May 4, Lucchesi gave up three runs and five hits, including two homers, through five innings of a 4-0 San Diego loss.
Maeda (5-5, 3.24) is only 5/15 on quality starts this year, but one out away from being three for his last three. Last Friday he held the Angels to one run and three hits through 5 2/3 innings, with nine strikeouts, although LA lost that game 3-2. And over his last three starts, he's given up just three earned runs and 11 hits through 19 2/3 innings. The Dodgers are 7-8 with Maeda this year, with the unders going 11-3.
In two starts this season against the Padres Maeda allowed seven runs through 10 2/3 innings, with 17 strikeouts. Los Angeles split those two games, and both games played over.
Wednesday's Batting Splits
LA ranks 26th in the Majors this season against left-handed pitching with a .231 team batting average, 18th with a .315 team OBP and 18th with a .400 team slugging percentage.
San Diego ranks 26th against right-handed pitching with a .233 BA, 27th with a .299 OBP and dead last – 30th – with a .354 slugging percentage.
The Dodgers aren't exactly rocking with the sticks here, but they do get our handicapping check-mark in this department for Wednesday.
The Bullpens
The Los Angeles bullpen ranks 14th in the ML with a 3.86 ERA and 15th with a 1.31 WHIP, while going 28/45 on save opportunities.
The Padres pen ranks 10th in ERA at 3.65 and 7th in WHIP at 1.21 while going 26/34 on save conversions.
We gotta give San Diego the edge in the comparison of the bullpens.
Totals Report
The overs are 27-18 in games played at Petco Park this year, which are averaging 9.3 total runs per, which is a run and a half more than Petco games averaged last year.
The overs are 6-5 in this season series, as Dodgers-Padres games are averaging 8.8 runs per.
Free MLB Picks
Los Angeles is 18-14 against LH starters this year; San Diego is 30-34 against RH starters. Also, all seven of the Dodgers' victories in this season series have come by at least three runs. Also, the Padres haven't won consecutive games in almost a month. We're betting LA here, and we'll give the run and a half against the run line.
<div class="widget105"><!-- [et_pb_line_break_holder] --><h4 class="baseball">Baseball Sportsbooks</h4><!-- [et_pb_line_break_holder] --><table id="dimeline"><!-- [et_pb_line_break_holder] --> <tr><!-- [et_pb_line_break_holder] --> <th></th><!-- [et_pb_line_break_holder] --> <th width="110px">10¢ to:</th><!-- [et_pb_line_break_holder] --> <th width="110px">20¢ to:</th><!-- [et_pb_line_break_holder] --> </tr><!-- [et_pb_line_break_holder] --> <tr><!-- [et_pb_line_break_holder] --> <td><div class="col1"><a href="https://record.commission.bz/_BhTQDVOVie23_O3IiMN7EWNd7ZgqdRLk/1/"><!-- [et_pb_line_break_holder] --> <img src="https://www.predictem.com/wp-content/uploads/2018/06/SportsBettingDark.png" width="150" alt="SportsBetting" /></a><!-- [et_pb_line_break_holder] --> </div></td><!-- [et_pb_line_break_holder] --> <td>-200</td><!-- [et_pb_line_break_holder] --> <td>-279</td><!-- [et_pb_line_break_holder] --> </tr><!-- [et_pb_line_break_holder] --> <tr><!-- [et_pb_line_break_holder] --> <td><div class="col1"><a href="https://www.predictem.com/betting-sites/heritage-sportsbook/"><img src="https://www.predictem.com/wp-content/uploads/2018/06/heritage-xs.png" width="150" alt="Heritage" /></a></div></td><!-- [et_pb_line_break_holder] --> <td>-200</td><!-- [et_pb_line_break_holder] --> <td>-240</td><!-- [et_pb_line_break_holder] --> </tr><!-- [et_pb_line_break_holder] --> <tr><!-- [et_pb_line_break_holder] --> <td><div class="col1"><a href="https://affiliates.5dimes.eu/tracking/Affiliate.aspx?idBook=1&mediaTypeID=220&AffUrlID=80&LandingPageID=2"><img src="https://www.predictem.com/wp-content/uploads/2018/06/5Dimes_sm.png" width="150" alt="5Dimes" /></a></div></td><!-- [et_pb_line_break_holder] --> <td>-195</td><!-- [et_pb_line_break_holder] --> <td>-266</td><!-- [et_pb_line_break_holder] --> </tr><!-- [et_pb_line_break_holder] --></table> <!-- [et_pb_line_break_holder] --><div class="widget-footer"><a href="https://www.predictem.com/best-sportsbooks/mlb-dimeline/">See all Dimeline Sportsbooks</a></div><!-- [et_pb_line_break_holder] --></div><!-- [et_pb_line_break_holder] --><!-- [et_pb_line_break_holder] --><style><!-- [et_pb_line_break_holder] --> #dimeline {border: 0px;}<!-- [et_pb_line_break_holder] --> #dimeline th{color:#000;}<!-- [et_pb_line_break_holder] --> #dimeline td{padding: 2px; text-align: center;}<!-- [et_pb_line_break_holder] --> #dimeline td, #dimeline th{padding: 8px 2px; text-align: center;border-bottom: 1px solid #bbb;}<!-- [et_pb_line_break_holder] --> .img-hover {border: 1px solid #fff; padding:5px}<!-- [et_pb_line_break_holder] --> .img-hover:hover {background: #edeef0; border: 1px solid #008156; margin-top:1px; padding:5px}<!-- [et_pb_line_break_holder] --></style>
<div style="width:340px; margin: 0 auto;"><!-- [et_pb_line_break_holder] --> <a class="twitter-timeline" data-width="340" data-height="500" data-link-color="#008156" href="https://twitter.com/PredictemPicks?ref_src=twsrc%5Etfw">Tweets by PredictemPicks</a> <script async src="https://platform.twitter.com/widgets.js" charset="utf-8"></script><!-- [et_pb_line_break_holder] --></div>
<aside><!-- [et_pb_line_break_holder] --><div class="widget105"><!-- [et_pb_line_break_holder] --><h3>Biggest Sportsbook Bonuses</h3><!-- [et_pb_line_break_holder] --><div class="widgetlist"><!-- [et_pb_line_break_holder] --><div class="col1"><!-- [et_pb_line_break_holder] --><img src="https://www.predictem.com/wp-content/uploads/2018/04/bovada.png" width="150" alt="Bovada" /><!-- [et_pb_line_break_holder] --></div><!-- [et_pb_line_break_holder] --><div class="col2"><!-- [et_pb_line_break_holder] --><span class="list"><b>50% Cash</b></span><br><!-- [et_pb_line_break_holder] --><span class="list">5x Rollover</span><!-- [et_pb_line_break_holder] --> </div><!-- [et_pb_line_break_holder] --> <div class="col3"><!-- [et_pb_line_break_holder] --><a href="https://www.predictem.com/betting-sites/bovada/"><button class="btn-widget">Review</button></a><!-- [et_pb_line_break_holder] --></div><!-- [et_pb_line_break_holder] --></div><!-- [et_pb_line_break_holder] --><div class="widgetlist"><!-- [et_pb_line_break_holder] --><div class="col1"><!-- [et_pb_line_break_holder] --><img src="https://www.predictem.com/wp-content/uploads/2018/04/intertops.png" width="150" alt="Intertops" /><!-- [et_pb_line_break_holder] --></div><!-- [et_pb_line_break_holder] --><div class="col2"><!-- [et_pb_line_break_holder] --><span class="list"><b>50% Cash</b></span><br><!-- [et_pb_line_break_holder] --><span class="list">4x Rollover</span><!-- [et_pb_line_break_holder] --> </div><!-- [et_pb_line_break_holder] --><div class="col3"><!-- [et_pb_line_break_holder] --><a href="https://www.predictem.com/betting-sites/intertops/"><button class="btn-widget">Review</button></a><!-- [et_pb_line_break_holder] --></div><!-- [et_pb_line_break_holder] --></div><!-- [et_pb_line_break_holder] --><div class="widgetlist"><!-- [et_pb_line_break_holder] --><div class="col1"><!-- [et_pb_line_break_holder] --><img src="https://www.predictem.com/wp-content/uploads/2018/05/gt-bets.png" width="150" alt="GtBets" /><!-- [et_pb_line_break_holder] --></div><!-- [et_pb_line_break_holder] --><div class="col2"><!-- [et_pb_line_break_holder] --><span class="list"><b>150% Cash</b></span><br><!-- [et_pb_line_break_holder] --><span class="list">4x Rollover</span><!-- [et_pb_line_break_holder] --> </div><!-- [et_pb_line_break_holder] --> <div class="col3"><!-- [et_pb_line_break_holder] --> <a href="https://www.predictem.com/betting-sites/gtbets/"><button class="btn-widget">Review</button></a><!-- [et_pb_line_break_holder] --></div><!-- [et_pb_line_break_holder] --></div><!-- [et_pb_line_break_holder] --><div class="widget-footer"><a href="https://www.predictem.com/best-sportsbooks/bonuses/">See all sportsbook bonuses</a></div><!-- [et_pb_line_break_holder] --> </div></aside>