[et_pb_dcsbcm_divi_breadcrumbs_module hide_homebreadcrumb="off" homebreadcrumbtext="Home" separator="sep-raquo" hide_currentbreadcrumb="off" homebreadcrumborientation="left" _builder_version="3.8″ fontsbreadcrumbs_font="Lato||||||||" fontsbreadcrumbs_text_color="#000000″ fontsbreadcrumbs_font_size="15px" fontsbreadcrumbs_line_height="16px" fontsseperator_font="||||||||" fontsbreadcrumblinks_font="||||||||" fontsbreadcrumblinks_text_color="#2567cf" custom_margin="25px|||" custom_margin_phone="30px|||" custom_margin_last_edited="off|desktop" custom_css_main_element="font-family: Helvetica Regular;" global_module="3641″ saved_tabs="all"][/et_pb_dcsbcm_divi_breadcrumbs_module]
Best Bet: Seattle Mariners at Los Angeles Angels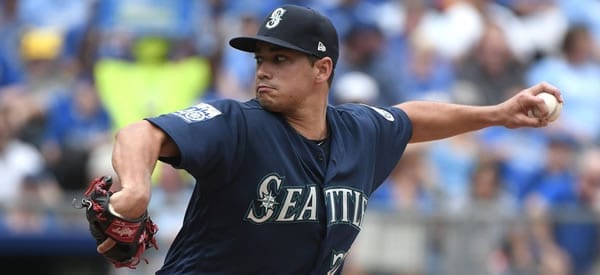 Game: Seattle Mariners (57-35) vs. Los Angeles Angels (47-45) Preview and Pick
When: Wednesday, July 11th, 2018 (10:05 PM EST)
Where: Angel Stadium, Los Angeles, CA
TV: DirecTV 687/692
Betting Odds: Sea +104/LAA -114
Over/Under: 8.5
by Kevin West, MLB Handicapper, Predictem.com
One thing I've learned in my mid-forties is that time changes everything. When these teams played last week, I'd have had a completely different take as the Mariners were red hot and the Angels couldn't hit their way out of a wet paper bag.
Statistically speaking and in the minds of many, the Mariners are still hot, but they really aren't. The M's are showing signs of cooling off as they've lost 3 of their last 4 having scored 1, 1 and 3 runs in those losses.
Conversely, the Angels who were recently ice cold, have won 3 of their last 4 and appear to be poised to go on a nice run and at a good value, because the public and oddsmakers both, are slow to react to the shift from a team going from cold to hot.
Things I like about betting the Angels tonight
What I really like about this game is that I think Marco Gonzales is a "splits" pitcher. I firmly believe that he's a guy who is going to pitch very well at home and average to poorly on the road. This could be due to many different variables with the first being the confidence a pitcher can have pitching at Safeco Field, where the occasional mistake pitch won't hurt you because of the dimensions and dead ball effect in Seattle.
The second variable is that some players simply don't like to travel. It can mess with their head, put them in uncomfortable hotel beds, take them away from girlfriends/family, change their eating habits, jet lag, fans riding them, etc. Many players in all sports struggle on the road in comparison to the friendly confines of their home venue.
Here's a tasty stat for ya… Gonzales has only allowed ONE home run in 53 innings at home this season. He's allowed a whopping 9 in just 53 innings on the road! His K's per nine innings are much lesser on the road as well.
Third and quite possibly the most important variable is that the team started slipping when catcher Mike Zunino went down. What did you say? Zunino only hits .189! Why should his loss matter? CHEMISTRY! There's a reason MLB teams keep catchers that hit near the Mendoza line. They're damn good at playing defense and handling pitchers. Zunino is one of the best, and the Mariner's pitching staff isn't familiar with Chris Herrmann who has been hurt all season or David Freitas who has been in AAA most of the season. Chemistry is huge in sports. HUGE. Without it, teams suffer. This goes for all sports, not just baseball.
Hello again
This will be the 4th time this season that Marco Gonzales will be facing the Angels. The Halos are familiar with him by now, and this will be an advantage for them. Even better, this will be the first time they'll be seeing him while playing at home, Gonzales has had stellar home numbers this season, and the Angels have still had good success vs. the southpaw at Safeco. In two of those starts, Marco allowed 7 hits in 5 innings and 9 hits in 6 innings.
On the flip side, Jaime Barria will be making his third start of the season vs. Seattle. He's allowed 4 earned runs in 10.1 innings vs. the Mariners in 2018. Barria has been pitching well over his past 3 games with a 2.87 ERA.
Betting Trends
The Mariners have lost 3 of their last 4 games.
Seattle is 1-7 in their last 8 road games vs. a team with a winning record.
The Mariners are 5-9 when playing on Wednesday's this season.
The Angels have won 3 of their last 4 contests.
L.A. is 10-4 in their last 14 home games
Kevin's pick to win the money
The Mariners are cooling off, the Angels are getting hot, Marco Gonzales is much less of a pitcher on the road, and the price is right. I'm betting the Angels at -114. Good luck!
Get additional predictions on the daily sports betting card by visiting our Posting Forum where other bettors discuss their wagers.
<div class="widget105"><!-- [et_pb_line_break_holder] --><h4 class="baseball">Baseball Sportsbooks</h4><!-- [et_pb_line_break_holder] --><table id="dimeline"><!-- [et_pb_line_break_holder] --> <tr><!-- [et_pb_line_break_holder] --> <th></th><!-- [et_pb_line_break_holder] --> <th width="110px">10¢ to:</th><!-- [et_pb_line_break_holder] --> <th width="110px">20¢ to:</th><!-- [et_pb_line_break_holder] --> </tr><!-- [et_pb_line_break_holder] --> <tr><!-- [et_pb_line_break_holder] --> <td><div class="col1"><a href="https://record.commission.bz/_BhTQDVOVie23_O3IiMN7EWNd7ZgqdRLk/1/"><!-- [et_pb_line_break_holder] --> <img src="https://www.predictem.com/wp-content/uploads/2018/06/SportsBettingDark.png" width="150" alt="SportsBetting" /></a><!-- [et_pb_line_break_holder] --> </div></td><!-- [et_pb_line_break_holder] --> <td>-200</td><!-- [et_pb_line_break_holder] --> <td>-279</td><!-- [et_pb_line_break_holder] --> </tr><!-- [et_pb_line_break_holder] --> <tr><!-- [et_pb_line_break_holder] --> <td><div class="col1"><a href="https://www.predictem.com/betting-sites/heritage-sportsbook/"><img src="https://www.predictem.com/wp-content/uploads/2018/06/heritage-xs.png" width="150" alt="Heritage" /></a></div></td><!-- [et_pb_line_break_holder] --> <td>-200</td><!-- [et_pb_line_break_holder] --> <td>-240</td><!-- [et_pb_line_break_holder] --> </tr><!-- [et_pb_line_break_holder] --> <tr><!-- [et_pb_line_break_holder] --> <td><div class="col1"><a href="https://affiliates.5dimes.eu/tracking/Affiliate.aspx?idBook=1&mediaTypeID=220&AffUrlID=80&LandingPageID=2"><img src="https://www.predictem.com/wp-content/uploads/2018/06/5Dimes_sm.png" width="150" alt="5Dimes" /></a></div></td><!-- [et_pb_line_break_holder] --> <td>-195</td><!-- [et_pb_line_break_holder] --> <td>-266</td><!-- [et_pb_line_break_holder] --> </tr><!-- [et_pb_line_break_holder] --></table> <!-- [et_pb_line_break_holder] --><div class="widget-footer"><a href="https://www.predictem.com/best-sportsbooks/mlb-dimeline/">See all Dimeline Sportsbooks</a></div><!-- [et_pb_line_break_holder] --></div><!-- [et_pb_line_break_holder] --><!-- [et_pb_line_break_holder] --><style><!-- [et_pb_line_break_holder] --> #dimeline {border: 0px;}<!-- [et_pb_line_break_holder] --> #dimeline th{color:#000;}<!-- [et_pb_line_break_holder] --> #dimeline td{padding: 2px; text-align: center;}<!-- [et_pb_line_break_holder] --> #dimeline td, #dimeline th{padding: 8px 2px; text-align: center;border-bottom: 1px solid #bbb;}<!-- [et_pb_line_break_holder] --> .img-hover {border: 1px solid #fff; padding:5px}<!-- [et_pb_line_break_holder] --> .img-hover:hover {background: #edeef0; border: 1px solid #008156; margin-top:1px; padding:5px}<!-- [et_pb_line_break_holder] --></style>
<div style="width:340px; margin: 0 auto;"><!-- [et_pb_line_break_holder] --> <a class="twitter-timeline" data-width="340" data-height="500" data-link-color="#008156" href="https://twitter.com/PredictemPicks?ref_src=twsrc%5Etfw">Tweets by PredictemPicks</a> <script async src="https://platform.twitter.com/widgets.js" charset="utf-8"></script><!-- [et_pb_line_break_holder] --></div>