[et_pb_dcsbcm_divi_breadcrumbs_module hide_homebreadcrumb="off" homebreadcrumbtext="Home" separator="sep-raquo" hide_currentbreadcrumb="off" homebreadcrumborientation="left" _builder_version="3.8″ fontsbreadcrumbs_font="Lato||||||||" fontsbreadcrumbs_text_color="#000000″ fontsbreadcrumbs_font_size="15px" fontsbreadcrumbs_line_height="16px" fontsseperator_font="||||||||" fontsbreadcrumblinks_font="||||||||" fontsbreadcrumblinks_text_color="#2567cf" custom_margin="25px|||" custom_margin_phone="30px|||" custom_margin_last_edited="off|desktop" custom_css_main_element="font-family: Helvetica Regular;" global_module="3641″ saved_tabs="all"][/et_pb_dcsbcm_divi_breadcrumbs_module]
St. Louis Cardinals at Chicago White Sox (7/10/18)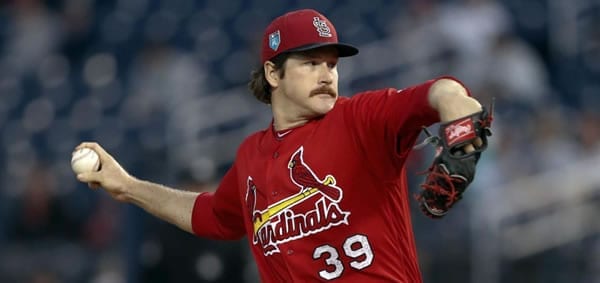 Time: 8:10 PM ET
Venue: Guaranteed Rate Field
Location: Chicago, Illinois
TV: FOX Sports-Midwest
Moneyline: St. Louis (-170) / Chicago (+155)
Over/Under: 9.5
By Bryan B.
On tap for Tuesday's the first game of a two-game interleague series between the St. Louis Cardinals and hometown Chicago White Sox. Both clubs had an off-day Monday and should be ready to rumble Tuesday night at Guaranteed Rate Field. This will be the third of four meetings on the year between these two teams. In St. Louis on May 1st and 2nd, the Cardinals took two consecutive games from the White Sox at Busch Stadium: 3-2 and 3-2. Chicago seeks revenge and would like to return the favor on their home turf this time around.
Cards approach tail-end of a nine-game road trip
St. Louis is 4-3 on their current nine-game road trip, which will end in Chicago early this week. The Cardinals took two of three from the Arizona Diamondbacks and split a four-game series with the San Francisco Giants. In their most recent game on Sunday, the Cards suffered a 13-8 loss in San Francisco. On the year, St. Louis has accrued a 23-21 (.523) road record.
Overall, the Cards are 46-43 (.517) thus far. They're currently in third place in the National League Central Division, seven games behind division-leader Milwaukee. It's been a ho-hum year on the offensive side of the plate this year as the Cards boast middle of the road numbers in all batting categories. However, their pitching staff has been quite solid. Their 3.75 earned run average is ninth-best in Major League Baseball.
Catcher Yadier Molina (.278 AVG, 13 HR, 38 RBI & .320 OBP) is one of the bigger snubs for the All-star game in the National League. Molina leads National League Catchers in home runs with 13, even though he missed one month's worth of action due to injury. "Yadi" didn't play in Sunday's contest at San Francisco because of a stinger. However, he should be good-to-go Tuesday night at Guaranteed Rate Field. This is quality news for the visitor's because Molina has been as good as gold lately. This past week, Molina's gone 8 for 21 (.381) with two homers and six RBI. Expect this trend to continue as Molina faces a White Sox club he's caused fits this year batting .571 against them. For his career, Molina is 16 for 42 (.381) with one home run, 12 RBI and a .413 on-base percentage versus Chicago. Furthermore, Molina has done most of his damage on the road this year. He's gone 33 for 113 (.292) with 12 homers and 28 RBI outside the confines of Busch Stadium.
Slated to take the hill Tuesday night for the Cards is Miles Mikolas (9-3, 2.63 ERA & 1.03 WHIP). Mikolas is the only St. Louis All-star selection, and he leads the team in wins (9) and ERA (2.63). He's ranked fifth in the National League amongst pitchers in three categories: wins (9), WHIP (1.03) and winning percentage (.750). The big right-hander is enjoying a breakout year thus far and rocking the lethal lip moss to boot. Mikolas, the mustached man, is about to make his first career appearance against the Chicago White Sox. In nine road starts this year, Mikolas is 5-0 with a 3.65 ERA and 1.16 WHIP.
White Sox look to stop the bleeding
A change of scenery may be just what the Chicago White Sox need Tuesday night at Guaranteed Rate Field. The White Sox return home after a 10-game road trip in which they lost eight, including the last five in a row. Their most recent series was at Houston, where the lowly White Sox lost: 4-3, 11-4, 12-6 and 2-1. Consequently, Chicago's record has fallen to 30-60 (.333) overall. The White Sox own the third worst record in the League ahead of only Kansas City and Baltimore. They're in fourth place and 19.5 games behind first-place Cleveland in the NL Central Division, which is the undisputed worst division in baseball.
Chicago's minus-125 run differential is third worst in MLB. The White Sox pitching staff isn't doing them any favors, having allowed 484 runs thus far which is second worst in the League. Their bats aren't lighting up the world either, but the White Sox did manage to get one player into the All-star game: Jose Abreu (.259 AVG, 12 HR, 50 RBI & .315 OBP). The first baseman's .259 average is the lowest of his career, but it's second-best amongst American League first basemen. Abreu has been ice-cold lately. Last week, he notched two hits in 23 at-bats (.087).
Dylan Covey (3-4, 5.54 ERA & 1.59 WHIP) will get the ball for the home team Tuesday night. It's been a lackluster Sophomore campaign for the 26-year-old righty out of the University of California-San Diego. In his career, Covey's 3-11 with a 6.81 ERA and 1.64 WHIP overall. He's had eight career starts at Guaranteed Rate Field, going 1-1 with a 4.28 ERA and 1.29 WHIP. Recently, things have gotten downright ugly for Covey. In his last four starts, he's gone 0-3 with a 13.20 ERA and 2.27 WHIP.
Value betting
With St. Louis at -170, we need to win this bet 63% of the time to make it profitable. According to meticulous and prudent analysis, the Cards have a 75% chance to win this one which is probably a low-end estimate if anything. Covey and the White Sox have been unequivocally atrocious. Anyways, the value here is with the 12% edge against the number. Take Miles Mikolas and the St. Louis Cardinals for the win on the money line and get the best value for this game at a dimeline sportsbook.
<div class="widget105"><!-- [et_pb_line_break_holder] --><h4 class="baseball">Baseball Sportsbooks</h4><!-- [et_pb_line_break_holder] --><table id="dimeline"><!-- [et_pb_line_break_holder] --> <tr><!-- [et_pb_line_break_holder] --> <th></th><!-- [et_pb_line_break_holder] --> <th width="110px">10¢ to:</th><!-- [et_pb_line_break_holder] --> <th width="110px">20¢ to:</th><!-- [et_pb_line_break_holder] --> </tr><!-- [et_pb_line_break_holder] --> <tr><!-- [et_pb_line_break_holder] --> <td><div class="col1"><a href="https://record.commission.bz/_BhTQDVOVie23_O3IiMN7EWNd7ZgqdRLk/1/"><!-- [et_pb_line_break_holder] --> <img src="https://www.predictem.com/wp-content/uploads/2018/06/SportsBettingDark.png" width="150" alt="SportsBetting" /></a><!-- [et_pb_line_break_holder] --> </div></td><!-- [et_pb_line_break_holder] --> <td>-200</td><!-- [et_pb_line_break_holder] --> <td>-279</td><!-- [et_pb_line_break_holder] --> </tr><!-- [et_pb_line_break_holder] --> <tr><!-- [et_pb_line_break_holder] --> <td><div class="col1"><a href="https://www.predictem.com/betting-sites/heritage-sportsbook/"><img src="https://www.predictem.com/wp-content/uploads/2018/06/heritage-xs.png" width="150" alt="Heritage" /></a></div></td><!-- [et_pb_line_break_holder] --> <td>-200</td><!-- [et_pb_line_break_holder] --> <td>-240</td><!-- [et_pb_line_break_holder] --> </tr><!-- [et_pb_line_break_holder] --> <tr><!-- [et_pb_line_break_holder] --> <td><div class="col1"><a href="https://affiliates.5dimes.eu/tracking/Affiliate.aspx?idBook=1&mediaTypeID=220&AffUrlID=80&LandingPageID=2"><img src="https://www.predictem.com/wp-content/uploads/2018/06/5Dimes_sm.png" width="150" alt="5Dimes" /></a></div></td><!-- [et_pb_line_break_holder] --> <td>-195</td><!-- [et_pb_line_break_holder] --> <td>-266</td><!-- [et_pb_line_break_holder] --> </tr><!-- [et_pb_line_break_holder] --></table> <!-- [et_pb_line_break_holder] --><div class="widget-footer"><a href="https://www.predictem.com/best-sportsbooks/mlb-dimeline/">See all Dimeline Sportsbooks</a></div><!-- [et_pb_line_break_holder] --></div><!-- [et_pb_line_break_holder] --><!-- [et_pb_line_break_holder] --><style><!-- [et_pb_line_break_holder] --> #dimeline {border: 0px;}<!-- [et_pb_line_break_holder] --> #dimeline th{color:#000;}<!-- [et_pb_line_break_holder] --> #dimeline td{padding: 2px; text-align: center;}<!-- [et_pb_line_break_holder] --> #dimeline td, #dimeline th{padding: 8px 2px; text-align: center;border-bottom: 1px solid #bbb;}<!-- [et_pb_line_break_holder] --> .img-hover {border: 1px solid #fff; padding:5px}<!-- [et_pb_line_break_holder] --> .img-hover:hover {background: #edeef0; border: 1px solid #008156; margin-top:1px; padding:5px}<!-- [et_pb_line_break_holder] --></style>