[et_pb_dcsbcm_divi_breadcrumbs_module hide_homebreadcrumb="off" homebreadcrumbtext="Home" separator="sep-raquo" hide_currentbreadcrumb="off" homebreadcrumborientation="left" _builder_version="3.8″ fontsbreadcrumbs_font="Lato||||||||" fontsbreadcrumbs_text_color="#000000″ fontsbreadcrumbs_font_size="15px" fontsbreadcrumbs_line_height="16px" fontsseperator_font="||||||||" fontsbreadcrumblinks_font="||||||||" fontsbreadcrumblinks_text_color="#2567cf" custom_margin="25px|||" custom_margin_phone="30px|||" custom_margin_last_edited="off|desktop" custom_css_main_element="font-family: Helvetica Regular;" global_module="3641″ saved_tabs="all"][/et_pb_dcsbcm_divi_breadcrumbs_module]
MLB Pick: Tampa Bay Rays at Minnesota Twins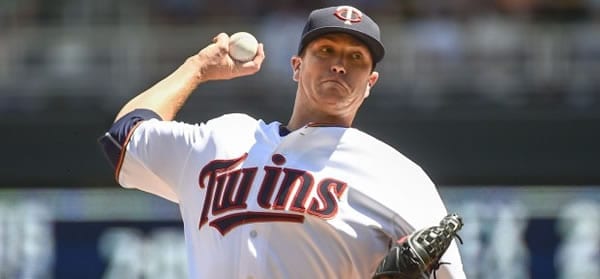 Time: 8:10 PM ET
Venue: Target Field
Location: Minneapolis, Minnesota
Moneyline: Tampa Bay (-120) / Minnesota (+100)
Over/Under: 8
By Bryan B.
The Minnesota Twins play host to the Tampa Bay Rays in the first game of a four-game set at Target field which concludes the first half of the season for both clubs. These two squads are slated to face off seven times this year, and the Rays won the first three decisions April 20th -22nd at Tropicana Field. Tampa Bay's outscored the Twinkies 26-14 thus far. Blake Snell (12-4, 2.09 ERA & 1.03 WHIP) and Kyle Gibson (3-6, 3.59 ERA & 1.27 WHIP) are the scheduled starters.
Rays continue to sting the opposition
With a 4-2 win versus the Detroit Tigers Wednesday afternoon, Tampa Bay's extended their winning streak to five games. The Rays have won at the New York Mets (3-0 and 9-0) and versus the Detroit Tigers (10-9, 5-2 and 4-2) during the stretch of dominance where they're outscoring opponents 31-13. Consequently, the Rays have launched themselves well above .500 at 48-44 (.522) and are in third place in the American League East Standings. Tampa Bay's 15.5 games behind the division-leading Boston Red Sox. Much of Tampa's success can be attributed to their stingy pitching staff, which has allowed just 348 runs this year (4th in MLB). Their plus-18 run differential is tied for sixth best in the AL. A four-game road trip to Minnesota closes out the first half of the year for the Rays who're 22-27 (.449) away from the Trop this season.
Twins put another one in the win column
After an 8-5 victory Wednesday afternoon at Target Field over the Kansas City Royals, the Minnesota Twins has now won six of their past seven decisions. The Twins swept the Orioles at home (5-2, 6-2, 5-4 and 10-1) and took two of three from the Royals most recently. During their stretch of winning ways, the Twins have outscored opponents 41-24. A four-game homestand versus the surging Tampa Bay Rays closes out the first half of the year for the Twinkies. With a 41-49 (.456) record, Minnesota's in second place in the lowly AL Central Division. They're eight games behind the first place Cleveland Indians. At Target Field this year, the Twins have accrued a 26-21 (.553) record.
All-Star bound
Each team has just one All-Star representative apiece. The lone All-Star for Tampa Bay is catcher Wilson Ramos (.291 AVG, 14 HR, 51 RBI & .340 OBP). In his last three games, Ramos has gone 5 for 14 (.357) with two home runs and six RBI. For the Twins, the only All-Star is pitcher Jose Berrios (9-7, 3.41 ERA & 0.99 WHIP).
Snell vs. Gibson
Toeing the rubber for the streaking Rays Thursday night is lanky lefty Blake Snell (12-4, 2.09 ERA & 1.03 WHIP). Snell's easily the biggest All-Star snub this year, and it's a joke he's not on the team. He's second in the American League in wins (12) and ERA (2.09). Tampa Bay's first-round pick in the 2011 MLB Draft has blossomed in his third year as a starter, becoming the ace of the Rays rotation. The disrespect he's had bestowed upon him, not being an All-Star must have him extra motivated to continue to mow down the competition; And has he ever been doing that. In his last four starts, Snell's 4-0 with a 0.64 ERA and 1.03 WHIP. He's made three starts in his young career versus Minnesota, posting a 1-0 record with a 4.47 ERA and 1.12 WHIP. On April 21st at Tropicana Field, Snell tossed seven innings of one-run ball in a 10-1 victory over Minnesota with Gibson pitching for the Twins. Snell threw 100 pitches, allowed five hits and struck out six. He'd love to duplicate his last performance against the Twins Thursday night at Target Field. In 11 road starts this year, Snell's 6-3 with a 3.09 ERA and 1.15 WHIP.
On the mound for the hometown team is Kyle Gibson (3-6, 3.59 ERA & 1.27 WHIP). The 30-year-old Missouri product is in his sixth year of MLB. In his last four starts, Gibson's 1-2 with a 4.68 ERA and 1.60 WHIP. Gibson's started nine home games this year, accruing a 1-4 record with a 4.44 ERA and 1.46 WHIP. On April 21st at Tampa Bay, Gibson allowed four earned runs in a 10-1 loss at Tropicana Field. In six career starts versus Tampa Bay, Gibson's 1-4 with a 6.97 ERA and 1.84 WHIP.
Where's the value?
The oddsmakers aren't giving the surging Rays and Blake Snell any respect with the minuscule -120 opening line. With the line, The Rays need to win 54.5% of the time to make this a profitable bet. Tampa's on a five-game winning streak, Snell's been dominant recently, and Gibson has tenuous numbers against the Rays historically. Tampa Bay's going to win this game 72.3% of the time, which gives us bettors a 17.8% edge against the line. There's your value in this one. Bet against Blake Snell at your own peril. Take the Rays on the money line for the "W." Get the best bang for your buck at 5Dimes where you can find this game at -110.
<div class="widget105"><!-- [et_pb_line_break_holder] --><h4 class="baseball">Baseball Sportsbooks</h4><!-- [et_pb_line_break_holder] --><table id="dimeline"><!-- [et_pb_line_break_holder] --> <tr><!-- [et_pb_line_break_holder] --> <th></th><!-- [et_pb_line_break_holder] --> <th width="110px">10¢ to:</th><!-- [et_pb_line_break_holder] --> <th width="110px">20¢ to:</th><!-- [et_pb_line_break_holder] --> </tr><!-- [et_pb_line_break_holder] --> <tr><!-- [et_pb_line_break_holder] --> <td><div class="col1"><a href="https://record.commission.bz/_BhTQDVOVie23_O3IiMN7EWNd7ZgqdRLk/1/"><!-- [et_pb_line_break_holder] --> <img src="https://www.predictem.com/wp-content/uploads/2018/06/SportsBettingDark.png" width="150" alt="SportsBetting" /></a><!-- [et_pb_line_break_holder] --> </div></td><!-- [et_pb_line_break_holder] --> <td>-200</td><!-- [et_pb_line_break_holder] --> <td>-279</td><!-- [et_pb_line_break_holder] --> </tr><!-- [et_pb_line_break_holder] --> <tr><!-- [et_pb_line_break_holder] --> <td><div class="col1"><a href="https://www.predictem.com/betting-sites/heritage-sportsbook/"><img src="https://www.predictem.com/wp-content/uploads/2018/06/heritage-xs.png" width="150" alt="Heritage" /></a></div></td><!-- [et_pb_line_break_holder] --> <td>-200</td><!-- [et_pb_line_break_holder] --> <td>-240</td><!-- [et_pb_line_break_holder] --> </tr><!-- [et_pb_line_break_holder] --> <tr><!-- [et_pb_line_break_holder] --> <td><div class="col1"><a href="https://affiliates.5dimes.eu/tracking/Affiliate.aspx?idBook=1&mediaTypeID=220&AffUrlID=80&LandingPageID=2"><img src="https://www.predictem.com/wp-content/uploads/2018/06/5Dimes_sm.png" width="150" alt="5Dimes" /></a></div></td><!-- [et_pb_line_break_holder] --> <td>-195</td><!-- [et_pb_line_break_holder] --> <td>-266</td><!-- [et_pb_line_break_holder] --> </tr><!-- [et_pb_line_break_holder] --></table> <!-- [et_pb_line_break_holder] --><div class="widget-footer"><a href="https://www.predictem.com/best-sportsbooks/mlb-dimeline/">See all Dimeline Sportsbooks</a></div><!-- [et_pb_line_break_holder] --></div><!-- [et_pb_line_break_holder] --><!-- [et_pb_line_break_holder] --><style><!-- [et_pb_line_break_holder] --> #dimeline {border: 0px;}<!-- [et_pb_line_break_holder] --> #dimeline th{color:#000;}<!-- [et_pb_line_break_holder] --> #dimeline td{padding: 2px; text-align: center;}<!-- [et_pb_line_break_holder] --> #dimeline td, #dimeline th{padding: 8px 2px; text-align: center;border-bottom: 1px solid #bbb;}<!-- [et_pb_line_break_holder] --> .img-hover {border: 1px solid #fff; padding:5px}<!-- [et_pb_line_break_holder] --> .img-hover:hover {background: #edeef0; border: 1px solid #008156; margin-top:1px; padding:5px}<!-- [et_pb_line_break_holder] --></style>
<div style="width:340px; margin: 0 auto;"><!-- [et_pb_line_break_holder] --> <a class="twitter-timeline" data-width="340" data-height="500" data-link-color="#008156" href="https://twitter.com/PredictemPicks?ref_src=twsrc%5Etfw">Tweets by PredictemPicks</a> <script async src="https://platform.twitter.com/widgets.js" charset="utf-8"></script><!-- [et_pb_line_break_holder] --></div>
<aside><!-- [et_pb_line_break_holder] --><div class="widget105"><!-- [et_pb_line_break_holder] --><h3>Biggest Sportsbook Bonuses</h3><!-- [et_pb_line_break_holder] --><div class="widgetlist"><!-- [et_pb_line_break_holder] --><div class="col1"><!-- [et_pb_line_break_holder] --><img src="https://www.predictem.com/wp-content/uploads/2018/04/bovada.png" width="150" alt="Bovada" /><!-- [et_pb_line_break_holder] --></div><!-- [et_pb_line_break_holder] --><div class="col2"><!-- [et_pb_line_break_holder] --><span class="list"><b>50% Cash</b></span><br><!-- [et_pb_line_break_holder] --><span class="list">5x Rollover</span><!-- [et_pb_line_break_holder] --> </div><!-- [et_pb_line_break_holder] --> <div class="col3"><!-- [et_pb_line_break_holder] --><a href="https://www.predictem.com/betting-sites/bovada/"><button class="btn-widget">Review</button></a><!-- [et_pb_line_break_holder] --></div><!-- [et_pb_line_break_holder] --></div><!-- [et_pb_line_break_holder] --><div class="widgetlist"><!-- [et_pb_line_break_holder] --><div class="col1"><!-- [et_pb_line_break_holder] --><img src="https://www.predictem.com/wp-content/uploads/2018/04/intertops.png" width="150" alt="Intertops" /><!-- [et_pb_line_break_holder] --></div><!-- [et_pb_line_break_holder] --><div class="col2"><!-- [et_pb_line_break_holder] --><span class="list"><b>50% Cash</b></span><br><!-- [et_pb_line_break_holder] --><span class="list">4x Rollover</span><!-- [et_pb_line_break_holder] --> </div><!-- [et_pb_line_break_holder] --><div class="col3"><!-- [et_pb_line_break_holder] --><a href="https://www.predictem.com/betting-sites/intertops/"><button class="btn-widget">Review</button></a><!-- [et_pb_line_break_holder] --></div><!-- [et_pb_line_break_holder] --></div><!-- [et_pb_line_break_holder] --><div class="widgetlist"><!-- [et_pb_line_break_holder] --><div class="col1"><!-- [et_pb_line_break_holder] --><img src="https://www.predictem.com/wp-content/uploads/2018/05/gt-bets.png" width="150" alt="GtBets" /><!-- [et_pb_line_break_holder] --></div><!-- [et_pb_line_break_holder] --><div class="col2"><!-- [et_pb_line_break_holder] --><span class="list"><b>150% Cash</b></span><br><!-- [et_pb_line_break_holder] --><span class="list">4x Rollover</span><!-- [et_pb_line_break_holder] --> </div><!-- [et_pb_line_break_holder] --> <div class="col3"><!-- [et_pb_line_break_holder] --> <a href="https://www.predictem.com/betting-sites/gtbets/"><button class="btn-widget">Review</button></a><!-- [et_pb_line_break_holder] --></div><!-- [et_pb_line_break_holder] --></div><!-- [et_pb_line_break_holder] --><div class="widget-footer"><a href="https://www.predictem.com/best-sportsbooks/bonuses/">See all sportsbook bonuses</a></div><!-- [et_pb_line_break_holder] --> </div></aside>