[et_pb_dcsbcm_divi_breadcrumbs_module hide_homebreadcrumb="off" homebreadcrumbtext="Home" separator="sep-raquo" hide_currentbreadcrumb="off" homebreadcrumborientation="left" _builder_version="3.8″ fontsbreadcrumbs_font="Lato||||||||" fontsbreadcrumbs_text_color="#000000″ fontsbreadcrumbs_font_size="15px" fontsbreadcrumbs_line_height="16px" fontsseperator_font="||||||||" fontsbreadcrumblinks_font="||||||||" fontsbreadcrumblinks_text_color="#2567cf" custom_margin="25px|||" custom_margin_phone="30px|||" custom_margin_last_edited="off|desktop" custom_css_main_element="font-family: Helvetica Regular;" global_module="3641″ saved_tabs="all"][/et_pb_dcsbcm_divi_breadcrumbs_module]
Tampa Bay Rays at Minnesota Twins Pick 7/13/18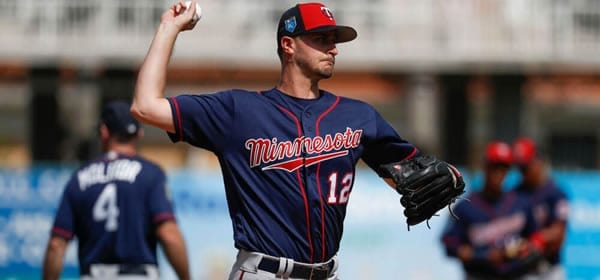 Tampa Bay Rays (48-45) vs. Minnesota Twins (42-49)
When: Friday, July 13th, 8:10 PM EST
Where: Target Field, Minneapolis, MN
TV: DirecTV 668
Betting Odds: TB -105/Min -105
Total: 8.5
by Kevin West, Pro Baseball Handicapper, Predictem.com
All we've been hearing about lately is how hot the New York Yankees and Boston Red Sox have been. Meanwhile, sharps and astute baseball bettors have been making bank tailing the Minnesota Twins who have won 7 of their last 8 and the Oakland A's, winners of 15 of their previous 19.
There's a general consensus that the Tampa Bay Rays are hot. Many of their recent wins are vs. Miami, Detroit and the New York Mets. Still, think they're good?
15 Reasons the Twins are Worth a Bet Tonight
– Winners of 7 of their last 8 games, the Twins are hot.
– Minny is 8-1 in their last 9 home games.
– 6-1 in their last 7 home games vs. a right-handed starter.
– We can get the Twins at +1.5, -160 on the run line as long as they're a dog.
– The public is backing the Rays and the line is going the other way.
– Eovaldi has given up SEVEN dongs in only 37 road innings.
– Eovaldi's ERA is THREE RUNS higher in night games than day games.
– The Rays have 4 regulars hitting .217 or less over the last 7 days.
– The Rays are 22-28 on the road.
– The Rays are 17-28 after a loss.
– Tampa Bay leads the Majors in strikeouts on the road (while betting) with 466.
– Tampa is ranked 22nd in runs scored while away from home.
– The Twins have 4 hitters batting over .300 in their last 7 days.
– Brian Dozier is on fire hitting .370 with 3 dingers over the last 7 days. He matches up good vs. great vs. Eovaldi, who keeps the ball low, right where Dozier likes it. The Twins slugger has a .455 career avg. vs. Eovaldi.
– Jake Odorizzi has a 1.64 ERA over his past two games.
Whether you're looking to bet online for the first time or want to get back in the game a good spot to start is our sportsbook bonus page. Compare each sites offer to get the best deal for your hard earned money.
Tonight's Trends Worth Noting
Tampa Bay is 5-15 in their last 20 road games.
The Rays are 3-13 in their last 16 road games vs. a right-handed starter.
TB is 2-9 in their last 11 road games vs. a team with a winning home record.
Tampa is 1-4 in Eovaldis last 5 road starts.
The home team is 5-1 in Kelloggs last 6 games behind home plate vs. Minnesota.
The Rays are 8-20 in their last 28 games with Kellogg behind home plate.
Kevin's Pick to Win the Ray's/Twins Game
Being "hot" as a team, supersedes all stats. The Twins have been sleeping in their own beds since July 5th and are rolling. The Rays hit .244, have a .306 on base average and a weak .379 slugging percentage on the road. The Twins are hitting .301 with a .353 on base percentage and .473 slugging percentage over their past 7 games, all which have been at home. Both of these teams have a tendency to not hit at times, and Target Field is a pitchers park, so I'm grabbing the Twins +1.5 on the run line.
Another bet I like in this game is a lunch money play on the prop bet: Will Brian Dozier hit a home run? +400. You can find this wager at Bovada.
<div class="widget105"><!-- [et_pb_line_break_holder] --><h4 class="baseball">Baseball Sportsbooks</h4><!-- [et_pb_line_break_holder] --><table id="dimeline"><!-- [et_pb_line_break_holder] --> <tr><!-- [et_pb_line_break_holder] --> <th></th><!-- [et_pb_line_break_holder] --> <th width="110px">10¢ to:</th><!-- [et_pb_line_break_holder] --> <th width="110px">20¢ to:</th><!-- [et_pb_line_break_holder] --> </tr><!-- [et_pb_line_break_holder] --> <tr><!-- [et_pb_line_break_holder] --> <td><div class="col1"><a href="https://record.commission.bz/_BhTQDVOVie23_O3IiMN7EWNd7ZgqdRLk/1/"><!-- [et_pb_line_break_holder] --> <img src="https://www.predictem.com/wp-content/uploads/2018/06/SportsBettingDark.png" width="150" alt="SportsBetting" /></a><!-- [et_pb_line_break_holder] --> </div></td><!-- [et_pb_line_break_holder] --> <td>-200</td><!-- [et_pb_line_break_holder] --> <td>-279</td><!-- [et_pb_line_break_holder] --> </tr><!-- [et_pb_line_break_holder] --> <tr><!-- [et_pb_line_break_holder] --> <td><div class="col1"><a href="https://www.predictem.com/betting-sites/heritage-sportsbook/"><img src="https://www.predictem.com/wp-content/uploads/2018/06/heritage-xs.png" width="150" alt="Heritage" /></a></div></td><!-- [et_pb_line_break_holder] --> <td>-200</td><!-- [et_pb_line_break_holder] --> <td>-240</td><!-- [et_pb_line_break_holder] --> </tr><!-- [et_pb_line_break_holder] --> <tr><!-- [et_pb_line_break_holder] --> <td><div class="col1"><a href="https://affiliates.5dimes.eu/tracking/Affiliate.aspx?idBook=1&mediaTypeID=220&AffUrlID=80&LandingPageID=2"><img src="https://www.predictem.com/wp-content/uploads/2018/06/5Dimes_sm.png" width="150" alt="5Dimes" /></a></div></td><!-- [et_pb_line_break_holder] --> <td>-195</td><!-- [et_pb_line_break_holder] --> <td>-266</td><!-- [et_pb_line_break_holder] --> </tr><!-- [et_pb_line_break_holder] --></table> <!-- [et_pb_line_break_holder] --><div class="widget-footer"><a href="https://www.predictem.com/best-sportsbooks/mlb-dimeline/">See all Dimeline Sportsbooks</a></div><!-- [et_pb_line_break_holder] --></div><!-- [et_pb_line_break_holder] --><!-- [et_pb_line_break_holder] --><style><!-- [et_pb_line_break_holder] --> #dimeline {border: 0px;}<!-- [et_pb_line_break_holder] --> #dimeline th{color:#000;}<!-- [et_pb_line_break_holder] --> #dimeline td{padding: 2px; text-align: center;}<!-- [et_pb_line_break_holder] --> #dimeline td, #dimeline th{padding: 8px 2px; text-align: center;border-bottom: 1px solid #bbb;}<!-- [et_pb_line_break_holder] --> .img-hover {border: 1px solid #fff; padding:5px}<!-- [et_pb_line_break_holder] --> .img-hover:hover {background: #edeef0; border: 1px solid #008156; margin-top:1px; padding:5px}<!-- [et_pb_line_break_holder] --></style>
<div style="width:340px; margin: 0 auto;"><!-- [et_pb_line_break_holder] --> <a class="twitter-timeline" data-width="340" data-height="500" data-link-color="#008156" href="https://twitter.com/PredictemPicks?ref_src=twsrc%5Etfw">Tweets by PredictemPicks</a> <script async src="https://platform.twitter.com/widgets.js" charset="utf-8"></script><!-- [et_pb_line_break_holder] --></div>