UFC 268 Picks: Usman vs. Covington 2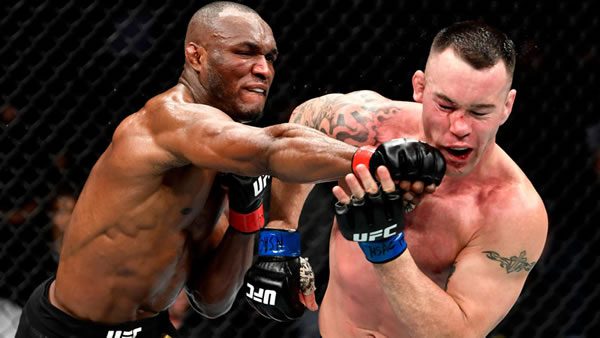 UFC 268: Usman vs. Covington 2 Predictions
When: Saturday, November 6, 2021
Where: Madison Square Garden, New York City, New York
TV: PPV
Fight Analysis:
UFC 268 is a stacked card with a worthy main event at the top with Kamaru Usman vs. Colby Covington II. These are familiar rivals, and it's one of the more-heated pairings in the UFC. Both men are considered two of the top wrestlers in the UFC, yet their first fight gave way to what was more of a stand-up battle. What will the rematch look like? Let's take a look at Usman-Covington II!
Kamaru Usman, 19-1 (9 KOs, 1 Submission), (-280) vs. Colby Covington, 16-2 (4 KOs, 4 Submissions), (+240)—Betonline.ag
UFC Welterweight Champion Kamaru Usman defends his title against Colby Covington on November 6 in New York City. This is a rematch from a December 2019 fight, which Usman won late in the fifth round by TKO. It was a tough fight following a vitriolic build-up, something we should see again leading up to this fight. Can Usman repeat his win, or will Colby give the champion a tougher challenge this time around?
I think Covington's main problem isn't so much anything he's doing wrong, but the fact that Usman may very well be the best welterweight to ever step in the octagon, with the possible exception of Georges St. Pierre. He's a fighter whose only defeat was over eight years ago in his second fight. He has won all his UFC fights, and this will be his fifth defense of the welterweight strap. A guy who used to ground opponents down with his supreme wrestling, we've seen him start to stretch guys out with punches, becoming a deadlier striker during his title reign.
Both men are 33 and wrestlers first and foremost. Obviously, they do other things well, but I think the nod goes to Usman in terms of what he has added to supplement his wrestling. In five UFC title fights, he was the winner with room to spare. He is an utterly professional fighter who prepares like he's still a fighter trying to make it. That's what allows him to stay on top. He keeps redoubling his efforts, not resting on his laurels, and continues to improve.
That's not to imply that Covington hasn't improved. And during Usman's title reign, he has been the one to most trouble the champion. He is a handful in his own right, a ball of energy and talent with a seemingly endless gas tank. Some people might not appreciate his lack of respect and his big mouth, but that can't distract you from the very real assets he brings to an octagon. Covington has beaten a good number of respected fighters and deserves to be here.
I wonder if Covington is totally genuine with his approach. It seems like he relishes in being the villain, but I hope for his sake that's all it is. And let's be frank, championship fights in any fighting sport don't revolve around what people say before or after the fight. This is a bottom-line sport where the in-octagon results speak for themselves. So one might be inclined to pay no mind to lip service. It's just a little concerning to hear how Covington refuses to acknowledge defeat, chalking his previous loss to Usman up to a bad ref stoppage and not that Usman was rearranging his face and had him in deep peril. This whole "I didn't lose" take doesn't seem like the proper mindset when trying to reverse a loss in a rematch. It rings as being delusional and unwilling to face off with one's shortcomings. Then again, it could just be bravado and bluster from a fighter who embraces that approach. But with Usman's above-reproach mental outlook, any flaw in Covington's mindset could be exposed.
It's just that in light of Usman becoming even better after he won the title, Covington needs to keep pace to stand a chance. Usman has since had three fights since beating Covington, beating back the challenges of three more challengers, two of them being the same guy in Jorge Masvidal. Covington, meanwhile, only beat regressing ex-champ Tyron Woodley since their first fight, not exactly an awe-inspiring answer to his defeat to Usman in 2019. It's just hard not to say that if anyone is going to be better in this fight, it's going to be Usman.
I think people have managed to not acknowledge Usman's full powers. They're starting to now after some emphatic stoppages. But until very recently, Usman was not a fan-favorite on any level. He was considered dull. A lot of his fights went the distance. He wasn't popping up on a lot of highlight reels. It's just important not to confuse merit and entertainment value. His wrestling-heavy style can be cumbersome to watch at times, and he does have sort of a dull vibe about him. But it's important not to let that affect where you think he stands in the MMA pecking order. He's squarely right at the tip-top of that hill.
Usman is not the only fighter allowed to improve. And perhaps his improvement is more in plain view, having been more active than Covington. But Covington is eager to atone for that loss, and he knows two losses to the champ makes it so not even he can try to spin that he's the best in the biz. He has added some more boxing and looks to be able to compete better in the stand-up this time around. Maybe he can find another gear. With Usman, though, he has a pretty big spread to cover.
Despite both men being among the best wrestlers in MMA, their first fight was more of a kickboxing match. Their respective wrestling ability just makes it so a stand-up battle is more plausible since neither man can really dominate in this spot with wrestling. There might be a dash of it here and there, and maybe Covington will look to make that more of a factor. Otherwise, I think we're looking at a similarly-styled fight as the first one. In that case, I defer somewhat strongly to Usman's abilities. His jab was on-point the first time, he busted Covington up with the left hook, and he has likely even gotten better with his hands since then. I see Usman getting it done once again. I'll take the champion to retain his title.
My Prediction to Win: I'm betting on Kamaru Usman at -280 betting odds. Bet your UFC picks for FREE for the next month by taking advantage of a 100% REAL CASH bonus on your first deposit of $100 to $1000 at Betnow Sportsbook!
100% REAL CASH up to $300

USE BONUS CODE:
PREDICT100