Alexander Povetkin vs. Dillian Whyte Analysis & Picks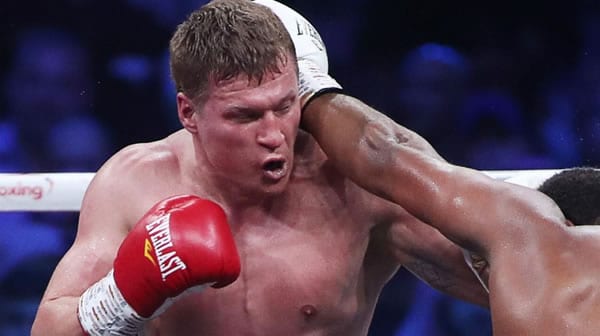 Alexander Povetkin (36-2-1, 25 KOs) vs. Dillian Whyte (27-2, 18 KOs)
When: Saturday, March 6, 2021
Where: Wembley Stadium, London, England
TV: DAZN
Weight Class:
Betting Odds: Alexander Povetkin (+240), Dillian Whyte (-300) - Double your bet for FREE by taking advantage of a HUGE 100% real cash bonus offer on your first deposit of $100 to $500 at BetNow! This is a REAL CASH bonus, not a crappy match play!
Fight Analysis:
Alexander Povetkin takes on Dillian Whyte on March 6 in a very important bout between serious heavyweight contenders. In August, Povetkin scored a major upset with a fifth-round KO over Whyte. It spoiled what would have been a certain title shot for Whyte, who first needs to settle up his business with the Russian ex-champ before entertaining any thoughts of title glory. And for the 41-year old Povetkin, another win here would signal a late-career renaissance. It's a high-stakes bout, and with so few title opportunities in this division, the loser could face a long road back to this spot.
It was really a thing of beauty when Povetkin stopped Whyte in August, the culmination of Povetkin's long and credentialled career, which includes an Olympic gold medal and world title honors. Povetkin managed to slip a Whyte right hand, countering immediately with a left uppercut that immediately shut off Whyte's lights, leaving him on the mat out and senseless. It was really eye-opening and served notice that while Povetkin might not have been considered a top guy anymore, he still has a lot of fight left in him. His only losses were to two signature heavyweights of this era—Klitschko and Joshua.
But after being stopped for the first time in his career against Joshua in 2018, Povetkin wasn't really looking that crisp, with a bland decision win over Hughie Fury and a draw with American contender Michael Hunter. Therefore, it was assumed that Whyte, considered the best of the rest, would stay on the winning track. But perhaps everyone forgot how good Povetkin could be. In addition, we also forgot about all the pitfalls that await a contender who keeps rolling the dice against good fighters while waiting for a title shot that never seems to materialize.
As we have seen with the general inactivity levels of fighters like Deontay Wilder, Tyson Fury, and Anthony Joshua, it has been hard to book a title shot the last several years. A byproduct of that is that you have a worthwhile contender in Whyte who just gets put on ice indefinitely. After giving Joshua a lot of trouble in his only loss, he won 11 straight fights, mostly against good fighters, but the shot never came. In all truth, he really shouldn't even be fighting guys like Povetkin after so clearly establishing his status as the top contender in the division.
Even nearly a decade Povetkin's junior at 32, there is a feeling that Whyte had grown a little stale. And that's something that can happen when you're on a seemingly endless road of proving yourself when you're already the number one contender. But maybe the loss enlivened him and communicated to the English slugger that he can't go through the motions at this level. And with the champion on ice, he can't afford a slip-up, or he could be waiting years for a shot at the belts.
The end of their first fight doesn't tell the whole story. It appeared that Whyte was well on his way to victory, dropping Povetkin twice in the fourth before getting caught in the fifth, a round he was also winning. A lot of how Whyte spins out of this depends on how he perceives the first fight. If he decides it was his mental preparation, complacency, or maybe apathy that allowed him to get caught, he can improve, be sharper mentally, and show greater overall urgency in the ring. If he writes it off as a lucky punch, however, it would show that he's in a bit of denial. That's what he said after the fight, indicating that it was more an aberration than a sign that Povetkin is actually in any way better than him. And that could be a problem. At root, it wasn't lucky. Povetkin has been throwing that shot for years. It's the culmination of a long productive career, executed by a fighter who didn't win a gold medal and a world title by accident or mere happenstance. So Whyte better get his head screwed on right for what he's about to face.
A proper mindset could do Whyte wonders in this fight. Because that one shot that Povetkin threw was, in fact, his greatest moment in a ring in years. It seemed like he was on his way out—playing out the last chapter in a long boxing career. The two times he got to face the best, he didn't get all that close to winning. On the wrong side of 40, with some recent uneven performances, it seemed the division had passed him by. Not being able to beat a good but unexceptional contender in Hunter seemed to bolster that. And even the fact that he looked to be on his way out before landing the big shot against Whyte shows an aging ex-champ struggling fairly mightily to stay in the mix.
The stakes are huge for Whyte, as another loss nixes any immediate plans of glory. It's an odd fight, with the victim of the KO a large favorite. Based on the first fight, it's hard to take anyone to task for a position on Povetkin at +240. I just don't see him pulling it off twice. I see Whyte preparing a little better and showing more mental urgency and sharpness in the rematch, allowing him to avoid moments like what he came across in the first match. I'll take Whyte in this one.
My Prediction to Win the Fight:
I'm betting on Dillian Whyte to win at -300 betting odds. While the first fight showed this is a dangerous matchup for Whyte, I sense that out of the two fighters, he's the one who can improve for the rematch. Note: You no longer have to bet on fights ahead of time! You can jump into the action at ANY time during the bout by using the live wagering platform at Bovada Sportsbook! A way more exciting way to bet!
100% REAL CASH up to $300

USE BONUS CODE:
PREDICT100