Deontay Wilder vs. Luis Ortiz Fight Analysis & Picks 11/9/19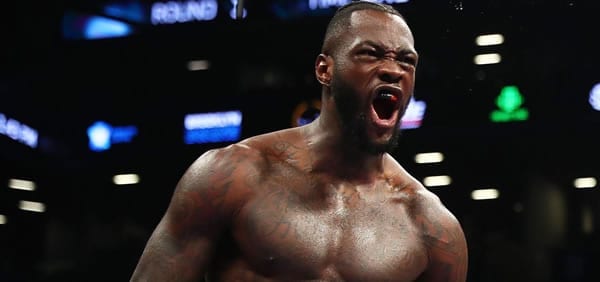 Deontay Wilder (41-0-1, 40 KOs) vs. Luis Ortiz (31-1, 26 KOs)
When: Saturday, November 9, 2019
Where: TBA
TV: Showtime
Weight Class: WBC Heavyweight Title
Betting Odds: Deontay Wilder (-850), Luis Ortiz (+520)
Deontay Wilder takes on Luis Ortiz on November 9 for the WBC Heavyweight Title. It is a rematch of a hotly-contested 2018 bout when Wilder overcame some rocky passages to win by 10th round stoppage. It really turned into a terrific fight, with some of the best action seen in heavyweight title fights in recent memory, though Wilder's ensuing fight, an epic draw with Tyson Fury, got more attention and drowned out the first Ortiz result a bit. Despite the long odds here against Ortiz, he had Wilder in trouble the first time around and looks to do one better in the rematch.
Fight Analysis:
Ortiz brought to light some issues with Wilder. For all his power and wherewithal, he loses rounds at this level. We're talking the top level, a place where Ortiz belongs. Ortiz nearly had Wilder out of there in the 7th round, before Wilder thundered back with the big stoppage in the tenth. It was an emphatic end to what had been a titanic struggle for the unbeaten Wilder. In the interim, Wilder had that big fight with Fury, followed by a predictably-easy first-round KO over Dominic Breazeale. Ortiz has stayed busy with two more wins in 2018 and one in 2019.
We know what we have with Wilder—an imperfect but monstrous-hitting champion who levels his opposition. Ortiz is more of an X-factor, hailing from Cuba and going back deep into the Castro regime. He is listed at 40 years of age, though some believe him to be closer to 50. And he looks it. His body is in good shape, and he has good equipment at 6'4″ with a 78-inch reach. He is an innate boxer with the sport in his blood. He is very natural in the ring and ultra-experienced. He has a little black cloud around him after popping twice for PEDs and a background that no one can quite put a finger on. Suffice to say he is a top fighter, no worse than the fifth-best big man on the planet.
When looking for an underdog fetching a number like what Ortiz is getting in this fight, it's not often you have much to base it on other than intuition. In this fight, however, you have an underdog who was within a few punches of knocking the favorite out. At the time of the stoppage, all three judges had Wilder up by a single point, while most who were watching thought Ortiz was a little ahead. So we have a big underdog who has shown in no uncertain terms that he can compete against this guy.
At the end of the day, Ortiz couldn't get it done. When he unveiled the full fury of his game, Wilder was able to endure, And that's an area where I believe Wilder is a bit underappreciated. Sure, everyone looks at his offensive prowess and how he can deliver his power at any time, regardless of what he has to overcome. But we've seen against Ortiz and later against Fury that when things aren't going his way, he is able to steel himself and summon the power and resolve to forge his way to the top. Regardless if you think he deserved a draw against Fury, his ability to summon that power in the last round of a difficult fight is a testament to his championship heart and spirit. And against Ortiz, with a lot not going his way, he also provided the late power-surge.
On the other hand, you have Ortiz, a guy who has felt the need to go to the PED-card in his career. Other than Wilder, he has never really been in the ring with any killers. Sure, it's been hard to lure top competition to the ring, but for a guy his age, his actual accomplishments that make up his impressive 31-1 record are a bit thin. His best win might be Bryant Jennings, a good heavyweight, but nowhere near this level. Despite his showing in the first fight, we're still talking about a guy over 40 who has never thrived at a really high level, let alone this high of a level. It's pretty odd to see a guy breakthrough at this age.
Still, it's hard to feel comfortable laying a number like -850 on a fighter who experienced great difficulty the first time around against the same opponent. When you lay a number like that, there might be a danger-potential, but you usually get a pretty smooth ride without a bunch of minefields to navigate. These odds for Wilder are double what they were in the first bout, which would suggest a whole different fight from the one we saw. Ortiz was competitive. He won rounds. He was in the fight. Laying -850 is nearly unconscionable in this spot. And yes, you can say that even if you think Wilder is going to win and he should win.
Ortiz is a big and dangerous southpaw and is the kind of guy who is a handful—for any heavyweight on the planet. He is well-schooled and very-nuanced. Wilder, for all his power and resolve, is not a sophisticated boxer. I think there were enough glimpses of success in the first fight for Ortiz to take a small stance on him. But regardless of who comes out on top, I don't see this as a distance-fight. In fact, I don't see it going as long as it did the first time. I'm going to take a small stance on Ortiz just out of principle. Go watch the first fight and then tell what the better value is, Wilder at -850 or Ortiz at better than 5-to-1? But the majority of my wagering on this fight will be done on the total, which hasn't been posted yet. I suspect this fight won't get out of the eighth round and will be taking the "under," barring the posting of some unfathomable total.
My Prediction to Win the Fight:
I'm betting on Luis Ortiz at +520. I will also be looking for a position on the "under". While the more-celebrated fighter, Wilder is not without his flaws and we already saw one momentous heavyweight championship upset this year. I think Ortiz is the superior value at the long underdog odds and whoever wins, it might be quicker this time around in a fight between guys who have shown they can both hurt each other. I envision a competitive fight, and when that's the case, a stance on a big dog can always be justified. The lowest favorite odds and highest underdog payouts are ALWAYS found at 5Dimes!