Jeff Horn vs. Tim Tszyu Fight Analysis & Pick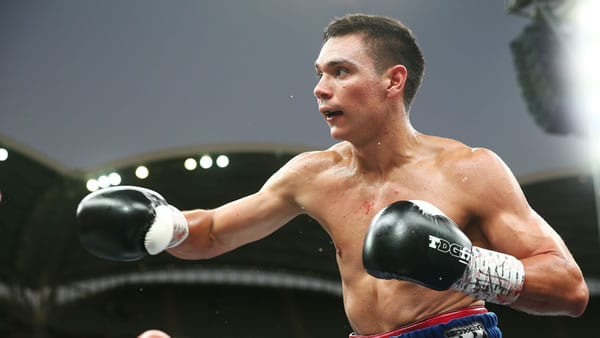 Jeff Horn (20-2-1, 12 KOs) vs. Tim Tszyu (15-0, 11 KOs)
When: Wednesday, August 26, 2020
Where: Queensland Country Bank Stadium, Townsville, Australia
TV: PPV
Weight Class: Super Welterweights: 154 Pounds
Boxing Odds: Jeff Horn (+160), Tim Tszyu (-200). Bet the fight for free by grabbing a 100% bonus at Betnow Sportsbook!
Fight Analysis:
Jeff Horn takes on unbeaten up-and-comer Tim Tszyu in a big super welterweight showdown Down Under on August 26. It's a really big fight in Australia, with two of the more prominent names in boxing doing battle. Horn scored one of the biggest wins in the recent history of Aussie boxing with his victory over Manny Pacquiao in 2017. In the other corner is the undefeated son of Australia's greatest-ever fighter in Kostya Tszyu. As the odds indicate, the appeal of this fight lies in how difficult it is to pick a winner. Let's try to break this one down!
Horn is the more traveled fighter, having mixed with big-name fighters like Pacquiao and Crawford. He had the huge win over Pacquiao in 2017, made to look only better given Pacquiao's subsequent success. But the dominance in which Crawford handled him suggested that he was a notch below elite from an overall standpoint, later confirmed when he suffered a stoppage loss to Michael Zerafa in 2019. He went on to avenge the Zerafa loss before the end of the year and is unquestionably a successful fighter who made a lot of money and is still in the mix.
At 32, without having shown a tremendous amount of care for his personal safety in the ring, I don't think it's unfair to wonder if this is the same Jeff Horn we saw in 2017. That version may not have been a great fighter, but he had a great motor, good size for 147, and a package of overall physicality that was a tough night's work for all but the very best. Nothing against Zerafa, but when you're getting knocked out by fighters like that, you start to wonder if this is the same guy who came out of nowhere to beat the legendary Filipino three years ago.
Questions also loom with Tszyu, although he is undefeated. He has done everything asked of him, and people are rightfully excited about him. On the surface, he certainly seems to be a fine prospect. And I hate to bring up who his father was, but it's worth factoring in how much it has contributed to the hype-machine. If Tim Tszyu was "Tim Wilson," would we have heard about him over here in the States? Would his talent alone be enough to warrant him this betting quote against Horn if not for his name? Then again, no one is asking him to do the things his dad Kostya did to get in the Hall of Fame. He just has to beat Horn. Is he catching him at the right time? That very well could be the case.
DID YOU KNOW… THAT YOU CAN BET ON FIGHTS AFTER THEY'VE STARTED? FIND THIS SWEET WAGERING OPTION AT BOVADA SPORTSBOOK!
I see a well-put-together 154-pounder in Tszyu, 25. He moves nicely, showcasing nifty footwork to slither in and out of the pocket. He has good reflexes and counters well with an impressive overall crispness. He has good legs and shows a nice understanding of range with a very nimble in-and-out motion. He's not really an easy guy to fight, and it's not hard to imagine Tszyu troubling some of the more flatfooted fighters in this division. The youngster has a good edge to him, with what seems to be a robust fighting spirit.
The thing with Tszyu is that we just don't know. A lot of fighters can beat the guys he beat and not necessarily be able to thrive at the world-class level. Not that there is anything wrong with Tszyu fighting the men he has taken on at this formative stage of his career. But it's still a lot of domestic competition where it's difficult to make any concrete conclusions. What about his chin or ability to withstand pressure? Will an apparent lack of game-changing power surface here? Will he be able to hurt Horn and earn his respect?
The age-old battle of class vs. youth rears its head in a big way in this matchup. Tszyu has not been exposed. Horn's limitations, meanwhile, have clearly come into plain view. Some could even go so far to say he didn't deserve the win upon which most of what his reputation is based, as the victory over Pacquiao was, in fact, a bit iffy. Still, he has a handful of wins that still surpass anything Tszyu has managed to accomplish. The limits of his ceiling may have been exposed, but at least he has proven he can scale certain heights.
There are a lot of contrasting factors in this matchup. You have the robust physicality of Horn, paired against the more precise boxing of Tszyu. You have a more-proven commodity against the untested younger fighter. Then you have to ponder what might happen in a competitive fight—the possible notion that whatever mojo Horn had with the judges when he beat Pacquiao might now be in his opponent's favor.
The oddsmakers seem to be on-point with their estimation of the probabilities in this fight. Tszyu would appear to have a slight edge. Along with the notion that the Australian boxing machine would prefer he win this fight, it's enough to rate him this big of a favorite. Tszyu's apparent lack of fight-changing power and being unproven at this level is a concern, but with Horn struggling some of late, I think the time is right. I'll go with Tszyu.
My Prediction to Win the Fight:
I'm betting on Tim Tszyu at -200. Him winning being the result people want counts for something in a fight that looks to go the distance. Even without that, his freshness, skills, and ambition should be enough to see him through this tough but doable test. Want more free loot? Check out MyBookie for the best sportsbook bonus on the web! Deposit anywhere from $100 to $300 and get a 100% dollar for dollar real cash bonus added to your account! You must use this link to sign up and use promo code PREDICT100.