Michael Hunter vs. Hughie Fury Fight Analysis & Picks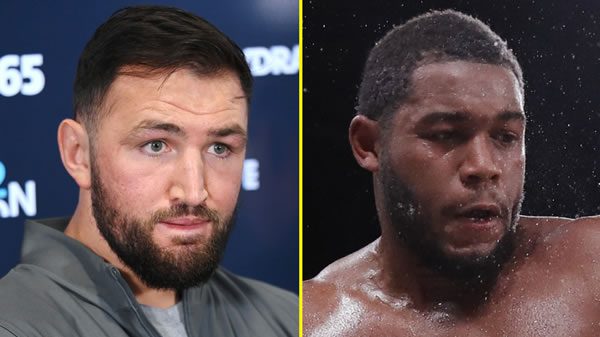 Michael Hunter (20-1-2, 14 KOs) vs. Hughie Fury (26-3, 15 KOs)
When: Saturday, July 2, 2022
Where: Manchester Arena, Manchester, England
TV: Sky Sports
Weight Class: Heavyweights: 12 Rounds
Betting Odds: Michael Hunter (-105), Hughie Fury (-125)–BetOnline
Michael Hunter takes on Hughie Fury at the Manchester Arena on July 2 in an important heavyweight showdown. The winner of this fight would gain an inside track on serious contender status, while the loser goes further back in a crowded pack of big men. Needless to say, both men will be vying hard for a win. Six years older at 33, Hunter is looking to make a splash, but beating Fury in Manchester is no easy feat. Let's break it down!
Fight Analysis
Hunter has decent size at six-two with a nearly 80-inch reach, but he was a cruiserweight for a lot of his career, losing his only pro fight in that division to future heavyweight champ Oleksandr Usyk in 2017. Still, against the hulking Fury, who stands 6'6," he will be at a massive size disadvantage, also giving up youth and the thing potential Hunter backers need to be most aware of—the site of this fight.
It's not really taking any shots at England to say that home-fighters in the UK have a built-in advantage. It happens everywhere in the world. Not that the cousin of the heavyweight champ is some protected moneymaker in England, a force they need to keep winning for the sake of British boxing. But when a visiting fighter comes in, they don't always get the best shake from the judges. And on the surface, this has the earmarks of a distance fight in many regards, only shining a brighter light on the judging—an area where Hunter might be facing an uphill battle.
I think Hunter is the better fighter. The son of former California-based heavyweight contender Mike "The Bounty" Hunter, he lacks some of his father's creativity and guile but is a more committed athlete and is well-prepared. Considering what Usyk went on to accomplish, his loss at cruiserweight to him isn't particularly damning. And now is the time for him to make a move in what seems like a winnable fight.
But alas, he is fighting a big kid in Fury, a guy raised around the fight game. He has innate skills. He moves around fairly well for a big man. He lacks the offensive firepower of his champion cousin, but he's no joke. He has good legs, has shown himself to be pretty durable, and he's definitely committed to being a contender and possibly a champion. He's a professional.
The one troubling thing about Fury has been his inability to rise in class. In fights against Joseph Parker, Kubrat Pulev, and Alexander Povetkin, he was beaten fairly soundly, though his loss to Parker was just by majority decision. One could also say that while Hunter fought to a draw with Povetkin, he also hasn't really done anything to distinguish himself in this division, lacking that kind of difference-making win that would distinguish him from other contenders in his range. But he has still shown enough to where you would tend to fancy him against a domestic-level talent if that, in fact, is what Fury is.
Still, it doesn't seem like it's going to be a breeze. The locale of the fight still looms as a potential issue for Hunter, as does Fury's height and movement. Chasing around a bigger man might not be a great style wrinkle for Hunter. A few years ago, Hunter was being discussed as a title challenger. It fell through, and his subsequent work has been less than awe-inspiring. After the draw with the aging Povetkin, he scored a few perfunctory wins, with his last outing being a draw with fringe contender Jerry Forrest in December of 2021. This is not exactly the career trajectory of a world-beater.
Still, there is a lot on the line. Getting a high ranking and booking a shot that could yield millions is motivation enough for anybody. Both know a loss here puts those prospects squarely in the "improbable" category. Fury would have more time to regroup at 27, but with several setbacks already on his ledger, another one here would leave him with few buyers.
Again, I think Hunter is the more-talented fighter. But judges being more sympathetic to his opponent, his opponent's size and movement, and a career trajectory that appears to have flattened out some has Fury entering this bout as a marginal betting favorite. The odds are painfully close for a reason, and that should serve as a testament to how hard it is to pick a winner in a fight that has so much give-and-take in the analysis.
This being in England and Hunter not being a real power-puncher at heavyweight should give pause to his backers. But him being a better fighter and more capable of generating offensive menace even with his size disadvantage is still hard to ignore. I imagine Fury can turn this into the kind of stinker that's more up to his alley, making it easy for judges to score rounds for him. But in the end, I don't think he's very good and that Hunter might represent a level that is just outside of his reach. I'll take Hunter in this one.
My Prediction to Win the Fight:
I'm betting on Michael Hunter at -105 betting odds. He is up against it in a difficult road spot against a home fighter with a big name. But his greater skill and overall offensive ability should be enough to corral enough rounds to get out of Manchester with a hard-earned win. Bet your Hunter vs. Fury picks for FREE by taking advantage of a 100% real cash bonus on your first deposit of $100 to $300 when you use bonus code PREDICT100 at MyBookie Sportsbook!