Oleksandr Usyk vs Anthony Joshua Fight Analysis & Predictions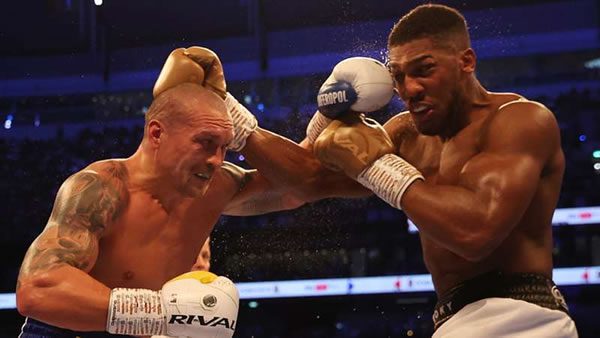 Oleksandr Usyk (19-0, 13 KOs) vs. Anthony Joshua (24-2, 22 KOs)
When: Saturday, August 20, 2022
Where: Jeddah Super Dome, Jeddah, Saudi Arabia
TV: PPV
Weight Class: WBA, IBF, and WBO Heavyweight Titles
Betting Odds: Oleksandr Usyk (-200), Anthony Joshua (+166)— Odds by Bovada(You can bet on the fight LIVE-in-progress there!)
Fight Analysis
Oleksandr Usyk defends his heavyweight titles against the man he won them from in, Anthony Joshua, in an anticipated rematch from the Jeddah Super Dome on August 20. In September of 2021, Usyk registered the upset, successfully moving from cruiserweight to win the heavyweight title. The unanimous decision win showed Usyk tactically brilliant, using his skills and strategy to win a clear decision over the bigger and stronger Joshua. The former champion pushed Usyk but was never able to see his power take over. Usyk remained resolute and piled up points en route to a surprisingly easy win. Can he do it again? Or will Joshua, now knowing what he's up against, regain his title for the second time?
The 32-year-old Joshua lost his title before, regaining it in a rematch against Andy Ruiz. This won't be as easy. First, he can't rely on Usyk coming into this out of shape because that won't happen to a consummate pro like Usyk. He has to revamp his whole approach and work much harder to tire Usyk out and really press him into some uncomfort this time. But just as some neglected Usyk's chances the first time around, we could be seeing some of that with the current perception of Joshua. He is still a massive factor in this division with his size, power, and track record against a good collection of heavyweights over the years.
I'm not so sure about the notion of Joshua having overlooked his opponent in his last fight. While Usyk had made his bones at cruiserweight, his size and resumé made it clear he was no everyday contender. You could see an alpha heavyweight like Joshua maybe being dismissive of him, but his team had to know he was the real deal. It's not like he caught them by surprise as a former Olympic champion and an undefeated pro who so utterly and dominantly cleaned out the cruiserweight division like no one ever had done. So now he's supposed to know who he's fighting? Granted, he might have picked up some experience on how to deal with Usyk, but heightened urgency alone might not be enough if not accompanied by some real tactical adjustments.
Three years Joshua's senior at 35, Usyk, has a lot on his plate with the recent turmoil in Ukraine. As one of the nation's foremost sportsmen, he got involved, and you wonder if this has taken any attention off his preparation, as one could well imagine it might. I just would be hesitant to bank on that if I were a possible Joshua backer in this fight. It's going to come down to smarts and tactics and who can execute their plan better.
The first fight started with Usyk using his southpaw jab and precise combos to keep Joshua in stitches. In the middle rounds, Joshua bridged the gap, saw his jab start to land, as well as some power punches. But Usyk recomposed himself, and by the late rounds, he was getting the better of it, opening up and even rattling Joshua with some straight left hands. There were some troubling aspects of the fight for Joshua that don't bode well for the rematch.
When "AJ" was able to land his right hand, Usyk was able to take it. In fact, if looking at who was the more hurt fighter in the fight, the nod may go to Joshua, who appeared to be in trouble at least twice in the fight. Joshua has this image as a power-puncher, but he needs the right geography to make it work. On the inside, when exchanging, he doesn't always fare well, as we saw in his first fight with Ruiz and against Usyk. Joshua's game is to use his size, land that ramrod jab, and then land that long-range right hand. And then, when his opponent is discombobulated, he moves in and tries to finish the job. At root, though, he's a long-range fighter. And against a cat-like tactician in Usyk, that may not be the best matchup for Joshua.
In order for Joshua to gain a greater measure of success in this bout, he will need some cooperation from Usyk. A more stationary target will give him a chance to unleash his uppercut. He might be able to time Usyk better with the right hand or be quicker on the trigger with his jab. And don't underestimate his move to a new trainer Robert Garcia, as perhaps he can breathe some new life into Joshua's career. It has happened before where a new trainer comes in between rematches, and we see a completely different look from the loser the second time around. But again, the version of Usyk we saw the first time around is just going to be hard on Anthony Joshua, regardless of who is in his corner or what becomes of his tactics and strategy.
Usyk brings a certain level of smarts, cunning, strategy, and technique that is unusual in a division that is often defined by brawn. And his sharpness allows him to be dangerous, despite his lack of overall size in this context and that he's not predisposed to look for KO shots. Against guys like Joshua who rely on size and power, it's not a great fit. For someone to beat the likes of Usyk, you'd almost opt for more of a technician and someone who lets their skills do the talking—more of a Tyson Fury type and not so much the likes of Joshua, Wilder, and others who rely on their punch. And that's not to paint Joshua as some lumbering oaf. He has skills and can't be counted out, but I'll defer to the better boxer and take Usyk in the rematch.
My Prediction to Win the Fight:
I'm betting on Oleksandr Usyk at -200 betting odds. The Bovada line has some upside for a fighter who won pretty clearly last time against a champion who wasn't overlooking him. Skills pay the bills in this business, and if Usyk can move well and take some shots like he did a year ago, he should be able to navigate his way to the winner's circle once again.