Ryan Garcia vs. Gervonta Davis Pick & Fight Analysis & Predictions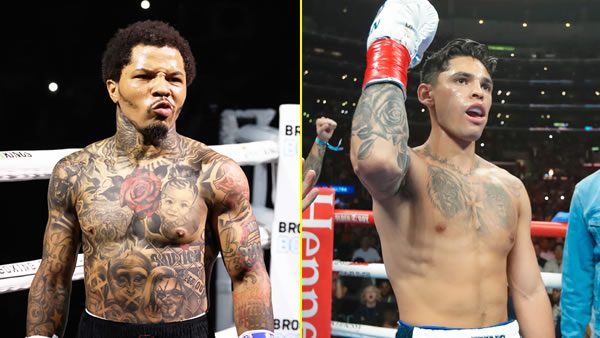 Ryan Garcia (28-0, 26 KOs) vs. Gervonta Davis (23-0, 19 KOs)
When: Saturday, April 22, 2023
Where: T-Mobile Arena, Las Vegas, Nevada
TV: PPV
Weight Class: World Lightweight Title: 12 Rounds
Betting Odds: Gervonta Davis (-225), Ryan Garcia (+180) — Odds by Bovada
Fight Analysis:
Gervonta Davis battles Ryan Garcia for the World Lightweight Title on April 22 in Las Vegas. This is a momentous fight for many reasons, but whenever two unbeaten fighters in their primes tangle, it sends shockwaves through the sport. One, it's pretty rare, as the name of the game nowadays appears to be less legacy-driven, as dangerous fighters in the same division often steer clear of each other. To see two unbeaten champions, both undefeated with outrageously high KO percentages, taking each other on at this point is just very exciting. And considering the prodigious offenses of both men in this fight, it's hard to imagine something other than a high-impact and explosive encounter for all the marbles at 135 pounds.
Davis is 28, four years older than Garcia. Both are unbeaten with a trail of fallen bodies left in their wake, but these fighters also provide a startling contrast. Nicknamed "Tank," Davis is a more squat 5'5" with a heavily-muscled physique. With Garcia, he's more of an angular sort, standing a tall 5'10" and also boasting a reach advantage of several inches. Not to paint this as a bull vs. matador type fight, though that disparity in length does give way to that type of analysis. But it might be too simple of a view in which to view this contest. In other words, it might be true that size alone makes it so Davis will be coming forward with Garcia using his legs to move around. Still, to categorize Davis as simply some forward-oriented slugger doesn't really do justice to his skills. And to perceive Garcia as simply some fleet-of-foot mover also fails to capture his true worth.
Davis has had a slow cook to this point. A standout prospect very early, they brought him around slowly and in his last 8-10 fights, has beaten some quality opposition, his one-punch KO over multiple-time champ Leo Santa Cruz being the highlight of the lot. The southpaw with over a 90% KO rate has found it difficult to attract quality opponents, as they continue to choose a less-demanding route to success. With his long amateur career, slick skills, and steady build to this point, he's a very accomplished boxer with many other wrinkles and skills than just his game-changing punching power. He's very cagey, knows how to set guys up, with a solid vision of a fight and where he stands. But while there are other aspects to his game, make no mistake. It's really the power that makes him such an attraction. And when he starts zeroing in with his full arsenal, it's an offense where it's hard to match his variety and bone-crushing power.
Garcia is one of those offensively-gifted fighters who comes around rarely. His combinations are a whirlwind, with blinding speed and the subsequent power that gets created by that whipping velocity he generates. His hands go into a blur and opponents suddenly find themselves struck with a case of total drunkenness as they go spiraling to the mat in a heap. And with his height and range, he is often firing off these shots when out of range for retaliation. He is poised, focused, and not easy to ruffle, as some opponents have tried to do. Garcia is one of those fighters where you don't have to watch for too long to know he's something special. As soon as those hands go into a blur, it's clear what kind of talent he possesses.
Garcia has some advantages he can rely on for this matchup. His height, reach, and speed at least theoretically give him a route to success, assuming his feet can keep him generally out of Davis' wheelhouse, while his blinding hands do enough to throw Gervonta off-center. It's not like we haven't seen Gervonta struggle at times. You'd think a speedster like Garcia could frustrate Davis, take him out of his game, and mute his power through movement and the fear of what's coming back his way.
You still have to wonder if the rock-hard solidness of Davis might be all wrong for the more wispy and flimsy Garcia. One look at the two men, and it wouldn't take long to determine who might be more capable of absorbing a huge shot. Davis is a rock, a durable guy who is tucked-in and compact. With Garcia, he's just more available. Not to leverage Garcia's size advantage against him, but his style and the way he situates his body just makes him more available to shots. His head is up in the air a little bit. He presents a much larger target. And when looking at two fighters with such amazing offensive skills, one is almost forced to shift the analysis to the reception of punches, namely issues of durability and defense.
With these two really stepping onto the big stage for the first time, we aren't entirely sure what we have. Davis hasn't seen punches like this either, so we don't know if he's going to be as solid as we suspect if Garcia's best shots go upside his head. I just can't help but think that the offense Garcia will face in this fight so far surpasses anything he's ever seen that it's him who is the bigger question mark. And not to call out his durability or ability to soldier through adversity, he just seems the far less likely of the two to survive a 12-rounder characterized by sizzling offense. I'll take Davis in this one.
My Prediction to Win the Fight:
I'm betting on Gervonta Davis at -225 betting odds. I think the Bovada line has some upside and while taking a -225 quote against a talent like Garcia provides some discomfort perhaps, I believe in the durability of Davis and feel he will be in control if able to get his offense untracked in this demanding spot.