The Top Ten Greatest Boxing Upsets of All Time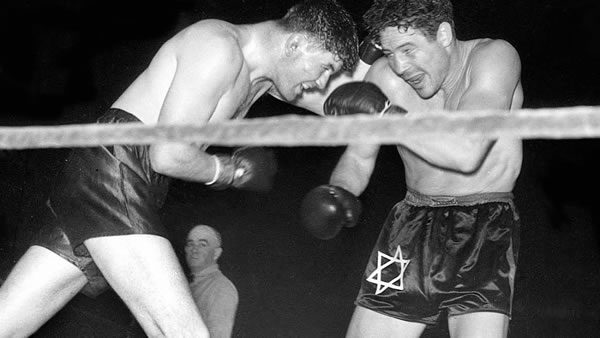 1. Buster Douglas KO 10 Mike Tyson (1990):
The signs were there. Tyson had a whirlwind of controversy around him. Marriage, lifestyle, as well as management and training problems had eroded the once-great fighting machine. Still, nearly everyone except 42-1 underdog Douglas himself figured Tyson would easily dispatch of his uncelebrated foe. 10 rounds later, a semi-conscious Tyson was on the mat groping for his mouthpiece and Buster Douglas was Heavyweight Champion of the World. Not only is this the greatest upset in boxing history, but likely in all of sports history as well.
2. Randy Turpin W 15 Sugar Ray Robinson (1951):
Robinson, the greatest boxer ever, had compiled a staggering record showing one loss in over 130 fights, including a 90-fight unbeaten streak. Turpin, a championship-caliber fighter, but considered a non-threat to Robinson, spanked Robinson resoundingly to win a decision.
3. Cassius Clay KO 7 Sonny Liston (1964):
This upset is noted more for its historical significance than anything else, though the 8-1 odds against the future Muhammad Ali classify this as a gigantic upset. Liston was considered invincible, having left a trail of broken bones and crushed dreams in his path. Coming off a pair of first-round knockouts over ex-champ Floyd Patterson, most figured he would easily dispatch of Clay. Instead, this fight signaled the beginning of the greatest era in heavyweight history.
4. Hasim Rahman KO 5 Lennox Lewis (2001):
Looking back, Lewis was vulnerable to the one-shot KO punch. Unexceptional Oliver McCall had managed it in his only other loss, and the powerful Rahman seemed a decent candidate to do the same against the complacent Lewis. Lewis had recently been on a movie set for Oceans Eleven and came to South Africa too late to properly acclimate to the different conditions. The 20-1 odds in Lewis favor speak volumes about the shock value of this result. Lewis, ragged and unprepared bounced off the ropes and caught a haymaker that shocked the boxing world.
5. Jim Braddock W 15 Max Baer (1935):
The Cinderella Man had fallen to alarming depths in his boxing career. After briefly becoming a light heavyweight contender, he had flamed out, winning only 9 of his next 30 bouts. He somehow resurrected himself with a series of unlikely wins, culminating with an upset decision over Heavyweight Champion Max Baer. Braddock was a 10-1 underdog. Probably the biggest career turnaround in boxing history.
6. Corrie Sanders KO 2 Wladamir Klitschko (2003):
Klitschko, poised for bigger things, was supposed to stomp Sanders in this stay-busy fight. Sanders was dug out of retirement where he had been working as a golf pro in his native South Africa. The 20-1 underdog looked doughy and aged. That made it all the more startling when the unsung Sanders spanked current kingpin Klitschko around the ring for a 2nd round knockout. It was a rout.
7. Max Schmeling KO 12 Joe Louis (1934):
In his brief career, Louis had already become an international sensation. Another step on his way to the title was the aging former champion Schmeling, who was expected to test the upstart Louis while not really threatening him. But as Schmeling later said, I seen something. Constant watching of films revealed to Schmeling that Louis frequently dropped his left hand after throwing a right. Timing him all night with his own formidable right hand, the superbly conditioned Schmeling pounded Louis like a nail into a piece of wood for a 12th round knockout win in a cataclysmic upset that shook the boxing world.
8. Darryl Pinckney KO 3 Junior Jones (1994):
It was an uncelebrated bout, largely because it was seen as a tune-up for the former champion Jones. Having lost his title in the sweltering heat in Vegas earlier in the year, he was looking to rebuild. Pinckney, with a record of 18-18-2, seemed a safe opponent. He almost knocked Jones head off. Jones would go on to twice defeat Mexican legend Marco Antonio Barrera, proving his worth and making this a very strange result indeed.
9. Frankie Randall W 12 Julio Cesar Chavez (1994):
Chavez was undefeated in 90 fights and while he was aging, the even-older Randall was seen as no threat. A 15-1 underdog, Randall had once been a hot lightweight property, but that was back in the first half of the 80s. Drug, legal, and managerial issues had apparently sapped him of his promise. In a fiercely contested fight, Randall fought with passion and fury, dropping the iron-jawed Chavez for the first time, and winning a split decision.
10. Muhammad Ali KO 8 George Foreman (1974):
10 years after his first monumental upset, Ali again faced a fearsome and heavily favored knockout machine in George Foreman. Alis chances seemed remote, especially after watching Foreman bounce Ali-conqueror Joe Frazier around the ring like a super ball to win a title. People actually feared for the slowing Alis health. In a surreal atmosphere in Zaire, Ali rope-a-doped Foreman into exhaustion, then picked him apart for an 8th round knockout win.
Where do you bet on fights? Does your bookie let you deposit using your credit card? Does he offer a sign up bonus? Does he offer props? If not, you should seriously consider betting fights online at BetOnline.