Tyson Fury vs. Derek Chisora World Heavyweight Championship Odds & Pick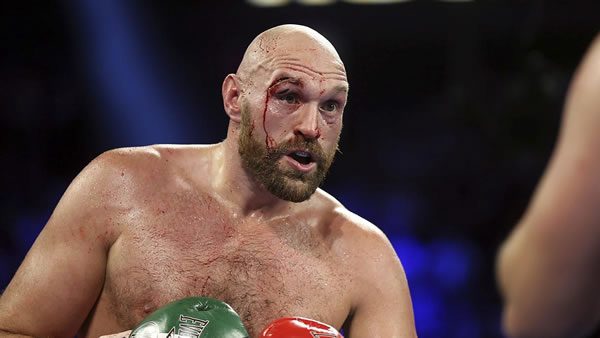 Tyson Fury (32-0-1, 23 KOs) vs. Derek Chisora (33-12, 23 KOs)
When: Saturday, December 3, 2022
Where: Tottenham Hotspur Stadium, London, England
TV: PPV
Weight Class: World Heavyweight Championship
Betting Odds: Tyson Fury (-2000), Derek Chisora (+1000)
Bet your fight picks at Bovada Sportsbook! They'll give you a 50% bonus and you can bet the fight live-in-progress!
Fight Analysis:
Tyson Fury defends his World Heavyweight Championship against Derek Chisora on December 3 at Tottenham Hotspur Stadium. This is the third meeting between these two men, first meeting as 14-0 prospects in 2011, with Fury winning a 12-round decision, with Fury repeating the win by tenth-round TKO in 2014. Now 38, Chisora looks to score the big upset against the 34-year old champion. Who can come out on top in London on December 3?
For a heavyweight title bout, this is a pretty unusual bout along many lines. While these two have history and Chisora can and has given top heavyweights a real tough night before, Fury won their first two fights without much undue hardship. The first fight was tougher than the rematch. In addition, we don't see too many heavyweight title challengers with 12 losses who have lost three of their last four fights. This is almost more of a throwback fight, going back to a time where losses weren't weighed as heavily. It's still fair to ask some tough questions of Chisora.
On one hand, you are inclined to extend Chisora some extra leeway on the basis of his ultra-tough schedule. For over a decade, he's been in with the best in the business. And while he has some bad losses, he always comes back strong. There have been fights against the top guys in the world where it looked like Chisora belonged and others where he was out of shape, disinterested, or otherwise not very effective. Granted, a good July win over top contender Kubrat Pulev was a nice development, but it was still his first win since 2019. Needless to say, it's not the career you'd typically see of someone who is a heavyweight title fight.
After losing to Fury twice, one has to look hard for optimism with the longshot Chisora. Giving up over a half-foot in height and almost a full foot in reach, he faces daunting issues in terms of size with the smooth-boxing champion. At 38, Chisora has held up better than anyone would have suspected, but he's still getting up there. One would figure he would get in top shape for this, as well. But he's going to have to work very hard to get within punching range of the towering Fury and one just has to question his gas tank in terms of pulling off what would have to be such a high-energy effort.
A good chunk of Chisora's hopes is wrapped up in what's happening in the other corner. Fury has been flirting with retirement, with it looking like all but a done deal until this fight got sprung. In this sport, once the mind starts to leave the sport, the rest can follow. You have a champion who is now sticking around after saying it was over to fight a man he has already beaten twice. Not that Fury has ever done anything but show up ready to win, but it could set up for a version of Fury who is less-urgent than what we've seen recently in his more dangerous fights.
I also wouldn't rule out some sentimentality being at play. I don't think Fury has negative feelings toward Chisora. If anything, he seems to like him. If Fury retires, the belt just dissolves and then there's room for someone else to ascend to the top and that won't be Chisora or anyone with whom Fury has a connection. While it's unthinkable for a champion of Fury's esteem to forfeit his unbeaten record with a move like this, for some reason I can't completely rule out some bizarre angle where Fury sort of keeps it in the family if he is in fact prepared to sail off into the sunset. It's a wacky theory, but this is sort of a wacky matchup with some wacky conditions to it. For him to go from retired to fighting a guy with three losses in his last four fights that he has beaten twice already is just a little fishy even though it could just be a case of a champion looking for a relatively-easy farewell fight while throwing an old friendly rival a bone in the process.
In a straight-up fight, we already know how this plays out between these two. Fury will use the jab and tie Chisora up when the challenger tries to get inside. There will be long stretches of dominance by Fury, with brief sequences where Chisora either lands a nice overhand right or gets to the body a little bit before getting clinched by the all-encompassing Fury. And while Chisora will get his shots in, sustained success will be elusive in light of Fury also being able to put forth hurtful punishment. Whenever Chisora seemed to press an advantage in their first two fights, a big response by Fury would usually be forthcoming. And after a tough first fight, Fury was really dominant in the rematch, getting the measure of Chisora early, and surviving a few anxious moments before the fight was finally stopped after ten rounds.
While not ruling out anything kooky, it almost seems like 10-to-1 isn't enough on a bet that backs the notion of Derek Chisora being Heavyweight Champion in 2022. An interesting upset candidate in perhaps any other fight than this, we have ample data in which to justify the widely-forecasted Fury supremacy in this bout. I see Fury giving the fans something to enjoy, before scoring a middle-rounds stoppage over his old foe. I'll take Tyson Fury.
My Prediction to Win the Fight:
I'm betting on Tyson Fury at -2000 betting odds. While the Bovada line might not seem that appetizing, it is basically easy money. And closer to fight night, we will see some prop bets where a stance at better odds can be taken, perhaps something to the tune of a Fury KO or even more specifically, a knockout somewhere around rounds 5-8. Check out this killer offer! Get a 125% REAL CASH bonus up to $400 and get a FREE HALF POINT every time you bet your favorite NFL, college football, NBA and college basketball team! Get all this plus a sweet player rewareds program by signing up and entering bonus promo code PREDICTEM at GTBets Sportsbook! They've been with us for over 10 years with ZERO complaints!