Ball State Cardinals vs. Washington Huskies Pick 12/22/19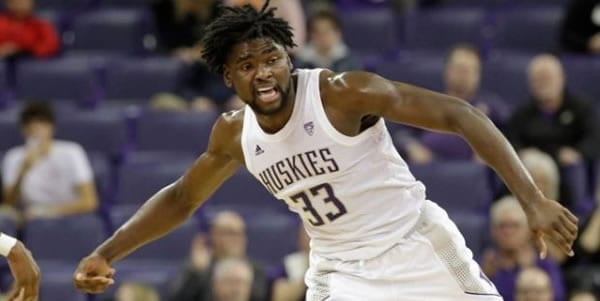 Ball State Cardinals (6-4 SU, 5-4 ATS) vs. Washington Huskies (8-2 SU, 5-5 ATS)
When: Sunday, December 22, 9:30 p.m.
Where: Stan Sheriff Center, Honolulu
TV: ESPN2
Point Spread: BALL +6/WASH -6 (Best Basketball Lines)
Total: O/U 134.5
Last Time Out:
Ball State crushed Georgia Tech 65-47; Washington handled Seattle 81-59.
Scouting the Cardinals:
So what does Ball State do for an encore after a performance like that? The Cardinals have been largely irrelevant nationally for almost 20 years, ever since they made history by going out to Hawaii and beating both Kansas and UCLA in the Maui Invitational before losing a tight final to Duke. That Ball State team became the talk of the nation for a few days, but quickly faded to obscurity when it couldn't build off those performances. This Ball State squad also looks like an aberration rather than a giant killer, but it's an aberration that can make life difficult for Power 6 teams because it's a hard combination to slow down. Ball State has three reliable offensive weapons in Ishmael El-Amin, Kyle Mallers, and Tahjai Teague. El-Amin's shooting ranks 16th nationally from any place on the court at 48.1 percent, while Mallers has hit 48.2 percent of his 3-point shots to place 15th in the country for accuracy. When misses occur, Teague is one of the top rebounders in the nation, as he ranks ninth in career rebounds among all active players nationwide. In short, when things are clicking, Ball State has the ability to scare a lot of talented teams that will still be playing in March.
More Picks: NFL Week 16 Predictions Against the Spread >>>
Scouting the Huskies:
Washington has its own inside-outside combination, and it's a rather devastating one, as forward Isaiah Stewart has stepped up his game to pair with guard Quade Green. Stewart is a freshman who was always going to be on another level compared to the rest of his classmates, and it appears that he's found that next level that only great players are able to reach. He's averaged 20.2 points a game in the Huskies' past five contests, including 21 points against Gonzaga and 27 against Seattle. That's a big boost for Washington and for Green, who has produced three straight excellent offensive performances. The ex-Kentucky guard comes off two 20-point performances in three games and shot 80 percent from deep against Seattle, a large part of why Washington was able to turn a tight game against the Redhawks into a comfortable rout. If both players are hitting, it'll be tough for Ball State to keep pace.
X-Factor:
Opponent familiarity. Ball State and Washington don't exactly play often, with their only previous meeting coming in 1984. So how is there any familiarity here whatsoever? Simple: Ball State coach James Whitford used to be one of Sean Miller's lieutenants at Arizona, and he's very familiar with who the Huskies are and how they like to play. That familiarity is not evident going the other direction, however, as Whitford has never faced the Huskies as a head coach, depriving Washington of the chance to gain much of an edge in the mental department.
Ball State will Cover if:
The Cardinals can step up and hit the 3-pointer. Washington is coached by Mike Hopkins, who played and coached at Syracuse under Jim Boeheim. Why is that important? That history means that the Huskies are a zone-based defense just like Syracuse, which can be disastrous against a team that can stroke it as well as the Cardinals can from deep. The zone's biggest weakness is the 3-pointer, and if Mallers can get hot and stay hot, this game sets up to favor the Cardinals.
Washington will Cover if:
The Huskies can do the job down low. Washington isn't Georgia Tech, and there is no Isaiah Stewarts in the Mid-American Conference (or at least, there haven't been since 2003 when Central Michigan had Chris Kaman at center). Ball State has a solid defense that ranks in the top 75 nationally at Ken Pomeroy's website, but the Cardinals don't have the ability to keep Stewart from taking over the game if he steps up and performs. Green and Nahziah Carter will also be important pieces of Washington's equation, but it all starts with a strong game from Stewart.
Dan's Pick to Cover the Spread:
Ball State looks like it could be a factor in the MAC this year, and the Cardinals certainly have the shooters to keep themselves in this game. But Stewart is playing on another level right now, and the fact that he produced such big numbers in a stretch that included Gonzaga says that he can get the job done against anybody, and it wouldn't be a wise idea to try to pick against him. That's why I'm not going to do it. Ball State's 3-point shooting is excellent, but 3-pointers can disappear on you for a night and cost you a winnable game if your touch is just a bit off. This might be a squad that jumped on Georgia Tech, but it's also a team that lost at home to a bad Western Illinois side because its 3-pointers weren't going down. When that happens, a team has to rely on defense to save the night, and while Ball State's defense is good, it's going to take a great defense to slow down Stewart. I'm taking the Huskies.
STOP LOSING TODAY! START WINNING WITH DOC'S TEAM OF PROFESSIONALS! GET A FREE NO STRINGS ATTACHED $60 FOR THIS WEEKEND'S GAMES!