Baylor Bears vs. Kansas State Wildcats Pick 2/3/20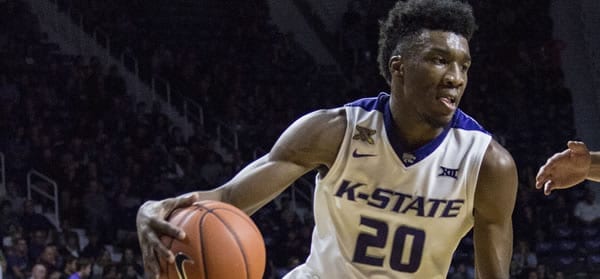 Baylor Bears (19-1 SU, 14-6 ATS) vs. Kansas State Wildcats (9-12 SU, 9-12 ATS)
When: Monday, February 3, 9 p.m.
Where: Bramlage Coliseum, Manhattan, Kan.
TV: ESPN2
Point Spread: BAY -7/KSU +7 (BetNow)
Total: O/U 124.5
Last Time Out:
Baylor beat TCU 68-52; Kansas State lost 66-57 to West Virginia.
Scouting the Bears:
Baylor appears to have finally won the respect of the nation after blazing to its 17th straight victory, and it's now become quite clear that the Bears are the favorite to claim the Big 12 title, given that they've got a lead on Kansas and have already won in Lawrence. Now they head to the other end of I-70 to take on a K-State team that's nowhere near as good as it's been in years past, begging the question of whether Baylor can avoid the letdown that has historically been part of its "Baylor gonna Baylor" identity.
Jared Butler and Freddie Gillespie look good enough to make sure that doesn't happen. The Bears have rolled through the Big 12 so far in large part because of Butler's shooting and Gillespie's work on the boards. The inside-outside combination has made a huge difference, as has Baylor's tenacious defense, which has been first-rate even by the standards of the Big 12, a league well known for its defense during the winter. Through eight league games, Baylor's defense has given up an average of 54.5 points per game, and only last-place Oklahoma State (figure that one out) has managed to break 60 in Big 12 play against the Bears. That includes that aforementioned trip to Kansas, where the Jayhawks managed just 55 points at home.
Scouting the Wildcats:
The Powercats have finally gotten things going to an extent, getting their first two wins of the season inside the Big 12. As usual, the Wildcats are a home-court hero, boasting an 8-3 record inside the Octagon of Doom and a 1-9 mark outside of Manhattan (and the one was UNLV). But that hasn't been enough this year because the Wildcats are not invincible inside the Octagon. Marquette, TCU, and Texas Tech have all left Manhattan with a W, and that's largely because Kansas State is dependent on two players: forward Xavier Sneed and guard Cartier Diarra.
Those two score 27.2 of K-State's 65.1 points per game, and beyond them, there isn't a lot there for Bruce Weber's team on offense. There's a reason that K-State's team total for a home game is under 60: it's because the Wildcats couldn't hit the Kansas River from the Manhattan Town Center (literally across the street). Through eight Big 12 games, K-State has only managed to top 65 points on one occasion: a stunning win over West Virginia when the Wildcats somehow shot 59.2 percent from the floor. K-State shoots an average of 41.5 percent for the year, so that's not likely to repeat itself.
X-Factor:
Human nature. It's not going to be easy for Baylor to keep focused here. Kansas State is not going anywhere in the postseason without winning four games in four days in Kansas City in March. This is not a game that can help Baylor's quest for a No. 1 seed; it can only hurt. So how does Baylor approach this week, given that it's facing Kansas State and then Oklahoma State, the two worst teams in the league? It probably helps that Oklahoma State is up next because nobody in green is going to be looking ahead to the Cowboys. Still, Baylor has to keep its focus on the task at hand here because it flirted with disaster against Oklahoma State when those teams met in Stillwater. Unlike the Cowboys, the Wildcats can beat the Bears if Baylor isn't ready to play again.
Baylor will Cover if:
The Bears can dominate on the glass. Baylor holds a huge edge in rebounding prowess, and it can make a big difference in how a team handles its opponent. The Bears put that on full display in the Iowa State game, where they took the Hilton Coliseum crowd out of the game by pounding the Cyclones inside and extending their possessions whenever they missed a shot. Baylor can easily do the same thing to Kansas State, and it'll need to in order to get a comfortable win.
Kansas State will Cover if:
The Wildcats can force steals. At 8.3 thefts per game, Kansas State leads the Big 12 in the category. The Wildcats don't have much hope of solving Baylor's nasty defense in a halfcourt offense. In order to get baskets, K-State has to create them in transition by forcing steals and putting the Bears on the back foot. With how poor the Wildcats rebound, they're likely to get only one shot per trip, so they have to make each attack at the basket count.
Dan's Pick to Cover the Spread:
This line seems too easy, which is why it's got me worried. Baylor is the better team with much more to play for, as the Bears don't want to lose their hold on the Big 12 title to Kansas or their grip on the South Region's No. 1 seed to Duke. The South Regional is in Houston this year, meaning that the Bears could play their most important games in front of a large contingent of their fans. If they get there, they're likely to be the only Texas school there, as Texas Tech is unlikely to go to the South Region, and Houston can't because it's the host school.
That has to be the motivation for Baylor, and if it is, I like my chances with them. I'm not worried at all about the Octagon, because any team that can go into Allen Fieldhouse and holds Kansas to 55 points isn't going to be the least bit intimidated by Bramlage Coliseum. As long as they keep their focus, I like the Bears to cover, and I think Kansas State under is a solid play as well. Give me the Bears.
STOP LOSING TODAY! START WINNING WITH DOC'S TEAM OF PROFESSIONALS! GET A FREE NO STRINGS ATTACHED $60 FOR THIS WEEKEND'S GAMES!
100% REAL CASH up to $300

USE BONUS CODE:
PREDICT100