Big 12 Final Picks: Texas vs. Oklahoma State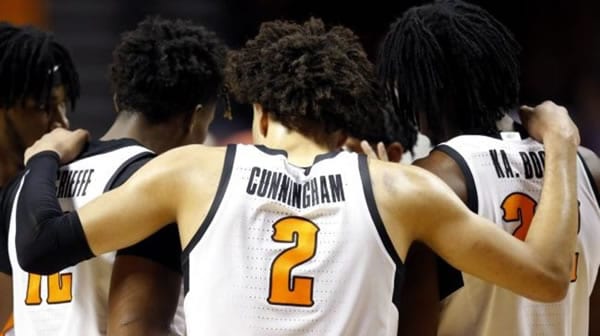 Texas Longhorns (18-7 SU, 11-13-1 ATS) vs. Oklahoma State Cowboys (20-7 SU, 17-9-1 ATS)
When: Saturday, March 13, 6 p.m.
Where: T-Mobile Center, Kansas City, Mo.
TV: ESPN
Point Spread: TEX -2/OKST +2 (Find the best sportsbook bonus >>>)
Total: 146.5
Last Time Out:
Texas edged Texas Tech 67-66; Oklahoma State beat Baylor 83-74
About the Matchup:
This tournament title might come with an asterisk after Kansas' forfeit in the semifinal. Still, with the Jayhawks sidelined by COVID, the Big 12 will finally see someone break the Kansas-Iowa State stranglehold on this championship. Since Missouri left for the SEC after winning the 2012 Big 12 tournament, the past seven conference tournament titles have all gone to either Lawrence or Ames, and the Tigers' 2009 and 2012 titles are the only ones not won by Kansas or Iowa State since 2005.
And the last team besides Kansas, Missouri, and Iowa State to win the Big 12 tournament? That was Oklahoma State, which claimed the crown in 2005 in the midst of its glory run under Eddie Sutton. The Cowboys haven't played in this game since that victory, but with Cade Cunningham leading the way, Oklahoma State believes that this could be the year it returns to being a national brand the way it was 15 years ago.
For Texas, it's a chance to finally break through and win this event, something the Longhorns have never done in their history. The Longhorns are 0-6 in the Big 12 championship game and haven't gotten this deep since 2011 when they fell to Kansas by 12. In fact, no team from the Lone Star State has ever won this tournament since the Big 12 formed in 1996, as all five teams (Iowa State, Kansas, Missouri, Oklahoma, and Oklahoma State) who have won this event were members of the old Big Eight. Bringing home a championship to Austin would undoubtedly go a long way toward calming the waters for coach Shaka Smart, as Texas hasn't seen any kind of postseason success since Rick Barnes' run to the Elite Eight in 2008. Which long-suffering program can cut down the nets in the City of Fountains?
Scouting the Longhorns:
Andrew Jones and Matt Coleman III have to shoot much better than they did in their two meetings with Oklahoma State because if they don't, there's little chance that they can keep pace with the Cowboys' guards. Jones was at least accurate when the teams met in Austin, but in Stillwater, Jones and Coleman combined to shoot 8-for-34, and Courtney Ramey added a 2-for-15 effort. When all was said and done, the Longhorns shot just 25.3 percent and were only in the game because they managed to get to the foul line regularly.
With how well Oklahoma State is playing, that's probably not going to work again, which means someone has to step up and hit shots. Against Texas Tech, that was Coleman, but he's going to need some help if the Longhorns hope to score with Oklahoma State. The Cowboys move the ball a lot faster than the Red Raiders, and 67 points aren't going to be enough to win this one unless Oklahoma State shoots it a lot worse than it did in the first two games in Kansas City.
Scouting the Cowboys:
Perhaps no team is playing with house money more than Oklahoma State. The Cowboys weren't even supposed to be in the Big 12 tournament because of an NCAA punishment, but their case is still in the midst of an appeal, which leaves them eligible to compete. And we're much better off for it because the tournament is going to be much better with Cade Cunningham involved.
Cunningham showed exactly why he's likely to be the No. 1 pick in the NBA draft or close to it against Baylor, as he helped take over the game with 25 points and eight rebounds. What's more, he's not doing this all by himself as most stars end up doing. Avery Anderson was just as effective against Baylor, hitting 8-of-13 from the field and keeping the Bears' defense honest down the stretch. The Cowboys have already proven they can win without Cunningham by beating West Virginia with him on the sidelines, and they've won nine of their past 11, with the only defeats coming at Baylor and Kansas.
In short, this is a talented team that's hitting its stride at the right time and projects to be a very tough out in the NCAA tournament. They're also not going to panic in a tight spot: five of their past seven games (all wins) have been decided by five points or less.
X-Factor:
Extra day off. How will this affect Texas after the Longhorns got an unexpected bye into the championship game? We've seen several examples where the higher seed comes out slowly because it's playing its first game in the conference tournament facility, but how will this affect Texas when the Longhorns already played here, and Oklahoma State didn't? Furthermore, how will Opponent be affected by having to play three games in three days when Texas will only be on its second game and will have nearly a full 48 hours of rest?
About the only thing you can compare this to was the ACC tournament from 1998 to 2000 when the ACC idiotically experimented with a format that had the No. 1 seed face the No. 9 seed on Thursday and then get a bye into Saturday's semifinals while everyone else played Friday. In two out of three years, the No. 1 seed failed to cover on Saturday after not playing on Thursday (and the one year it did was the 1999 Duke team, one of the best college teams of all-time). If you like Texas, it might be best to wait until the first TV timeout and see if you can get the Longhorns for a cheaper price.
Texas will Cover If:
The Longhorns can hit a few shots early. Texas has shot it poorly in both matchups against Oklahoma State, and the Cowboys have been playing so well that a bad start could leave Texas in too deep of a hole to recover. The Longhorns might want to go inside at first, as Oklahoma State's strength is on the perimeter. Getting a few easy baskets inside could help settle things down.
Oklahoma State will Cover If:
The Cowboys can play the kind of defense they did against Baylor. Oklahoma State frustrated the Bears' guards for 30 minutes and kept Baylor from taking over the game the way it usually does. If the Cowboys can force Texas into another awful shooting night, it'll have a significant edge here.
Dan's Pick to Cover the Spread
If you've bet on Oklahoma State to cover for its past eight games, you're up big because the Cowboys have been as reliable as it gets as of late. If you've bet the Cowboys to win, you're likely up even bigger because Oklahoma State has been the underdog in each of its past seven games and has won the game outright on six occasions.
Texas has covered four in a row itself, but the Longhorns haven't been facing the quality of opposition that the Cowboys have as of late. I don't think I'll need the free bucket, but I'll take it and grab Oklahoma State here. Make today the day you commit to saving money! Stop wasting your hard earned loot on -110 odds! Take 5 minutes and make the switch to -105 at BetAnySports! You'll be so glad you did!