BYU Cougars vs. Gonzaga Bulldogs Pick 3/9/21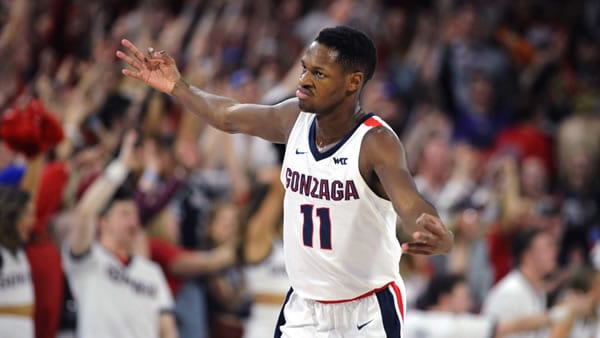 BYU Cougars (20-5 SU, 13-8-3 ATS) vs. Gonzaga Bulldogs (25-0 SU, 12-11-2 ATS)
When: Tuesday, March 9, 9 p.m.
Where: Orleans Arena, Las Vegas
TV: ESPN
Point Spread: BYU +13.5/GONZ -13.5 (Find the best sportsbook bonus >>>)
Total: 154.5
Last Time Out:
BYU edged Pepperdine 82-77 in overtime; Gonzaga blasted Saint Mary's 78-55.
About the Matchup:
Gonzaga emphatically answered the question of whether it cares about winning yet another WCC tournament title: it does. That's problematic for BYU, which is lucky to even be in this game after surviving 21 turnovers and escaping from Pepperdine in overtime. The Cougars were the only team to even come close to giving Gonzaga a battle in the WCC this season, as they managed to keep the margin to 11 in an 82-71 loss in Provo.
But the biggest hope that anyone in the WCC had of beating the Bulldogs — that they might choose to play the bench more in hopes of getting out quickly and focusing on the NCAA tour-nament — is now off the table because there's no longer any benefit to Gonzaga taking a loss. The Bulldogs showed that this tournament and the undefeated season actually mean a lot to them by blitzing Saint Mary's and never letting the Gaels even come close to entertaining the idea of challenging them. When Gonzaga plays its best basketball, there's not a team in the WCC that can touch them. Can BYU find a way to stay within shouting distance?
Scouting the Cougars:
I'll be blunt: if BYU turns the ball over 21 times again, this will get ugly in a hurry. The Cougars got away with it because they pounded Pepperdine on the glass and exhausted the Waves' thin roster in the overtime, but that's just not going to work against Gonzaga. BYU does not have the ability to dominate the Bulldogs on the boards (to be fair, the Cougars did at least keep it close, only losing that battle 36-35 in Provo), and the Bulldogs won't be beaten down by the Cougars' depth the way Pepperdine was.
BYU's one hope in this game is for Alex Barcello and Brandon Averette to set up shop from out-side the arc and start hitting. The duo was a combined 3-for-12 from deep in that loss, which just isn't good enough to keep the Cougars within shouting distance. The Cougars also can't have Barcello get in foul trouble the way he did in that game, as losing him for an extended pe-riod of time would basically destroy any hopes BYU has of keeping this tight.
More Picks: Get Crew's expert college basketball picks >>>
Scouting the Bulldogs:
So much for Gonzaga feeling any type of burden that comes with being undefeated. The Bull-dogs were focused and played like it in a game that was a blowout from around 10 minutes into the game. Part of that was because Saint Mary's simply can't score, but part was because Gon-zaga is a national championship level team that has every piece of the puzzle. The Bulldogs can beat you inside with Drew Timme, they can beat you with the midrange jumper with Corey Kispert, and they've got an excellent point guard in Jalen Suggs, making everything flow.
And that's before you throw in that this team can play a little defense, too. Gonzaga's tied for 18th in the nation in steals per game with 18.6, and they've shown no hesitation to making teams work in the halfcourt set. In short, the Bulldogs are talented enough to play whichever way they have to in order to win a game, and they're motivated enough to play great basketball against lesser opponents. That's not the kind of situation you want to find yourself in if you're BYU.
X-Factor:
The conference tournament final. Gonzaga has done this so many times before (the Bulldogs have played in every WCC tournament final since 1997) that the only people in college basketball who have ever seen a West Coast Conference tournament final without Gonzaga are coaches. A win here would make it eight of nine, and yet Gonzaga seems just as hungry as usual to claim its prize.
On the other hand, BYU hasn't won a conference tournament since leaving the Mountain West because the Cougars have always run into either Gonzaga or Saint Mary's. But the Cougars' op-portunity isn't the only thing that makes this different: there's also the fact that neither team needs this game to make the NCAA tournament. Conference tournament finals are sometimes strange because one or both teams need to win or their season is over, but both teams know that's not the case here. They're able to simply play their game and enjoy competing for a championship.
BYU will Cover If:
The Cougars can take care of the basketball. BYU has to avoid giving Gonzaga free possessions because the Bulldogs are deadly enough with the ball when both teams get the same number of shots to the rim. When the Bulldogs are able to get ten extra looks, they usual-ly turn them into about 15 extra points through baskets and getting to the free-throw line.
Gonzaga will Cover If:
The Bulldogs continue the form they showed against Saint Mary's. The significant risk with a large spread like this and a team like Gonzaga is that Mark Few might de-clare victory too soon and start subbing liberally in the final six to eight minutes of the game. The number is high enough that a backdoor cover is a genuine possibility, even if Gonzaga dom-inates the first 30 minutes.
Dan's Pick to Cover the Spread
I counted on a lack of motivation to keep the game closer than it should have been between Saint Mary's and Gonzaga yesterday, and it proved a mistake. I'm not going to make that error a second time. The Bulldogs are clearly motivated, and the Cougars clearly can't take care of the basketball.
BYU should stay close for a while, but the turnovers will eventually be the Cougars' undoing. Give me Gonzaga.  Bet your Cougars vs. Bulldogs pick LIVE-IN-PROGRESS at the BEST live wagering platform on the planet —> Bovada Sportsbook! Credit cards work there for depositing and they'll give you a generous 50% signup bonus up to $250 in FREE LOOT! Click here to start betting at a better book today!