CBB Picks: Connecticut vs. USC 12/3/20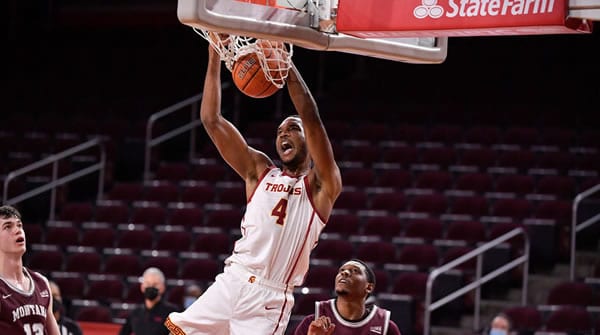 Connecticut Huskies (2-0 SU, 1-1 ATS) vs. USC Trojans (3-0 SU, 2-1 ATS)
When: Thursday, December 3, 7 p.m.
Where: Mohegan Sun Arena, Uncasville, Conn.
TV: ESPN
Point Spread: CONN -1/USC +1 (BAS - You only have to lay -105 on sides and totals there!)
Total: O/U 143.5
Last Time Out:
Connecticut beat Hartford 69-57; USC handled Brigham Young 79-53.
About the Matchup:
A pair of proud programs that have fallen on hard times meet in Bubbleville as they try to get the kind of win that can give their profile a real boost in March. Connecticut hasn't even sniffed the NIT since 2016, the last non-vacated year of the disastrous Kevin Ollie era. Dan Hurley's team did win 19 games last season and likely would have been headed for postseason play if it had happened, and the Huskies return most of their scoring from a season ago.
Andy Enfield's team is also going through a bit of a drought, as USC has exactly one postseason win in the past 10 seasons. But this is almost an entirely different squad than last year's Trojan team, as Enfield has cobbled together a mix of freshmen and graduate transfers and created a roster that looks like it will be quite competitive in the Pac-12. Both teams will be playing in their conference in just over a week's time, so there's not much margin left for mistakes. Which team will be able to keep its early momentum going?
Scouting the Huskies:
It's tough to get a lot of information out of two games against inferior in-state opposition, but a couple of things are clear: the Huskies work hard on the offensive glass and they're very dependent on James Bouknight. Bouknight was a budding star as a freshman last year, and it appears his development is progressing nicely, as he's now averaging 19 points a game in the Huskies' first two contests.
However, Bouknight has to cut down on his fouls against better opponents. The guard fouled out of the win over Hartford and had to sit for most of the final eight minutes after picking up his fourth foul. Had Connecticut not built a double-digit lead and been facing a team with better shooters than Hartford (the Hawks shot just 32 percent for the game), losing Bouknight might have been very costly.
Instead, the Huskies didn't have to learn the hard way and found out that they've got a ways to go before they can play key minutes without Bouknight. Connecticut would get a big boost if it can get more out of Isaiah Whaley, who has been effective in the low post but hasn't been able to stay on the court for long. He's averaged just 23 minutes a game so far, and he'll need to be on the court for much longer if Connecticut's going to avoid getting eaten alive on the glass by USC and the Mobleys.
Scouting the Trojans:
Which is the real USC? Is it the team that completely shut down BYU and coasted to a rather comfortable victory, or is it the one that couldn't do anything to slow down Ty Rowell and got pushed into overtime by relative Division I newcomer California Baptist? Given what happened against BYU, it looks like the Cal Baptist game was the more likely outlier. The game against BYU was exactly how USC wants to play: rely on the guards to play tough defense on the perimeter and let the Mobley brothers go to work down low.
Freshman Evan Mobley appears as good as advertised so far, collecting his first double-double of the season against BYU and displaying an outside shooting touch as well, which makes him a real nightmare for opposing defenses. Most college teams simply have no answer for a seven-footer who can shoot from the perimeter, and that's before throwing in Mobley's rebounding skills. Older brother Isaiah is more of a traditional big man at 6'10", and he's the main rebounder for the Trojans, getting double digits in all three games this season.
With all of that said, the Mobleys do have a major weakness: they're not good free throw shooters. Between them, the Mobleys are 12-for-30 from the stripe this season, a percentage of just 40 percent.
X-Factor:
COVID rescheduling craziness. Thanks to the pandemic, Connecticut didn't play on Tuesday, when it was supposed to match up with Vanderbilt. The Commodores had to shut down their program for quarantine, which left Connecticut without an opponent for Tuesday.
Meanwhile, USC was facing off with and dismissing BYU as scheduled. However, the Trojans won't play again for five days after this game, and their next opponent is a rather winnable game at home against a middling UC Irvine program. Connecticut, on the other hand, will play again on Saturday against N.C. State, less than 40 hours after it finishes its game against the Trojans. That means USC will likely be able to push itself harder at the end of the game, knowing that its job in Bubbleville is over as soon as the final buzzer sounds. UConn has another game to worry about soon after, which might affect its strategy for this game. If Connecticut doesn't get off to a strong start in the first half and establish a comfortable lead, it might be difficult for the Huskies to hang on down the stretch.
Connecticut will Cover if:
The Huskies are intelligent with their fouls. Connecticut goes eight deep, and Dan Hurley almost surely knows that his team isn't going to win a rebounding contest against the Mobleys when the Huskies' two tallest players have played a grand total of six minutes in two games. But Connecticut does know how to play with foul trouble thanks to the Hartford game, and with the Mobleys' major weakness being such a liability, the Huskies might opt to make the Mobleys beat them from 15 feet as opposed to five feet and closer.
To make this strategy work, Connecticut can't have any cheap fouls like it did against Hartford. The Huskies cannot win if Bouknight is on the bench, and he and the rest of his teammates have to make sure that every foul is a smart one. If Connecticut racks up too many cheap fouls early, the Huskies are in big trouble.
USC will Cover if:
The Trojans turn their rebounding advantage into points and cut the Huskies off on the defensive glass. Connecticut got its two wins by extending its possessions on the offensive glass, but the presence of the Mobleys means the Huskies likely won't be able to do that in this game. USC needs to outrebound the Huskies and do so in a convincing manner. That means forcing Connecticut into bad looks that make it easy to hold the Huskies to one shot per trip. What USC can't afford to do is give up the kind of looks it gave to California Baptist. Bouknight is the main threat for Connecticut, but R.J. Cole is a 41% shooter from the arc, and if he gets good looks at the basket, the Mobleys' presence won't matter.
Dan's Pick to Cover the Spread:
USC seems to be on track, and I'm not sure that Connecticut is ready to play the Trojans' game. However, the Huskies probably have little choice unless they start hitting their shots early, and the USC defense is a lot better than either Hartford or Central Connecticut State.
Connecticut really could have used the step up in difficulty that Vanderbilt would have provided, but the fact that Vanderbilt would have been a major step up in difficulty says that the Huskies aren't ready for this challenge. Vanderbilt has gone 3-31 in the SEC over the past two years, and that's still a much better talent level than anyone Connecticut has seen this year.
That's no way to prepare to play a team like USC. Give me the Trojans to dominate inside and get the victory. Bet your college basketball picks for FREE this week by scoring a fat 100% real cash bonus on your first deposit of $100 to $1000 at BetNow Sportsbook!
$100% Cash up to $500

STOP LOSING TODAY! START WINNING WITH DOC'S TEAM OF PROFESSIONALS! GET A FREE NO STRINGS ATTACHED $60 FOR THIS WEEKEND'S GAMES!