CBB Picks: Michigan State at Purdue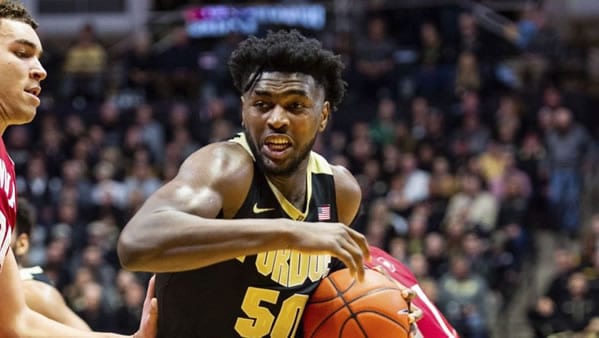 Michigan State Spartans (10-8 SU, 4-14 ATS) vs. Purdue Boilermakers (13-8 SU, 9-10-2 ATS)
When: Tuesday, February 16, 7 p.m.
Where: Mackey Arena, West Lafayette, Ind.
TV: ESPN
Point Spread: MIST +6/PUR -6 (Find the best sites to bet on basketball >>> Bet on games at -105 reduced odds or grab a 100% REAL CASH BONUS!)
Total: 134.5
Last Time Out:
Michigan State lost 88-58 to Iowa; Purdue lost 71-68 to Minnesota.
About the Matchup:
The situation really couldn't be much bleaker for Michigan State, as the Spartans sit in 11th place in the Big Ten and now have to go into West Lafayette, where Purdue has tortured Tom Izzo and company. The Boilermakers have won five straight against the Spartans at Mackey Arena, and Michigan State hasn't won here since 2014. And that's before you throw in the fact that the Spartans are 10-8 overall on the season, a very uncharacteristic mark for an Izzo team.
Here's another problem for Michigan State: Purdue's been even tougher than usual at home, even without fans. The Boilers have only lost once all year at Mackey, and that was against Michigan, who's ranked third in the country. The Boilermakers do have one problem of their own, and that's that their consistency has been somewhat lacking as of late. Purdue has lost three of its past five, and even though two of those losses are explainable, the fact remains that this is a young team that's still a year from being where it wants. Which team gets the result it needs here?
Scouting the Spartans:
Here's how bad it's gotten for Michigan State this season: the Spartans' one decent win of the season was over Rutgers, and that was when the Scarlet Knights were going through a major slump. When those teams had a rematch, Michigan State scored 37 points and lost by 30. In the league, three of the Spartans' four wins have come against the two worst teams, Penn State and Nebraska.
The Spartans' big problems this season are many. They don't shoot the 3-pointer well, they don't play effective defense most of the time, and they make far too many mistakes with the ball. Against Purdue, both teams turned the ball over 16 times, and while the Boilers have the excuse of being a young team that's growing into itself, the Spartans are a mix of juniors, sen-iors, and Rocket Watts. Michigan State has no excuse for everything that's happened this sea-son, which makes it all the more baffling. The Spartans have the talent to be a strong squad, but they don't seem to have the desire.
Scouting the Boilermakers:
Here in Indiana, most people are starting to believe that Purdue has Final Four potential…in 2022. In 2021, the Boilers are seen as a squad that could make a run in the NCAA tournament or one that could go down in the first round, depending on the matchup. The Boilers' recent re-sults show the lack of consistency: Purdue picked up wins over Ohio State and Minnesota but managed to drop one at a mediocre Maryland.
What Purdue has going for it is depth and defense, but the Boilers have to make sure they're hitting shots as well. Purdue has four starters who shoot under 45 percent, and given that Pur-due shot 34 percent against Michigan State in East Lansing, this likely won't be a great shooting game for either team. The Boilers have to find enough space to score.
X-Factor:
Mentality. Does Michigan State still care? The Spartans don't have anything to play for as far as the regular season goes (unless you think this group cares about qualifying for the NIT), which begs the question as to whether Izzo's team still wants to be on the floor. The fact that the Spartans have taken two 30-point losses in the past three weeks says that they don't. The lack of effort on defense against Iowa's deep shooters, in particular, was appalling, and the Spartans deservedly took their worst home loss ever under Izzo. Another embarrassment could be in the Spartans' near future if they aren't mentally ready to play.
Michigan State will Cover If:
The Spartans actually step up and play some real defense. Michi-gan State has the ability to keep this close and even win if it plays to its potential, but the last time the Spartans played the way they can this season was the trip to Duke. In that game, Mich-igan State came in with a horrible history in Cameron Indoor Stadium and still looked very com-fortable. A repeat of that mindset has to occur to give the Spartans a shot.
Purdue will Cover If:
The Boilers can hit a few shots early. Right now, Michigan State appears to be the kind of team that will stick with you if it can get off to a great start but folds quickly if things aren't going well. Purdue can win this game in the first 10 minutes if it can establish it-self as the better team.
Dan's Pick to Cover the Spread
It's hard to pick Michigan State to do much of anything in this situation. The Spartans aren't playing well at the moment and seem to be disinterested in changing anything. On the other hand, the Boilers seem to be moving in the right direction and ready to make some noise in March.
I'm not overthinking this one. Give me the Boilermakers. Bet your college hoops picks FREE this week by taking advantage of a 100% REAL CASH bonus on your first deposit of $100 to $300 at MyBookie Sportsbook! This offer is for new members only and you must use promo code PREDICT100 to get the proper bonus credited. Click here to grab your 100% bonus now!