Colgate Raiders vs. Arkansas Razorbacks Pick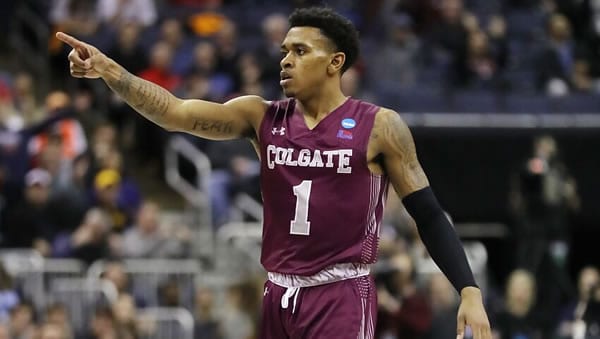 Colgate Raiders (14-1 SU, 10-5 ATS) vs. Arkansas Razorbacks (22-6 SU, 17-9-1 ATS)
When: Friday, March 19, 12:45 p.m.
Where: Bankers Life Fieldhouse, Indianapolis
TV: truTV
Point Spread: COLG +8.5/ARK -8.5 (BetNow - Currently offering a special 100% REAL CASH bonus on your first deposit of $100 to $500!)
Total: 161.5
Last Time Out:
Colgate defeated Loyola of Maryland 85-72; Arkansas lost 78-71 to LSU.
About the Matchup:
This has become a trendy 14-3 upset pick since the brackets came out, as the general public has spotted both Colgate's gaudy record and its experience. The Raiders were in the NCAA tournament in 2019 and gave a credible showing, losing by seven points to Tennessee as a No. 15 seed. This team is an experienced squad, as four of five starters were on that team that lost to Tennessee and have now become the key contributors for this year's squad. Because of that, the public has already moved this spread down a point and a half from its opening of Arkansas -10.
But the Razorbacks have been getting better every game, and they came through an SEC that's much tougher than the one that Tennessee got through in 2019. Prior to its loss to LSU in the SEC tournament, Arkansas had won 12 straight SEC games and covered in 10 of them. The Razorbacks looked like they were going to make it 13 straight for the first ten minutes, but their immaturity showed up at the worst time, as they failed to put their foot on the throat against the Tigers and allowed them back in the game. Have they learned their lesson in time to spoil America's upset?
Scouting the Raiders:
There's a reason this total is so high, and it's because Colgate is going to take a lot of shots. The Raiders put up 78 of them against Bucknell in the Patriot League semifinals, and that's because of two key players: Jordan Burns and Keegan Records. Burns is Colgate's leader and its best scorer, sinking 41.5 percent from behind the arc on his way to averaging 17 points per game. Burns has been so effective this season that Colgate's opponents are actually better off with him inside the arc, as his overall field goal percentage is slightly lower.
More Picks: Liberty vs. Oklahoma State Tourney Pick >>>
Records' role is to start the attack by getting the rebound or tipping it to a teammate. At 6'10", he's one of the few players in the Patriot League with some size, and he's one of the only key players on this roster who hasn't experienced the NCAA tournament before, as he's just a sophomore. This is an offense that's built around taking quality shots and taking as many of them as possible: even with their incredibly fast pace, Colgate shoots 49.8 percent from the floor. However, because they played no non-conference games, it's impossible to tell if that's because the Raiders are excellent shooters or because the Patriot League can't play defense.
Scouting the Razorbacks:
The 3-point shooting was poor for Arkansas against LSU, but the biggest concern the Razorbacks have going into Indianapolis is turnovers. The Razorbacks couldn't hold on to the ball against either Missouri or LSU, coughing it up 20 times against Missouri and 16 against LSU. Arkansas got away with it against Missouri because those Tigers also threw the ball all over Nashville (21 turnovers), but turnovers aren't one of Colgate's weaknesses.
To win this game, Arkansas has to do two things: take care of the basketball and gain an edge on the glass. Colgate's lack of bodies could really backfire against the Razorbacks, who aren't blessed with size but do have plenty of depth. Eric Musselman uses nine players for more than 10 minutes a game, and only Moses Moody and Justin Smith average more than 30 minutes a game. As long as Moody and JD Notae are hitting their shots and the Razorbacks are making intelligent decisions with the basketball, this game is well set up for Arkansas to close it out in the second half.
X-Factor:
Preparation. Is Colgate really ready to play this game? The Raiders are the more experienced team on paper based on starting three seniors, but this hasn't exactly been a traditional senior year for anyone, least of all Colgate.
The Raiders came out of the Patriot League, an academically-oriented conference that has never hesitated to put the classroom before the basketball court. The conference did it again this year, as they chose not to play any non-conference games and divide their league into divisions, only scheduling games between divisional opponents until the conference tournament. As such, Colgate's 14-1 came against only five teams: Army, Boston University, Bucknell, Holy Cross, and Loyola of Maryland. The only one of those with a winning record was Army, which means it's been 16 months since Colgate last saw a Power 6 opponent.
Arkansas has nearly twice as many games under its belt as Colgate and has been playing an SEC schedule, as opposed to dueling with weak Patriot League opposition. The Razorbacks played three tournament teams in the non-conference (Oral Roberts, Abilene Christian, and North Texas) and beat them all by double digits, and their profile includes wins over the likes of Alabama, Florida, LSU, and Missouri. If the Raiders can't raise their game quickly, this will end badly.
Colgate will Cover If:
The Raiders can get to the foul line. Arkansas isn't going to mind picking up fouls because it's such a deep team, but the Razorbacks will have problems if they send Colgate to the line because both Burns and Jack Ferguson shoot above 89 percent from the line. However, this comes with one corollary: getting to the foul line does not include either Records or center Jeff Woodward, as both players are liabilities at the stripe. If Arkansas chooses to use its bodies to foul the Colgate bigs, there's not a lot the Raiders can do to rectify that situation, given both are 60 percent or worse from the line.
Arkansas will Cover If:
The Razorbacks limit the Raiders to one shot per trip and don't give away free possessions. Colgate is at its best when it gets about 75 looks at the basket, and Arkansas can afford to play that way as long as it's hitting on its own possessions. If the Razorbacks struggle with ball-handling again, they're in trouble.
Dan's Pick to Cover the Spread
The metrics love Colgate because of its offensive efficiency numbers, but here's the caveat with that: nine of the Raiders' 15 games came against Boston University and Holy Cross, both of whom rank 300th or worse in defense. Put simply, that wasn't exactly Houston that Colgate was going up against.
Arkansas has played its best basketball as of late, and it's got one of the smartest coaches in the game on its sideline. Eric Musselman is almost certain to point out to his team that the numbers are moving against them, which should have the Razorbacks ready to prove a point. Any time the public likes a team this much, it's probably a good idea to go in the other direction. Give me Arkansas. Did you know that you can bet on basketball games (and all other sports too!) LIVE while the game is going on? Yes! Jump in ANY time at the best live wagering platform on the planet! —> Bovada Sportsbook!