College Basketball Picks: Virginia vs. Duke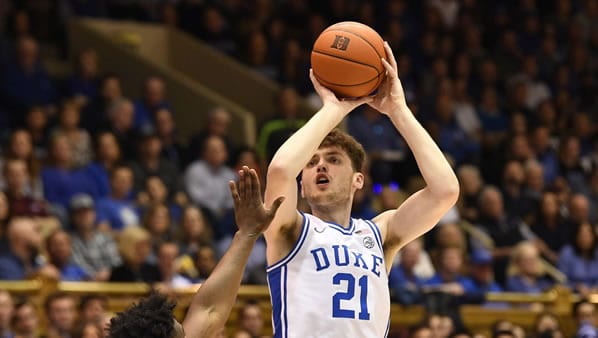 Virginia Cavaliers (15-4 SU, 10-8-1 ATS) vs. Duke Blue Devils (9-8 SU, 5-12 ATS)
When: Saturday, February 20, 8 p.m.
Where: Cameron Indoor Stadium, Durham, N.C.
TV: ESPN
Point Spread: UVA -1/DUKE +1 (Get the best odds >>> Why bet on games at -110 odds when you could be laying -105? Make the switch and start saving BIG money!)
Total: 131.5
Last Time Out:
Virginia lost 81-60 to Florida State; Duke beat Wake Forest 84-60.
About the Matchup:
Duke is cooked as far as making it to the NCAA tournament as an at-large team, but the Blue Devils still have a lot to play for at this point in the season. The only way Duke is getting to the NCAA tournament is by winning the ACC tournament, and that means that it has to stay out of the first round at all costs because it'll be almost impossible for a team as thin as Duke to win five games in five days. Right now, Duke sits in eighth place and would get into the second round, meaning every win is critical.
But to hold that position, the Blue Devils have to find a way to take down Virginia. Truth be told, that's not the daunting task it seems to be if we go by history, as the Blue Devils have actually won six of their past ten against the Cavaliers. But recent history says that this could get really bad in a hurry for Duke because losing two in a row isn't something that happens very often to Tony Bennett.
Actually, losing two against the spread isn't something that often happens to Tony Bennett. In Virginia's past nine games, coming off an ATS loss, the Cavaliers have gone 8-0-1 ATS. Duke also hasn't been anywhere near being Duke this season, as the Blue Devils haven't really earned a quality win all season unless you count Clemson, and it's starting to look like you shouldn't. With nothing but seeding in the ACC tournament on the line, can the Blue Devils show that they're to be taken seriously next month?
Scouting the Cavaliers:
Virginia's game is built around maximizing its possessions, and the Cavaliers simply didn't do that against Florida State. The Cavaliers gave away any chance they had of beating the Semi-noles in the first half, as they coughed the ball up eight times in the first 20 minutes of the game.
The basic reality for the Cavaliers is that they don't shoot the ball well enough or play fast enough to withstand giving the ball away. Every time Virginia makes a mistake, it's almost dou-ble because the Cavaliers play so slowly. Against Florida State, the Cavaliers were so far out of their game that Sam Hauser and Jay Huff combined for only 13 shots from the floor, and they only hit five of them. That's not sustainable because this is a team built around its forwards, not its guards.
More Picks: Get Dan's Daily College Basketball Picks >>>
Scouting the Blue Devils:
So far, losing Jalen Johnson has been far from the worst thing in the world for the Blue Devils, who have actually played much better in their past two games. Granted, Duke hasn't exactly been facing the best competition the ACC has to offer, as N.C. State is rather mediocre, and Wake Forest has been a raging disaster, but Duke tends to struggle in both Raleigh and Winston-Salem and didn't this time around.
However, there's a big concern here, and that's Matthew Hurt. It's not that he's playing poorly; it's actually that he's playing far too well right now. Against the Demon Deacons and the Wolf-pack, Hurt scored a combined 46 points and shot a ridiculous 84 percent from the floor. Hurt's a genuine scorer, but nobody can sustain shooting above 80 percent from the floor for very long. Eventually, it catches up with you, and if it does so in the wrong game, you're in deep trouble.
X-Factor:
Contrasting styles. When I was growing up, a common theme among announcers was "Duke starts with D, and I'm not talking about the letter." This year, however, Duke doesn't have any D, and the scoreboard operator at Cameron Indoor Stadium has gotten a workout. In Uke's (the typo was intentional) past two games in Durham, the Blue Devils have given up an average of 92 points per game to Notre Dame and North Carolina.
That's not a winning strategy against anyone, but it's an especially dangerous way to play against Virginia. The Cavaliers pride themselves on limiting shots and making life miserable for offenses. If Duke isn't doing anything on defense to stop them, Virginia's plodding style will prove nearly impossible for the Blue Devils to deal with.
Virginia will Cover If:
The Cavaliers can get Hauser and Huff to take and hit good shots. Virginia needs to look at points from Kihei Clark and Trey Murphy as a bonus, not as their main strategy of scoring. If the Cavalier forwards aren't hitting, it's going to be very difficult for Virginia to maximize its possessions and take advantage of the Blue Devils' soft defensive play.
Duke will Cover If:
The Blue Devils can continue to pull themselves together and overcome the loss of Johnson. Duke has actually played better without Johnson in the lineup, as the future NBA draft pick never really fits in with the Blue Devils' style of play. But if Hurt doesn't keep hitting, it's going to be tough to sustain what Duke has done in the past week.
Dan's Pick to Cover the Spread
Virginia doesn't lose two in a row very often, and I don't see the Cavaliers doing it this time to this Duke team. The Blue Devils might be coming off a couple of strong showings, but I don't see any chance of Hurt shooting above 80 percent against Virginia. The Cavaliers simply play defense much better than State or Wake, and if Hurt isn't hitting at that clip, this is not likely to be Duke's day.
I'm honestly surprised that I'm getting the No. 7 team in the nation against a middling Duke squad and only have to give a point, but I'm not going to overthink this. Give me Virginia. Bet your college basketball picks for FREE this weekend by taking advantage of a 100% real cash bonus on your first deposit of $100 to $300 at MyBookie Sportsbook! Must use bonus code PREDICT100 to receive the special bonus.