College Tournament Betting: Ride Barking Dogs to Profits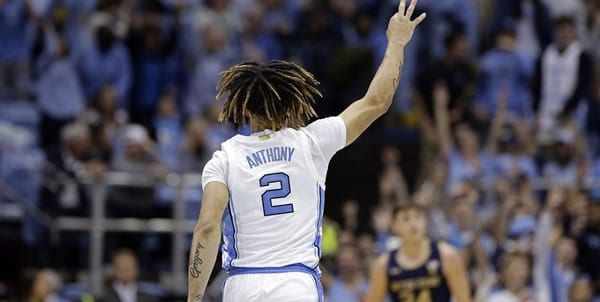 As the folks at ESPN will tell you repeatedly, we've now entered championship week, also known as the week of conference tournaments. That means a lot of basketball and a lot of opportunities to bet. With those come a chance to make some money by betting on underdogs, and if you play your cards right, you can pick up some excellent spreads that can lead to big wins.
Today, we're going to look at the Power 6 conference tournaments (that's the ACC, Big East, Big Ten, Big 12, Pac-12, and SEC) and check out which underdogs might be worth a look. But before we do, let's take a second to discuss what you want from a conference tournament underdog. The three factors that work in your favor are talent, motivation, and experience.
Talent seems obvious, but what you want here is either a team that overcame an injury and is now or a young, talented squad playing well down the stretch. Both of those are great combinations for conference tournament success. Motivation is also critical because not everyone cares about the conference tourna-ments. Some teams want to get the year over with, while others would prefer not to tire their team out be-fore the NCAAs. You want a team that needs wins in order to get a higher seed, make the field at all, or make the NIT.
Finally, in conference tournaments, every game is a rematch. You want teams that match up well with higher-seeded teams. If they've won a game against them in the regular season, even better, for example, Georgia Tech would have been a fantastic team to take in an early game against Louisville in the ACC tournament be-cause the Yellow Jackets beat the Cardinals at home and lost by four at Louisville. Unfortunately, Georgia Tech declared itself ineligible for the postseason because of rule violations, so don't look for the Jackets here. Luckily, there are plenty of other options to give you a win.
March Madness Betting: Find the
top betting sites
for bonuses, lines, parlay and teaser payouts and more!
ACC: Clemson, North Carolina
Can you name an ACC team that has wins over Florida State, Louisville, and Duke this year? It's Clemson, which has shown an ability to rise to the occasion and make life tough for top-quality teams. Plus, the Tigers have played their way into the conversation for an at-large bid, thanks to those wins. Clemson is likely going to need to reach at least the conference semifinals to make it, and the Tigers know it. This is a motivated squad that has won four of six and will be ready to play. Don't read too much into their loss to Georgia Tech; that was the Yellow Jackets' ACC tournament because they knew there would be no postseason. Miami won't be nearly as motivated.
The other team to watch is North Carolina. Sound crazy? Yes, the Heels are 13-18. But they've now won four of six ATS and won three of those games straight up. Plus, Carolina is going to have to play on opening night at the ACC tournament. That means the Heels are going to be facing Virginia Tech and then Syracuse, two very beatable squads. Plus, the tournament is in Greensboro, and the Tar Heel faithful always fill the Greensboro Coliseum. Facing the Hokies is a virtual home game, and the next game would be against the Orange. Not on-ly is that a home game, but Syracuse coach Jim Boeheim has made no secret of his disdain for Greensboro. The Heels' crowd will be out in full force.
I wouldn't get too crazy with Carolina, however. Since the ACC expanded to 15 teams, no double-digit seed has ever gotten past the quarterfinals. But you should be able to get two good games out of the Heels before fading them on Day 3 when they'd face Louisville. It's also a great idea to take the over in their game with Sy-racuse, as the Orange have hit the over 20 times this season. Syracuse gave up 92 points to Carolina just two weeks ago, so expect a significant number.
Big East: Providence, Seton Hall
Providence is hot. The Friars in the past few weeks have picked up wins over Seton Hall, Villanova, and Mar-quette, as well as a victory over Creighton at the start of February. The Friars can play with anybody, and they've got a genuine scorer in Luwane Pipkins to make that happen. Plus, the Friars have precisely the moti-vation you want from your underdog: they need wins. One more win over a Seton Hall, Villanova or Creighton would end the bubble talk and put Providence in the tournament; two would elevate them above the First Four. Taking Providence and the points — or even taking Providence straight up — is an excellent idea if the Friars come up against the Pirates, Bluejays, or Wildcats.
It's hard to call Seton Hall an underdog, given that the Pirates nearly won the Big East title, but they're coming in having lost back-to-back games to Villanova and Creighton. That should be a strong motivator for the Pi-rates, and they've got an ideal first-round match against a fading Marquette team that should be out of moti-vation when it arrives in New York. Seton Hall knows how to play against Howard and is perfectly fine with allowing him to put up numbers as long as the other Marquette scorers don't beat them, which should set the Pirates up beautifully.
Meanwhile, they're likely to get a semifinal against Villanova or Xavier, which should have to work hard against each other in their quarterfinal. That should have them ready to make a run to the final and possibly stay in the East Region for the NCAA tournament.
Big Ten: Indiana, Michigan
The Big Ten is so strong that even the teams playing on Day 1 could reach the NCAA tournament with an at-large bid. That's where Indiana comes in. The Hoosiers have been a terrible road team, but they were 14-3 at home this year. Indianapolis is technically neutral ground, but at 50 miles from Bloomington, there's nothing neutral about Bankers Life Fieldhouse. The Hoosiers should pound Nebraska, and that would give them a matchup with Penn State, which has lost five of their past six and should have lost six in a row. Plus, the Nit-tany Lions just lost to Indiana in Bloomington so that the Hoosiers will be brimming with confidence. Beat Penn State and Maryland will be waiting, and Indiana should have had Maryland when the Terrapins came to Bloomington. This road is very manageable for Indiana, which probably needs three wins to feel safe on Se-lection Sunday.
Michigan's in a good spot as well. The Wolverines have picked themselves up off the canvas and won at Rut-gers, so they already know they can handle the Scarlet Knights. They've gotten healthy with Isaiah Livers re-turning, and the Wolverines have a history of doing well in this event. If you're looking for a low seed to ride into the semifinals in Indianapolis, this could very well be the one.
FREE BETS! SIMPLY DEPOSIT $100 TO $300 AND GET A MATCHING DOLLAR FOR DOLLAR 100% REAL CASH BONUS! MUST USE THIS LINK AND ADD PROMO CODE PREDICT100.
Big 12: Texas, West Virginia's Opponents
Texas appears to have finally gotten the memo that Shaka Smart could be fired if the Longhorns don't make the tournament, as it's won five of six and finished as the No. 4 seed in the league, unthinkable a few weeks ago. Texas still needs at least one more win to have a chance, and the Longhorns are in for sure if they can get Baylor or Kansas. They're going to play hard, and they're going to play low-scoring games. It might be a good idea to take the Longhorns on the under in Kansas City. I'm not concerned about the loss to Oklahoma State, because the Cowboys have been playing excellent basketball and would be a great candidate to take for a long ride, if not for the bracket.
I also want to fade West Virginia for as long as the Mountaineers last in this tournament. West Virginia is com-pletely falling apart as the season comes to a close, as it's lost six of nine and pushed a seventh. The Moun-taineers played great against Baylor, but this has not been a good basketball team for most of the past month, and I don't expect them to be around long. It also doesn't help that West Virginia has been a much weaker team on the road. In Kansas City, West Virginia will have by far the fewest number of fans there. I think there's going to be a great chance to take Oklahoma without having to give many points in the first game.
One word on Oklahoma State: I would have taken them as a sleeper, but not with this draw. The Cowboys should be a great pick on opening night against Iowa State, but they're getting fed to Kansas the next morn-ing if they beat the Cyclones. Unlike with Baylor, who got the Cowboys' best shot twice this year, Oklahoma State doesn't seem to know what offense is when it faces the Jayhawks. Take them in the first game if you want, as they should be able to handle Iowa State on a neutral floor, but don't bother on Day 2 unless you're backing the Jayhawks.
Pac-12: Arizona, Stanford
Here's life in the Pac-12 this year: Arizona would be sitting in second place if it could have closed out Oregon in regulation in its two meetings. But the Wildcats couldn't, and they're sitting in fifth place now. That's fine by me because that sets them up beautifully to make a run. The Wildcats will have the Washington squad they just lost to in the first round, and that limits the chances that the Wildcats will get caught napping a second time. Arizona should be able to handle Washington this time around, and that sets them up well against USC in the next game. Game 3 would probably be against Oregon, which would be a huge motivator.
For another lower seed that can make a run, I want Stanford. One thing about Stanford is that the Cardinal knows how to play defense better than anyone in the West. Stanford's defense is truly elite, and it's going to have to be for the Cardinal to claim an at-large bid to the NCAA tournament. That's still on the table for Stan-ford, and the Cardinal must avoid a bad loss to California in order for that to happen. Even better for bettors, they probably need one more quality win to feel totally safe on Selection Sunday. Picking off UCLA in the quarterfinals would qualify, and they'd be in for sure if they made a run to the Pac-12 final. This team is a quality squad with a lot to play for, and it might not be bad to consider going under in this team's games.
SEC: Georgia, Tennessee
That's right. I said Georgia. Anthony Edwards is a game-changer, and the Bulldogs are experts at hanging around in ball games. Out of its last 12 games, nine have either been a Georgia win or decided by six points or less. But Georgia finished 13th out of 14 in the SEC, and that means the Bulldogs are probably going to be get-ting a lot more than six points in Nashville. Georgia's also got a history of punching above its weight in the SEC tournament (they managed to win the 2008 SEC tournament despite finishing dead last in the league), so there's a good game or two here.
Tennessee is making a late charge for the NIT, and while this isn't anywhere close to Rick Barnes's most tal-ented team, it's gone to Kentucky and won, and the Volunteers clearly want to keep playing for something. The Vols will have to score plenty to get through the opener, but if they can get by Alabama, they've got the same Kentucky team that they beat in Lexington. Tennessee's games won't be easy by any means, but there is the potential to make a run here.
Small Conferences
Don't forget those small conference tournaments! There are plenty of options in the lesser conferences to take advantage of the situation. For example, did you know that Portland State has covered in eight of its past ten and has hit at least 80 points in nine of those games? The Vikings have played their way into the No. 4 seed and will have an excellent shot to put up a high number against Montana State and Eastern Washing-ton. If you can get a good number on the over with the Vikings, jump on it.
The Colonial is another good place to look for a sleeper. Hofstra and Towson have both been strong against the spread, and Towson especially comes in hot after beating both Hofstra and Northeastern away from home. Or you could take Delaware to score. The Blue Hens have been a fantastic "Over" team, owning a 21-8-1 for the over this year. In a game where there is no tomorrow, overs can be a great way to go as teams get desperate for a comeback late in the contest. Bet March Madness games (and all wagers year round) at -105 odds instead of -110 at the web's best bookie: 5Dimes!