Creighton Bluejays vs. Villanova Wildcats Pick 3/3/21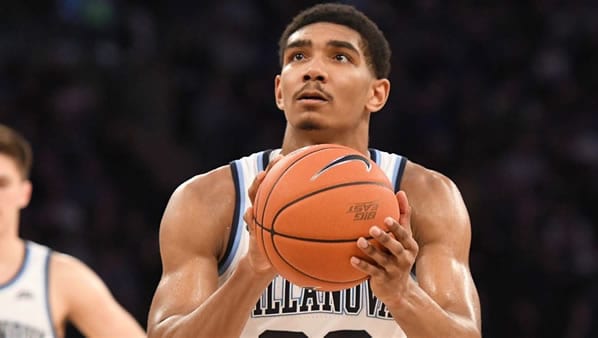 Creighton Bluejays (17-6 SU, 10-13 ATS) vs. Villanova Wildcats (15-4 SU, 10-8-1 ATS)
When: Wednesday, March 3, 8:30 p.m.
Where: Finneran Pavilion, Villanova, Pa.
TV: FS1
Point Spread: CREI +4/NOVA -4 (Get the best odds >>> STOP wasting money on -110 odds! Start saving big bucks by betting on games at -105!)
Total: 147
Last Time Out:
Creighton lost 77-69 to Xavier; Villanova lost 73-61 to Butler.
About the Matchup:
The weekend was one both teams really wish hadn't happened, both for their own reasons. Vil-lanova simply lost a basketball game, and the way they did it sounds like something out of a bad dream for Jay Wright: shooting 2-for-27 from 3-point range. Even for a team that never plays well at Hinkle Fieldhouse, that's a staggering number.
Still, the weekend was much better for Wright and the Wildcats than it was for Greg McDermott and Creighton, as the Bluejays not only lost a basketball game but also sparked outrage for their coach's racially insensitive comments after the loss to Xavier. McDermott apologized Tuesday for his remark, but will his team be ready to get back on the court in a game that real-ly isn't a must-win situation?
Scouting the Bluejays:
If Marcus Zegarowski and Mitch Ballock do what they did to Villanova in Omaha, it really won't matter what the Wildcats try. Creighton's shooting was incredibly dominant from inside the arc in the teams' first meeting, as the Bluejays went 20-for-28 (71.4%) on two-point shots. The Bluejays' overall shooting percentage might have been even higher had Zegarowski not kept pulling the trigger from deep, as he went 7-for-9 from inside the arc and just 3-of-9 outside it.
That says that the Bluejays need to make getting inside a large part of their strategy in this game. Villanova's defense clearly doesn't bother Creighton, and the Bluejays already showed they were the better rebounding team in the first meeting. What can't repeat is the foul problems that the Bluejays showed in Cincinnati, as Creighton doesn't have the depth to withstand multiple players needing to head to the bench. The Bluejays were incredibly disciplined against Villanova in the first meeting, as no player got above three fouls, and that has to be the guiding principle again.
Scouting the Wildcats:
Jeremiah Robinson-Earl, 0-for-4. Jermaine Samuels, 0-for-4. Justin Moore, 0-for-6. Collin Gilles-pie, 1-for-5. Caleb Daniels, 0-for-6. That's Villanova's 3-point shooting from its five starters against Butler, a combined total of 1-for-25. Given that the Wildcats usually make about nine to 10 deep shots a game and shoot 36 percent from behind the arc (even after that disaster), a performance like that from this team isn't going to beat anybody in the Big East.
The one positive for Villanova is that the defense was fairly solid against the Bulldogs, and that, more than anything, is the thing that Jay Wright has to fix for this game. The other thing Villa-nova is built around is defense, and allowing a team to shoot 59 percent from the field just isn't how the Wildcats play. The big concern here is whether the Wildcats can do anything about it because inside presence is the one thing Villanova doesn't have. To win this game, Villanova has to do it on the perimeter: both by hitting deep shots and forcing Creighton mistakes before the ball can ever get inside.
X-Factor:
Greg McDermott. The Creighton coach threw a live grenade into his team's locker room with a racially insensitive comment following a loss to Xavier, and it's now anyone's guess as to how the Bluejays will react in their first game back since that incident. Real-world issues always have the capability to drastically change the mood of a locker room, especially in a situ-ation like this where McDermott's own lack of judgment caused the issue. The first few minutes should tell a lot about where Creighton is mentally for this contest.
Creighton will Cover If:
The Bluejays can exploit Villanova's weakness and get good shots in the interior. Creighton actually tends to shoot just as many 3-pointers as Villanova does in a typical game, but the Bluejays would be playing into Villanova's hands if they ignore the low-hanging fruit that awaits them inside. Taking the 3 when it comes open is sound strategy, but Creighton needs to be looking inside to win this one.
Villanova will Cover If:
The Wildcats can actually hit a shot from behind the arc and improve their defense. Villanova's shooting was so bad against Butler that the Wildcats couldn't have hit the Delaware River from Interstate 95 with that performance. But Hinkle Fieldhouse is histori-cally where Villanova plays its worst game, so this performance should be better if for no other reason than Villanova is playing in a building it knows well.
Dan's Pick to Cover the Spread
After McDermott's comments, I really don't know what we're getting with Creighton. However, I know that Jay Wright rarely loses to the same team twice in the same season. Since the new Big East was formed in 2013, only Creighton in 2014 and Butler in 2017 have managed to sweep Villanova in the regular season.
The Wildcats can't be as bad as they were in Indianapolis, and I don't think Creighton is as good as it showed in Omaha against Villanova. I'll take the Wildcats to cover the small chalk here. Bet your college baskeball and March Madness picks LIVE in-progress at the best live betting platform on the planet —> Bovada Sportsbook! They'll give you a 50% signup bonus up to $250 FREE and you get a rebate on every bet you make, whether it wins or loses! Click here to sign up now!