Duke Blue Devils vs. North Carolina Tar Heels Prediction 2/8/20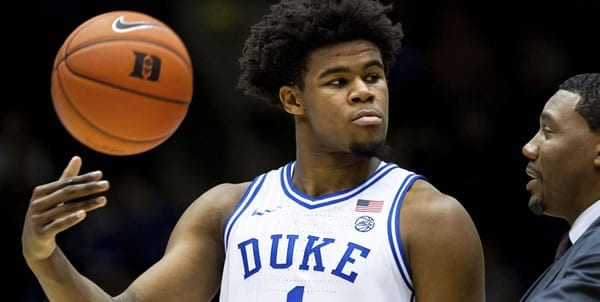 Duke Blue Devils (19-3 SU, 12-10 ATS) vs. North Carolina Tar Heels (10-12 SU, 8-14 ATS)
When: Saturday, February 8, 6 p.m.
Where: Dean Smith Center, Chapel Hill, N.C.
TV: ESPN
Point Spread: DUKE -8/UNC+8 (Bookmaker - Bet at one of the oldest and most trusted! Huge limits!)
Total: O/U 150
Last Time Out:
Duke beat Boston College 63-55; North Carolina lost 65-59 to Florida State.
Scouting the Blue Devils:
Having two of the best scorers in the country is ideal unless it means that the rest of your team finds itself caught ball watching instead of making something happen. That's happened far too often with Duke over the past year-plus. Last year, with Zion Williamson and R.J. Barrett around, the Blue Devils didn't play as a team at any point, preferring to play as individuals and ride Williamson and Barrett to success. More often than not, the plan worked because Williamson and Barrett were so darn talented, but in the regional final, it didn't work, and the Blue Devils ended up falling to Michigan State.
This year's squad seems to be heading in a similar direction. Tre Jones has made that next step well, but what about the rest of his teammates?? The Blue Devils have another star center in Vernon Carey, but the rest of the Devils seem content just to let the rest of the team handle the job of being a star. But that strategy has shown some real problems as of late. Carey tends to end up closing out games and is finding his way to the bench with foul trouble more often than not. If the Blue Devils find themselves in a tight matchup with a squad that has someone who can stand up to Carey, Duke might find its way in over its head.
Scouting the Tar Heels:
So we've finally come to this in this rivalry: Roy Williams is actually getting points at home with North Carolina. Mainly, it's because his team really can't figure out how to play with Cole Anthony now that it has him back in uniform. Anthony is easily the most talented player on the floor for Carolina, but after he missed several games, Williams had to find a way to work him back into the lineup, and the results haven't been great so far. Carolina has fallen to BC and Florida State with Anthony back in the lineup, proving that the claim that the Heels would be better once they were back to full strength was just wishful thinking. The reality is that this is not a good Carolina squad, and the chemistry just isn't where it needs to be for this point of the season.
X-Factor:
The rivalry. There's a reason that ESPN has kept pushing the hype on this game even though North Carolina's season has lost all meaning outside of the ACC tournament. It's because this game is always capable of producing something truly magical. Remember, this is a matchup that once caused Dean Smith to smoke nearly a full pack of cigarettes in an attempt to calm down — and Duke was 10-17 that season while Carolina went on to win the national championship. It's the game where Duke once went in without Mike Krzyzewski in the midst of a 2-14 ACC campaign and managed to push the Heels into double overtime against all odds.
The matchup appears to be pretty straightforward, but the rivalry could change things in a way that trends simply cannot measure.
Duke will Cover if:
The game plays out like it should on paper. The Blue Devils are the more talented squad and should be able to control this game from start to finish. There's a huge emphasis on should because nothing is guaranteed in a game like this. The Blue Devils will need Carey and Jones to both step up and handle the pressure that comes with playing in the home of your biggest rival.
North Carolina will Cover if:
The Tar Heels can channel their emotions into one memorable performance — and they can get Vernon Carey in foul trouble. This game is likely going to take Carolina's absolute best to have any real shot at stealing a victory, and it's difficult to see how the Heels can win if Vernon Carey is consistently on the court. If he's on the bench, the lane opens up for the Heels, and the game completely changes from expectations.
Dan's Pick to Cover the Spread:
It's still stunning to see Carolina getting points at home, and it's more stunning to entertain the idea of taking Duke to cover that spread. But I've got to do it here because I don't trust the Heels to band together and produce the kind of unforgettable performance that it will take for them to beat Duke. Looking at North Carolina, I see a flawed team that doesn't have a clue what its identity is, and that's not really where you want to be at this point in the season.
A team like that isn't the kind of team that regularly pulls out a big victory, and recent results haven't convinced me that this squad can be an exception. Give me the Blue Devils to come to Chapel Hill and cover. Where are you betting your college basketball picks? Does your bookie offer you discounted odds EVERY DAY (-105)? NO! 20 point teasers? 25 team parlays? Progressive parlays where some of your picks can lose and you still win? Dump that guy TODAY and start experiencing a BETTER wagering experience every day at BetAnySports!
STOP LOSING TODAY! START WINNING WITH DOC'S TEAM OF PROFESSIONALS! GET A FREE NO STRINGS ATTACHED $60 FOR THIS WEEKEND'S GAMES!