Eastern Washington Eagles vs. Kansas Jayhawks Pick ATS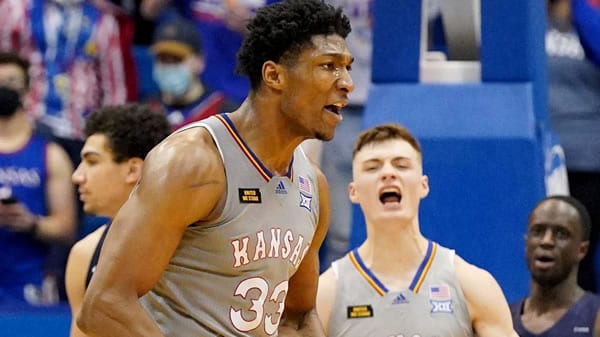 Eastern Washington Eagles (16-7 SU, 15-7 ATS) vs. Kansas Jayhawks (20-8 SU, 14-12-1 ATS)
When: Saturday, March 20, 1:15 p.m.
Where: Indiana Farmers Coliseum, Indianapolis
TV: TBS
Point Spread: EWU +10.5/KU -10.5 (Huge CBB Betting Limits - Best BitCoin Sportsbook)
Total: 146
Last Time Out:
Eastern Washington handled Montana State 65-55; Kansas beat Oklahoma 69-62.
About the Matchup:
A team that's struggling to score meets up with a team that's all about the defense, as Eastern Washington tries to break through in its third trip to the NCAA tournament in school history. Eastern's much more known for its dominant football program and its famous red turf, but its basketball program has been solid at the Big Sky level in recent years, as the Eagles have qualified for the postseason in five of the past six seasons where one was played.
But of course, that's no match for Kansas, which is playing in the NCAA tournament for the 31st consecutive season, the longest streak of all time. However, the Jayhawks have a few questions coming into this game, as they only got to play one game in their conference tournament before COVID eliminated them from the bracket. Kansas was forced to leave multiple players behind for the first and second round, which could leave the Jayhawks vulnerable to a surprise. The Jayhawks were on the wrong end of a No. 3 vs. No. 14 shocker in 2005 against Bucknell; can Eastern take advantage of a few absences and steal a spot in the second round?
Scouting the Eagles:
One thing I like about this game is that the total is moving higher, having jumped three points since the game came on the board. That's because people are looking over Eastern's performances in the Big Sky and seeing 93 points against Montana State, 94 against Sacramento State, 94 against Southern Utah, and two 90s against Montana.
So why do I like that the total is moving higher? Because there are three reasons why you should pump the brakes on this one being a shootout.
Kansas plays defense a heck of a lot better than Sacramento State does. The Eagles shot 63 percent in that game against the Hornets, and that's just not going to happen against the Jayhawks.
The Big Sky played a schedule where teams faced each other twice in three days in the same building unless they were close enough to drive between campuses. Eastern isn't going to be seeing the same thing from Kansas that they saw from Idaho.
The Eagles aren't shooting it all that well lately. In the Big Sky title game against Montana State, Eastern only shot 40 percent from the floor, with only Jacob Groves and Jack Perry hitting more than half their shots.
On the positive side of the ledger for the Eagles, they don't turn it over very often, and all five of them can create their own shot. Eastern doesn't average very many assists, but that's because the Eagles handle the ball well enough that there usually isn't an assist on the play.
More Picks: Get expert handicapper Rich Crew's free college basketball picks >>>
Scouting the Jayhawks:
The biggest question with Kansas is which players will Bill Self have at his disposal. The Jayhawks are going to be down three players at the minimum, and one of them might be David McCormack, who was Kansas' most important player down the stretch. The Jayhawks were able to play great for 20 minutes without McCormack against Oklahoma, but in the second half, the Sooners were nearly able to pull themselves back to even.
The big problem for Kansas was that the Jayhawks got virtually nothing from their frontcourt against the Sooners without McCormack, as Jalen Wilson was completely ineffective against Oklahoma, and Kansas surrounded him with four guards. That might work if Ochai Agbaji and Marcus Garrett play as well as they did against the Sooners, but Kansas has received inconsistent play from its guards all season. When the Jayhawks are on, they're as good as anyone in the country, but they struggled against UTEP in the lead-up to the Big 12 tournament and didn't look good in the second half against Oklahoma.
X-Factor:
Kansas and COVID. The second question for the Jayhawks is how ready they'll be after coming back from a pause. Teams have been hit or miss when they've tried to recover from COVID, and it's anybody's guess with any team in its first game back from a pause. With Kansas also down three players and not being a deep a team as it is, the Jayhawks might really struggle to get on the same page in the opening few minutes. If you like Kansas, it might be a good idea to wait out the first few minutes of this game and try to get the Jayhawks at a cheaper price.
Eastern Washington will Cover If: The Eagles can battle Kansas to a draw on the boards. Eastern cannot hope to match Kansas' guards, but with McCormack possibly down, the Eagles can actually give Kansas a fight on the glass. UTEP was able to outrebound the Jayhawks in Lawrence earlier this month, and if Eastern can extend its possessions, it can put this game in a position to where Kansas is vulnerable.
Kansas will Cover If:
Its guards step up and shoot the Eagles out of the game early. Eastern is likely not going to be afraid of Kansas because of the Jayhawks' issues with COVID, but the Eagles could lose their confidence rather quickly if Kansas gets off to a hot start. Conversely, if the Jayhawks start slowly, Eastern will begin to believe that it can actually win this game, and if that happens, the Jayhawks are in trouble.
Dan's Pick to Cover the Spread
The bet I want here more than anything is the under. Eastern has played to the UNDER five straight games, and Kansas has hit it in six of its past seven contests. For the game itself, I don't really feel comfortable taking either team on the spread until I know for sure who Kansas will and won't have on its roster, but the thing I'm most concerned about is how the Jayhawks will react to having to go on pause.
I'd rather wait a few minutes before taking either side to see what I'm getting, as I think the first few minutes will be informative. But if I've got to pick the game now, I'm honestly a little worried about Kansas as a whole, and I think Eastern can stay in the game for most of the contest before it succumbs. Give me the Eagles and the points. Question: When you bet on college basketball, what odds are you betting into? There's a 99.5% chance you're laying -110 odds on sides and totals. Did you know that there's a ROCK solid book out there where you only are required to lay -105? If you take a minute to do the math on how much you bet over a month or a year, then compare it laying -110 to -105, there's a REAL GOOD chance you'd have saved HUNDREDS (if not thousands) of dollars in risked money by wagering at the lesser -105 odds. Stop the insanity TODAY and start saving money by signing up at BetAnySports! You'll be SOOOOO glad you did!