Florida Gators vs. Kentucky Wildcats Pick 2/22/20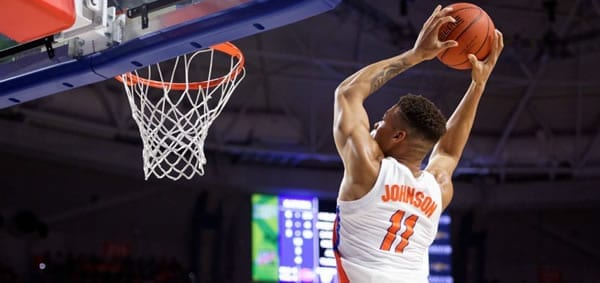 Florida Gators (17-9 SU, 11-15 ATS) vs. Kentucky Wildcats (21-5 SU, 13-13 ATS)
When: Saturday, February 22, 6 p.m.
Where: Rupp Arena, Lexington, Ky.
TV: ESPN
Point Spread: UF +4.5/UK -4.5 (5Dimes)
Total: O/U 137
Last Time Out:
Florida handled Arkansas 73-59; Kentucky survived LSU 79-76.
Scouting the Gators:
This might be the Florida team that people expected to see from the beginning of the season, as the Gators have won five of their past six games and have themselves in position to land a top-four seed in the SEC tournament and get themselves into the NCAA tournament. Why are the Gators winning now? It's as simple as hitting their shots. Florida has finally started to shoot above 50 percent, and when that's what happens, Florida usually tends to win the game.
During SEC play, the Gators are leading the conference by shooting 46.3 percent from the floor, and when they shoot at least 50 percent, they're 5-1 in league play. In their past three games, Florida has hit or topped 50 percent, and the Gators have won all three games by comfortable margins, with their 14-point win over an Arkansas squad that was once a good defense but is falling to pieces as of late. That means this will be a rather large test for the Gators, as Kentucky ranks first in the league in defensive field goal percentage and has held its past seven opponents to 40 percent or less.
More Picks: Oregon at Arizona Prediction ATS >>>
Scouting the Wildcats:
As inconsistent as this Kentucky team has been this season, the Wildcats have been somewhat consistent where it matters most. Kentucky has won five straight and looked pretty good doing so in the win over LSU, where Kentucky became the first SEC road team to go to Baton Rouge and leave victoriously.
What's fueling Kentucky is that the Wildcats don't really have anyone who commands the presence of being the No. 1 team, and instead spreads the scoring around to wherever the ball needs to go on that night. Over the past six Wildcats games, three different players have led Kentucky in scoring, including Immanuel Quickley, who is the only one of Kentucky's top six scorers to fall short of a 20-point game this season, despite leading Kentucky in scoring in four of those contests.
X-Factor:
Desperation. Florida doesn't really have a lot of time to get quality wins to improve its seed, and the Gators' past three games against Vanderbilt, Texas A&M, and Arkansas aren't going to impress anybody on the committee. In order to lock down its bid and get a pretty good seed, the Gators have to get some wins against quality SEC competition. They have two games against Kentucky over their remaining five contests, giving them a pair of big opportunities. Whether they can take advantage depends on how well they can get the job done against a Kentucky squad that's trying to lock down the SEC regular-season title. Kentucky's in for sure, but has a lot to play for because it can win the SEC and snag a No. 3 seed in the Midwest Regional, which would mean a three-hour drive to Indianapolis and the chance to play in front of a lot of its fans. Kentucky has to match Florida's desperation in order to get this win and set itself up for winning the SEC crown.
Florida will Cover if:
The Gators can get Kerry Blackshear established inside. One of the reasons that people expected so much from the Gators this year was the presence of Blackshear, a veteran big man from Virginia Tech who was supposed to carry that productivity over to the SEC. When he's been on his game and out of foul trouble, Blackshear has been a reliable scoring and rebounding option for the Gators, but too often, he's found himself on the bench with foul trouble. If he can't lead the defense, the Gators will have a hard time sticking with Kentucky.
Kentucky will Cover if:
The Wildcats can replicate the defense they played in Baton Rouge. Kentucky has been getting the job done with defense as of late, a surprising fact considering how much of Kentucky's game has been to out-talent people and get the job done in transition. This Kentucky team hasn't really been built around speed as much as previous squads, but it has proven adept at denying good looks at the hoop. The Wildcats have to plug holes on defense to control this contest.
Dan's Pick to Cover the Spread:
Kentucky's coming off a nice high of beating LSU, but can the Wildcats keep their momentum going now that they're back home? I think they can, especially against this part of the schedule. Kentucky has a No. 2 seed well within its sights, and the way the Cats get there is by getting the job done to close out the SEC regular-season strong.
Were this the early-season version of Florida, I might consider taking the Gators, but the SEC seems to have figured out how to handle Blackshear and the rest of the Florida lineup, and I'd be shocked if John Calipari hasn't figured out a solution that allows his team to attack the way other league squads have. I'm going to put my trust in Calipari and the growth of this Kentucky squad, especially for a low spread. Give me the Cats.
STOP LOSING TODAY! START WINNING WITH DOC'S TEAM OF PROFESSIONALS! GET A FREE NO STRINGS ATTACHED $60 FOR THIS WEEKEND'S GAMES!