Gonzaga Bulldogs vs. Baylor Bears Pick 12/5/20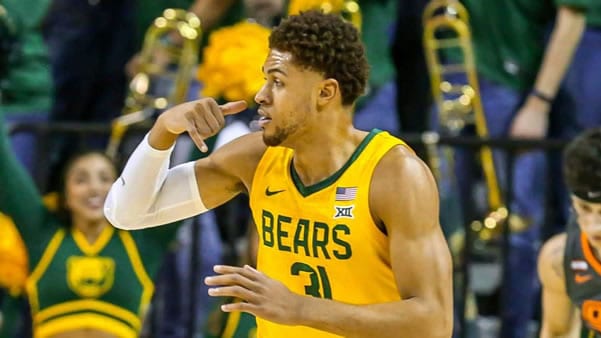 Gonzaga Bulldogs (3-0 SU, 2-1 ATS) vs. Baylor Bears (3-0 SU, 3-0 ATS)
When: Saturday, December 5, 1 p.m.
Where: Bankers Life Fieldhouse, Indianapolis
TV: ESPN
Point Spread: GONZ -3.5/BAY +3.5 (Risk less per bet - You only lay -105 odds here!)
Total: O/U Off
Last Time Out:
Gonzaga edged West Virginia 87-82; Baylor beat Illinois 82-69
About the Matchup:
COVID's taken a lot from us, but thankfully, it hasn't taken this showdown between No. 1 and No. 2. Gonzaga and Baylor have quickly established that they're for real, and there's every reason to expect one or both of these teams to be playing in Indianapolis again when the Final Four takes place in the Circle City.
This game appears to be a matchup of contrasting styles, as the Bulldogs are one of the fastest teams in the nation as well as boasting the top offense in the country. Baylor counters with a moderate pace that relies on getting good shots when they come and clamping down on the opponent. So far, both teams have been able to play the way they've wanted to play against all three opponents, which obviously can't continue in this game. Yet both teams come off a game where they forced their opponent out of their preferred game plan, as Baylor was able to put the brakes on Illinois while Gonzaga successfully sped up West Virginia.
Gonzaga opened its season by scoring 102 points. Baylor is more comfortable when there are around 120 total points scored in the game. Which team will be able to swing the tempo to its side here?
Scouting the Bulldogs:
If Gonzaga wins this game, we might have to officially declare them Big 12 champions, as this would be the Bulldogs' third win over a ranked Big 12 squad (Kansas and West Virginia) just four games into the season. The win over the Mountaineers was a struggle in large part because the Bulldogs had to play most of the first half without point guard Jalen Suggs, who has already proven himself one of the most important players on a loaded team.
Gonzaga is effective because it has size down low and runs the floor well, an equation that needs Suggs to balance. When Suggs is healthy, Gonzaga has five shooters who can get hot at any time (four starters plus second point guard Andrew Nembhard), and every member of this team rebounds the ball well. Gonzaga also showed that it can play a little bit of defense, too, as it held West Virginia to a mere 37.9 percent from the floor.
Where the Bulldogs nearly went wrong against the Mountaineers was foul trouble, as Anton Watson and Drew Timme fouled out, and Corey Kispert carried four personals. Watson is the one Bulldog starter who's not much of a threat to score, but his presence frees up Timme to dominate inside. Gonzaga has to keep its stars on the court against a team like Baylor.
COLLEGE KID SPECIAL! DEPOSIT $25 AT INTERTOPS SPORTSBOOK, USE BONUS CODE ROOKIE200 AND GET A FREE $50 BET ADDED TO YOUR ACCOUNT!
Scouting the Bears:
Here's the story of the Bears' win over Illinois: the Illini started a seven-foot, 285-pound center against Baylor's four-guard lineup and LOST the rebounding battle. Turns out, hitting good shots and playing stern defense is a great recipe for getting a big man to earn a spot on the bench with foul trouble, and that's exactly what the Bears did to Kofi Cockburn. The Illini center spent just 19 minutes on the floor because of four fouls, and without him on the court, Baylor was able to take control.
That said, the shooting will have to be better in this game because Gonzaga has much more experience in this type of play than Illinois does and will likely be much more equipped to adjust to any adversity the Bears might throw at the Bulldogs. Baylor can play an offensive-minded game when it has to, as it did when it slammed Louisiana by a 112-82 count. But the Bears much prefer a style like their win over Washington, where the offense still clicked to the tune of 86 points, but the defense held the Huskies to just 52.
X-Factor:
The small bubble. This is going to be a very weird lead-up to this game because the players on both teams will have two full days to sit around and think about this contest before going out and playing it. There's no going out in the town with COVID occurring, there are no fans around to create an atmosphere, and there's not even the presence of other teams, like Illinois, West Virginia, Kentucky, and Kansas have gone home.
These two teams are going to spend two days in isolation, hearing about nothing but their opponent, which could have an interesting effect on their mindsets when they finally do get to take the court. If the players are wired and ready to put on a show, that'll favor Gonzaga. If the players are mentally exhausted from having to spend two days in isolation and preparation, that plays into Baylor's hands.
Gonzaga will Cover if:
The Bulldogs can stay out of foul trouble and get the ball down low. Gonzaga has the edge in the low post with Timme, but only if they can keep him on the court the way Illinois couldn't. The Bulldogs have to make sure that Watson and Timme avoid picking up cheap fouls early so that they don't play into Baylor's hands. The Bulldogs are not quite as deep as the Bears, so if one of their two big men end up on the bench, it's going to be very difficult for them to gain the edge.
Baylor will Cover if:
The Bears can hit their foul shots. West Virginia showed that the strategy Baylor used to beat Illinois can work against Gonzaga, but only if the Bears can shoot better than 62 percent at the free-throw line. Leaving as many points at the stripe as they did against the Illini won't get it done against the Bulldogs, who have a lot more down low than just one player and can withstand the loss of Watson or Timme (but probably not both) if the Bears don't punish them at the line.
Dan's Pick to Cover the Spread:
Gonzaga looked great against Kansas, but the Jayhawks are a young team that's very much a work in progress and isn't yet at the level of Baylor's defensive prowess. The Bears are a veteran squad that's waited for this moment for a while and won't be intimidated by Gonzaga's advantage down low.
I think Baylor throws Gonzaga off enough to get ahead and holds on in what should be a great game that's lower-scoring than the Bulldogs would like. Give me the Bears here. Looking for a heavy hitter bonus? Get the ULTIMATE bankroll booster by depositing $1000 at BetNow and they'll match that with $1000 in FREE bets! This is not a garbage match play/free play either. It's a real cash bonus!
STOP LOSING TODAY! START WINNING WITH DOC'S TEAM OF PROFESSIONALS! GET A FREE NO STRINGS ATTACHED $60 FOR THIS WEEKEND'S GAMES!