[et_pb_dcsbcm_divi_breadcrumbs_module hide_homebreadcrumb="off" homebreadcrumbtext="Home" separator="sep-raquo" hide_currentbreadcrumb="off" homebreadcrumborientation="left" _builder_version="3.8″ fontsbreadcrumbs_font="Lato||||||||" fontsbreadcrumbs_text_color="#000000″ fontsbreadcrumbs_font_size="15px" fontsbreadcrumbs_line_height="16px" fontsseperator_font="||||||||" fontsbreadcrumblinks_font="||||||||" fontsbreadcrumblinks_text_color="#2567cf" custom_margin="25px|||" custom_margin_phone="30px|||" custom_margin_last_edited="off|desktop" custom_css_main_element="font-family: Helvetica Regular;" disabled="on" global_module="3641″ saved_tabs="all"][/et_pb_dcsbcm_divi_breadcrumbs_module]
Gonzaga Bulldogs vs. Baylor Bears Pick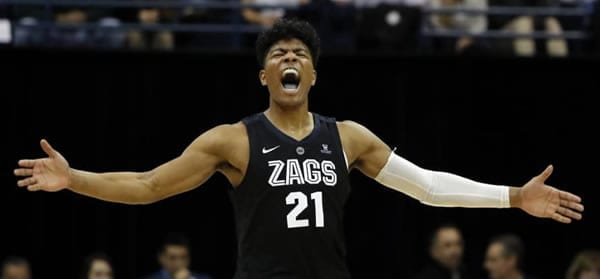 Baylor Bears (20-13 SU, 16-14-3 ATS) vs. Gonzaga Bulldogs (31-3 SU, 22-12 ATS)
When: Saturday, March 23, 2019 – 7:10 PM ET
Where: Vivint Smart Home Arena, Salt Lake City
TV: TBS
By: Dan Jamison, College Basketball Handicapper, Predictem.com
Point Spread: BAY +13/GONZ -13
Total: O/U 148
Last Time Out: Baylor beat Syracuse 78-69; Gonzaga routed Fairleigh Dickinson 87-49.
Scouting the Bears:
Baylor didn't Baylor against Syracuse, and now the Bears have a real opportunity. Baylor has been a remarkably inconsistent squad all season, being good enough to sweep Iowa State and beat Texas Tech but playing poorly enough to lose to the likes of Oklahoma State at home. There's no telling what you're going to get from Baylor, but the Bears showed what they're capable of against Syracuse by drilling 16 shots from behind the arc. If the Bears can even approach those kinds of numbers, Gonzaga could be in real trouble. Sportsbooks opened Baylor getting 13 and bettors are getting a gift with that many points.
Scouting the Bulldogs:
Gonzaga did exactly what a No. 1 seed is supposed to do to a 16, eviscerating Fairleigh Dickinson and putting the game away in the first half. The Bulldogs didn't seem at all bothered by the Knights' shooters, holding a great 3-point shooting team to just 6-for-21 shooting from deep. Now, can Gonzaga follow a great performance in the NCAA tournament with another one against a team that's a lot closer to its level? Gonzaga hasn't played anyone like Baylor in more than two months, and that's a major concern as the games get much harder from here on out.
X-Factor:
History. For whatever reason, when Gonzaga is on the top half of the bracket, this game has been by far the toughest for them. They are 3-3 in the second round, and only once have they won by more than six points — and that was when they had the good fortune to face 13th seed Indiana State in 2001. The Bulldogs are just 8-8 in the second round under Few, and while they've won four straight in this round, they've also had a problem with 9 seeds. In 2013, the first time Gonzaga was ever a top seed, they fell to No. 9 Wichita State. Last year, it was another No. 9, Florida State, that ended the year for the Bulldogs. With Baylor carrying that 9, it could be a sign. There's another reason for Baylor to be hopeful: Gonzaga has played in Salt Lake City twice before as a top seed, and each time, the second-round game was decided by six points.
Baylor will Cover if:
The Bears can get open looks from beyond the arc and get the job done on the glass. Baylor is undersized, but the Bears work hard to get the ball and extend their possessions. Baylor plays a slower tempo and Saint Mary's showed how well that can work against Gonzaga, so if the Bears can get the edge on the glass — not an easy task against Gonzaga, which also rebounds well — they've got a real chance.
Gonzaga will Cover if:
The Bulldogs can take away the looks at the basket. Fairleigh Dickinson was a great team from beyond the arc, and the Bulldogs had no trouble taking away the shots that they got against Prairie View. They'll have to do the same thing against Baylor, which is facing a much different challenge than what it saw in the first round. Syracuse's famous zone does not come out and attack the arc, which has long made the Orange susceptible to a team that shot well from behind the arc. Gonzaga will go after the ball and seek to deny good looks at the basket, which they've done well throughout the second half of this season.
Get Kevin West's Daily Hoops Plays
Dan's Pick to Cover the Spread:
This line really seems like an overreaction. Gonzaga hasn't been playing against good teams for a while, and it's going to take some time for the Bulldogs to adjust to a team that can actually stand up to it for a while and punch it in the mouth. I do not think Baylor is going to win this game, but I do think the Bears can stay in the game for quite a while and give Gonzaga a real battle.
I hate Baylor's inconsistency, but that inconsistency means that Baylor has a much higher ceiling than the typical 9 seed. The bottom line is, any team that can beat Texas Tech deserves more respect than a 13-point spread. Gonzaga should win this game, but this feels more like a game that's close until the final two minutes. Take the Bears and the points here, with the expectation that Baylor's probably going to push Gonzaga for most of the game before ending up with a loss of around seven to nine points.
Who else wants $60 of FREE member picks & predictions?
(NO commitments. NO Credit Card. NO Salesman.)