Hartford Hawks vs. Baylor Bears Pick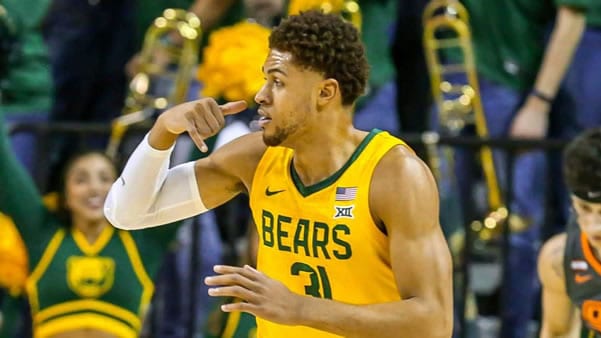 Hartford Hawks (15-8 SU, 14-8-1 ATS) vs. Baylor Bears (22-2 SU, 15-9 ATS)
When: Friday, March 19, 3:30 p.m.
Where: Lucas Oil Stadium, Indianapolis
TV: truTV
Point Spread: HART +27/BAY -27 (Huge CBB Betting Limits - Best BitCoin Sportsbook)
Total: 141
Last Time Out:
Hartford defeated Massachusetts-Lowell 64-50; Baylor lost 83-74 to Oklahoma State.
About the Matchup:
Meet the newest member of the NCAA tournament club: the University of Hartford. The Hawks earned their first trip to the NCAAs in school history the hard way, as they had to take down America East heavyweight Vermont just to get to the America East finals. Once there, they suffocated UMass-Lowell's attack by holding the Riverhawks to just 50 points on their way to claiming the coveted spot in the tournament.
This probably isn't what they were hoping to see when they got there, as they've now got to take on Baylor and its stable of guards in their opening game. What's more, they've got to deal with a Baylor team that's likely to be in a rather angry mood given the way the Bears lost their Big 12 semifinal to Oklahoma State. The Bears looked like they were back to their old selves for 30 minutes, then watched as the Cowboys took over the game, leaving Baylor as a team that has failed to cover in five of seven games and lost two of them outright. In Hartford, they face a team with nothing to lose, which could mean this game is closer than people might expect. Can the Hawks earn a cover in their first NCAA appearance?
Scouting the Hawks:
While I was watching the America East final on Saturday morning (because I have that kind of time), I had one thought about Hartford and UMass-Lowell: these teams can't shoot. And it's an accurate thought concerning the Hawks, as Hartford ranks 320th in the nation in scoring and only broke 75 points five times all season.
But the Hawks can play pretty good defense. Only four teams all season topped 70 points against them, and one of the teams that failed was Connecticut, so that wasn't just against America East offenses. Hartford likes to play a slower-paced game and won't force too many shots, especially in a game like this. When the Hawks do need to score, look for Austin Williams to be the man providing the offense. Williams struck for 25 points in the Hawks' upset of Vermont in the semifinals, and he's just as apt to create his shots on the bounce as he is off a rebound. Against Binghamton in the quarterfinals, he went for 29 points and 15 rebounds, almost unheard of for a guard at that level.
Scouting the Bears:
Out of seven games since the COVID pause, Baylor has looked good exactly twice: home games against Oklahoma State and Texas Tech. The Bears certainly weren't good in Kansas City at the Big 12 tournament, as they committed 21 turnovers against Kansas State and shot 21 percent from behind the arc against Oklahoma State. If the Bears' guards have problems again, this could be a rather short stay for a team with Final Four potential.
The problem is that this offense has been too dependent on MaCio Teague as of late, which has sapped Baylor of its efficiency. The Bears did a better job spreading the ball against Oklahoma State, but that was also the game in which nobody in green and gold could hit the Missouri River if they tried. Against Texas Tech, Teague scored 35 points, but he also took nearly 30 percent of Baylor's shots, and it worked because he went 10-for-12 from behind the arc. If he's on, Baylor will be just fine, but if he struggles again, Baylor has to find its second and third options and make use of its deep lineup.
DID YOU KNOW… YOU CAN BET ON GAMES AT -105 ODDS INSTEAD OF -110? IT DOESN'T SOUND LIKE MUCH, BUT IT'S HUGE! LEARN MORE HERE!
X-Factor:
3-point shooting. Hartford has one chance in this game: it has to force Baylor into bad shots from the arc. The Hawks were the best in the America East at defending the 3-pointer and are one of the best in the nation at doing so. Opponents shot 28.7 percent from behind the arc against Hartford, good for 11th in the nation.
Baylor, meanwhile, loves to shoot the three and is pretty good at doing so on most nights, averaging 41.8 percent from behind the arc. But against Oklahoma State, Baylor shot 6-for-28 from deep, the biggest reason that the Cowboys ended up winning. Obviously, they don't have guards like Baylor's group of shooters in the America East Conference, so Hartford's success at defending the three doesn't necessarily mean this will be a tough matchup for Baylor. But it does mean that the Bears will have to work to get open, and if their shots don't drop, this could be tighter than people expect.
Hartford will Cover If:
The Hawks can keep the score in the low to mid-60s. There is no way that Hartford can outscore Baylor, so the Hawks will have to play great defense to stay within shouting distance. If Baylor is able to push this game into the 80s, there's no way that Hartford has a hope of staying within the spread.
Baylor will Cover If:
The Bears get the offense going early and crush any hope Hartford has. The longer this game is close, the more Hartford will believe that it can play with the Bears. Baylor has already played close games with Iowa State and Kansas State, teams that should have had no business competing with them. They can't allow Hartford to stay in this game too long, especially given their history of losing to lesser opponents (Georgia State, Yale, South Carolina). If the Bears get tight because of history, the Hawks can hang around.
Dan's Pick to Cover the Spread
Here's one thing you should know about No. 1 seeds: they tend to be pretty bad bets, especially when the spread gets this high. Of the past eight No. 1 seeds, seven of them failed to cover, and one of them even lost the game outright (that, of course, being Virginia to UMBC), with Gonzaga being the only No. 1 to pound their No. 16 opponent. Plus, betting on the 16 to do well in the first half tends to go well: seven of the eight most recent 16 seeds have been within striking distance at the break.
Hartford's scoring struggles have me concerned, but 27 is a lot of points, and I just can't see the margin getting that bad. That's especially the case with coaches likely to get backups game experience in a blowout just in case COVID sidelines an important player. For me, the best bets here are the under and the halftime spread, as I think Hartford can frustrate Baylor enough to stay in the game for 20 minutes.
Forty's not happening, but I think Hartford will be just close enough to avoid the cover for the Bears. Give me the Hawks and the 27 points. Bet your Hartford/Baylor pick for FREE by taking advantage of a 100% real cash bonus on your first deposit of $100 to $300 at MyBookie Sportsbook! Note: You must use promo/bonus code PREDICT100 for them to credit the special bonus! Click here to sign up now!