Kansas Jayhawks vs. Kansas State Wildcats Pick 2/29/20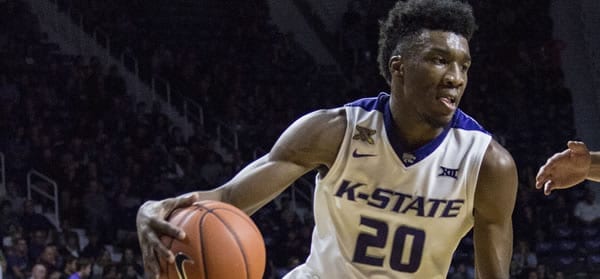 Kansas Jayhawks (25-3 SU, 18-9 ATS) vs. Kansas State Wildcats (9-19 SU, 11-17 ATS)
When: Saturday, February 29, 1:30 p.m.
Where: Fred Bramlage Coliseum, Manhattan, Kan.
TV: CBS
Point Spread: KU -11.5/KSU +11.5 (SportBet - Best Parlay Odds in the World! Pays More!)
Total: O/U 130.5
Last Time Out:
Kansas crushed Oklahoma State 83-58; Kansas State lost 85-66 to Baylor.
Scouting the Jayhawks:
With 13 wins in a row to their name, Kansas is peaking at the perfect time and looks to be on track to getting back where the Jayhawks think they belong: first place in the Big 12. Kansas has to run the table in its final three games to guarantee itself no worse than a tie for first place in the league, and the way the Jayhawks have played in February, that likely isn't going to be a problem.
Not only is Kansas doing everything right on defense, but the Jayhawks have also really discovered their offense in recent games. Scoring 64 at Baylor and 58 at West Virginia might not look like much, but Baylor routinely holds opponents below 60, and West Virginia has allowed one Big 12 team all year to break 60 in Morgantown, so those are solid outputs. More traditional big numbers of 87, 91, and 83 came against Oklahoma, Iowa State, and Oklahoma State, courtesy of Devon Dotson, Marcus Garrett, and Udoka Azubuike, who have created a trio that has appeared almost impossible for Big 12 foes to stop. Even in the game in Waco, where the Jayhawks managed just 64 points, Azubuike scored 23 and ripped down 19 rebounds, almost singlehandedly beating the No. 1 team in the nation on its own floor.
Get all of Dan's daily CBB picks to bet as they become available! >>>
Scouting the Wildcats:
Or is that the WiLLLLLLLLdcats? K-State has now lost eight in a row to put itself in a precarious position in terms of avoiding ignominy, as the Wildcats haven't lost 20 games in a season since 1946. The only way K-State can avoid doing it this year is to win the national championship by running the table through the Big 12 tournament, and the NCAAs, which we all know isn't going to happen.
What's made matters worse for K-State is that the Wildcats aren't really competing anymore. K-State had been doing a fine job of staying competitive in losses to Oklahoma State, Baylor, Texas Tech and West Virginia, but an 11-point home loss to Texas and a 19-point rout in Waco aren't exactly signs that the Wildcats are all that concerned with finishing the season strong or avoiding history. It's been a long and painful fall from Big 12 champs to its worst team in school history, but that's what K-State is looking at with no signs it's going to end soon.
X-Factor:
Pride. Does Kansas State have any left? The Wildcats have virtually nothing to play for, as they will almost certainly finish with the worst record in school history and can lock up last place in the Big 12 if they get beat. They could technically still catch Oklahoma State, but the difference is that the Cowboys seem to be playing with enthusiasm and hope, while the Wildcats appear to have given up on the season. If K-State is motivated by the sight of its rival, it could spur its best performance in a month. On the other hand, if the Wildcats have thrown in the towel, this could get out of hand.
Kansas will Cover if:
The Jayhawks don't get caught looking ahead to next week. The one thing that can realistically derail Kansas' championship goal is the season-ending visit to Lubbock, Texas, which could end up being for the Big 12 championship if Baylor holds serve in its slate of games. Kansas has to keep its minds on the "here and now" against its rival. That shouldn't be an issue given how the last match between the teams ended.
Kansas State will Cover if:
The Wildcats can summon all of their emotions and play their best game of the season against their most bitter rival. Xavier Sneed and Cartier Diarra are good players, but they have received virtually no help this season. If the rest of the Wildcats can play up to their level and let their hatred for Kansas bind them together, K-State could pull together one great game.
Dan's Pick to Cover the Spread:
Normally, you lean toward the home team in a matchup like this, but Bramlage Coliseum just doesn't have the intimidation factor for Kansas. The Jayhawks are incredibly comfortable here, having an all-time record of 32-5 at Bramlage since K-State built it in 1988. Plus, Manhattan is a mere 90 minutes from Lawrence, and Kansas has fans across the state, making it very easy for Jayhawks fans to show up and make their presence known, especially with K-State fans likely having little desire to watch this year's version of their team play.
More important than the fans are the players, and Kansas is just head and shoulders above K-State right now. The Jayhawks are likely to play strong defense in this contest, and the Wildcats seem likely to fold if the going gets tough in the first 10 minutes. I don't like K-State's situation, and I don't see this team putting up much resistance. Give me the Jayhawks here, and with how well they're playing, I like the over. Bet this game for FREE by taking advantage of a 100% bonus on deposits of $100 to $300 at MyBookie!
STOP LOSING TODAY! START WINNING WITH DOC'S TEAM OF PROFESSIONALS! GET A FREE NO STRINGS ATTACHED $60 FOR THIS WEEKEND'S GAMES!