Kentucky Wildcats vs. Michigan State Spartans Pick 11/5/19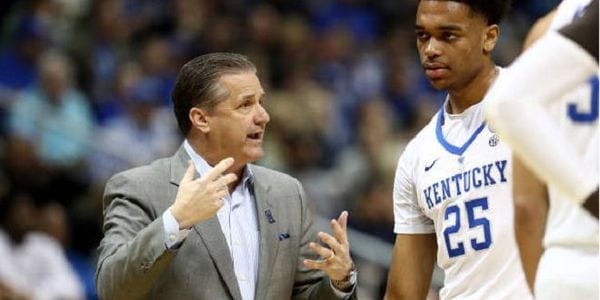 Kentucky Wildcats (0-0 SU, 0-0 ATS) vs. Michigan State Spartans (0-0 SU, 0-0 ATS)
When: Tuesday, November 5, 2019, 9:30 PM ET
Where: Madison Square Garden, New York
TV: ESPN
Point Spread: UK +2.5/MIST -2.5 (Bovada)
Total: O/U Off
Last Time Out:
Kentucky fell to Auburn in the regional final last season, while Michigan State lost to Texas Tech in the Final Four.
Scouting the Wildcats:
This is not last year's Kentucky squad. That team dominated opponents on the glass and consistently limited them to one shot per trip. This Wildcats team won't do that. This team will be guard-heavy and rely on its shooting and its quickness, looking more like the Rick Pitino squads of the 1990s than the powerful team of last year. What really helps Kentucky is that Ashton Hagans recognized that he had room to grow as a player before chasing millions and came back for his sophomore year, giving Kentucky experience at point guard. That's when John Calipari's teams have been at their best, as there is usually is a considerable increase in comfort and decision-making between year one and year two for point guards.
Scouting the Spartans:
This was supposed to be a strong season for Joshua Langford as the No. 2 man alongside Cassius Winston, but there's bad news there: Langford hasn't healed properly from a stress fracture, and he's going to be out until the Big Ten schedule gets going in January. That puts a lot of pressure on Winston and on freshman shooting guard Rocket Watts. Watts is a great defensive guard, which should help against Kentucky, but he's not much of a shooter at this point in time. Watts hasn't shown anything resembling consistency from deep, which means that Michigan State is going to have to rely on the bench to get the scoring it will need to beat Kentucky. Winston can score, but he's going to be more worried about distribution — and inside scoring might not be enough to beat Kentucky.
X-Factor:
Outside shooting. The guard play for both teams will make a huge difference in how this game will go. Kentucky did not shoot the ball well from deep in its exhibition win over Georgetown College, and Michigan State is left with several question marks besides Winston with Langford on the shelf. The team that starts hitting from the outside is going to be the team that comes out ahead in this one, given that Kentucky has re-made itself as a guard-oriented team, and Michigan State still has yet to prove that it can get Xavier Tillman some help in the paint. If the Spartans can hit some outside shots, Kentucky will have to step out rather than sag on Tillman, which would allow the MSU big man to dominate.
Kentucky will Cover if:
The Wildcats are ready to run and run with a purpose. Michigan State is going to run everything through Winston and try to involve Tillman as much as possible, but the Spartans won't be able to do that if Kentucky can get in the way of the passing lanes. The Wildcats aren't likely to force Winston into turnovers, but they can force him to look to his second and third options and force a missed shot. If the ball keeps going to Tillman, Kentucky is in for a long night.
Michigan State will Cover if:
The Spartans can limit the damage from the outside. Tyrese Maxey is a strong shooter when he gets some time, and Watts is going to have to step out on him to keep him from getting hot. Maxey doesn't have to score from the outside to be efficient, as he averaged 10.5 points in Kentucky's two exhibition games despite hitting 1-for-7 from deep, but if he does get going, Michigan State is in trouble.
Dan's Pick to Cover the Spread:
If Langford was healthy, this would be the spot to take Michigan State. But he's not going to play, and I do not trust Watts to step into those shoes in his first game at the collegiate level. Yes, Maxey is a freshman as well, but he's been expected to start from the day he arrived in Lexington. Watts was supposed to be a reserve this year and start next season as a sophomore.
There's also last year as motivation. Michigan State made a credible showing in this event against top-ranked Kansas, while Kentucky got its doors blown off in a 34-point loss to Duke. The Wildcats haven't forgotten that game, and they're using it as motivation to avoid a repeat performance. The Spartans would have the last time they faced Kentucky as a motivator, given that they lost by 21, but that game was played in 2016, and only Tom Izzo and Winston were around for that blowout. The roster turnover is just too high for that loss to serve as anything.
Give me the Wildcats in this matchup.
100% Free Play up to $1,000

STOP LOSING TODAY! START WINNING WITH DOC'S TEAM OF PROFESSIONALS! GET A FREE NO STRINGS ATTACHED $60 FOR THIS WEEKEND'S GAMES!