LSU Tigers vs. Michigan Wolverines Pick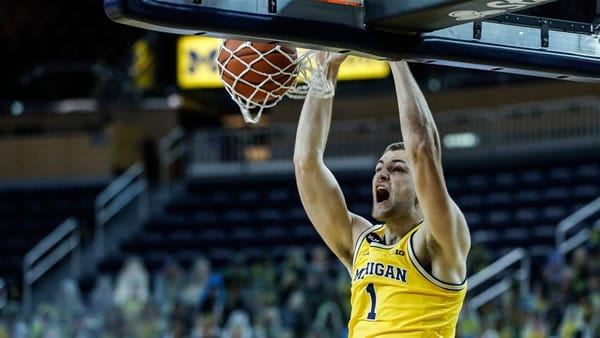 LSU Tigers (19-9 SU, 14-13-1 ATS) vs. Michigan Wolverines (21-4 SU, 17-8 ATS)
When: Monday, March 21, 7 p.m.
Where: Lucas Oil Stadium, Indianapolis
TV: CBS
Point Spread: LSU +5/MICH -5 (Bovada - BEST live wagering platform on the planet! Credit cards work there for deposits! 50% bonus up to $250!)
Total: 149.5
Last Time Out:
LSU knocked off St. Bonaventure 76-61; Michigan beat Texas Southern 82-66.
About the Matchup:
After sending Texas Southern coach Johnny Jones home, Michigan now gets to take on Johnny Jones' former employer. For both teams, this is a continuation of what they faced in the first round, just a more skilled version of it. LSU eventually wore down the slow pace of St. Bonaventure and ended up with a comfortable win, while Michigan started fast and then held on against a Tiger squad that wanted to run and did exactly that.
That makes this a bit of a worry for the Wolverines, who clearly haven't fully recovered from losing Isaiah Livers at the Big Ten tournament. For the second time in three days, they'll be facing a team that loves to push it, except this one has the kind of athletes who can keep pace with them. LSU's been putting up big numbers against everyone under the sun, and that includes a St. Bonaventure team that held them to two points in the first eight minutes of the game. A high-scoring match would be a pretty unfamiliar experience for Michigan, which has allowed just three opponents — Ohio State, Illinois, and Bowling Green — to top 75 points against it. Which side can impose their tempo on their opponent?
Scouting the Tigers:
The Bayou Bengals' first 10 minutes at the NCAA tournament looked like something out of a horror show, as the Tigers and the Bonnies might have set the game of basketball back to the days of black-and-white television. But once LSU got started, it never stopped, scoring 74 points over the final 32 minutes of the game. In case math isn't your friend, that's more than a basket a minute, and it's darn hard to beat a team that scores at that level of efficiency.
It's also pretty darn hard to beat a team that grabs 49 rebounds and has Cameron Thomas as one of its five players. Even though Thomas didn't have a great shooting night against St. Bonaventure, he still ended up leading all scorers with 27 points because he kept getting himself to the line. While Thomas was providing the points, the rest of the Bayou Bengals kept getting him as many chances with the ball as he needed to be effective. LSU had three players — Aundre Hyatt, Darius Days, and Trendon Watford — record a double-double because the Tigers were simply hungrier and able to outhustle the Bonnies.
Where the Tigers could run into problems is foul trouble. LSU nearly took itself out of the game early because it couldn't keep Javonte Smart or Watford on the floor early, only surviving because St. Bonaventure couldn't score enough to take advantage. Michigan likely isn't going to make the same mistake if the Tigers are again too aggressive in the early going.
Scouting the Wolverines:
Michigan has to be thanking its lucky stars that the selection committee gave it Texas Southern and not Norfolk State because if the Wolverines had been facing a team that could actually shoot the 3-pointer and not a team that went 1-for-12 from behind the arc, they might very well have been beaten. As it was, the Wolverines ended up with a comfortable but unspectacular showing against the Tigers, who outscored them in the second half.
Oddly, Michigan didn't end up using Hunter Dickinson anywhere near as much as it could have. Dickinson had a strong game with 16 points, but against an undersized team with little inside presence, that should have been a lot more. Instead, Michigan chose to play most of the game on the perimeter, which could lead to real problems against LSU if the shooting doesn't improve. The Tigers don't play great defense, but with Livers on the shelf, Michigan doesn't seem to think that it can go inside right now, which could help LSU.
LSU will Cover If:
The Tigers can get off to a hot start with their shooting and force Michigan to play at their speed. When the Tigers get off and running, it's almost impossible to get them to slow down. St. Bonaventure found that out the hard way when it wasn't able to slow down the LSU attack, Michigan will discover the same thing unless it can force LSU into bad shots.
Michigan will Cover If: The Wolverines can win the rebounding battle and keep the Tigers from getting off and running. The best way to slow down a high-tempo team is to hold them to one shot per trip, and Michigan is talented enough to do precisely that. But if LSU gets multiple looks at the basket, it's going to be hard for the Wolverines to keep them from scoring.
Dan's Best Prop Bets
Against everyone except Maryland, Michigan has been giving up a lot of points in the second half while holding the score down in the first half. To me, that says that teams are taking about a half to figure out the Michigan defense and then stepping up in the second half once they get it solved.
With that being the case, I think LSU under its first-half team total of 33.5 points, holds a lot of value. The Tigers haven't always been a great first-half team, as they've scored under 33 points in the first half in two of their past four games (and still ended up with 76 when all was said and done.) I think there's a good chance LSU takes a few minutes to figure things out before hitting the gas.
Dan's Pick to Cover the Spread
After watching Illinois, Ohio State, Purdue, and Michigan State already flame out in the first weekend of the tournament, I've begun to suspect that the Big Ten might not be the powerful conference that most people thought it was during the regular season. Conversely, the SEC has looked fairly solid in its first weekend other than Tennessee, and the Volunteers were showing signs of fading down the stretch.
LSU has gotten stronger over the past six weeks, and I think it's the stronger team here. I might feel brave enough to take the Tigers to win, but I'll gladly take a free five points with LSU here. Did you know that you could be saving big money by betting on games at -105 odds instead of -110? YES! Make the switch TODAY to BetAnySports! You'll be SO glad you did!