Marquette Golden Eagles vs. Butler Bulldogs Picks 1/24/20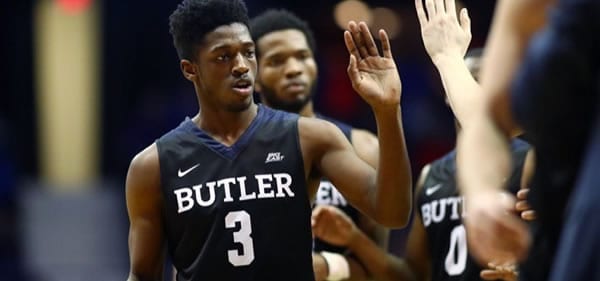 Marquette Golden Eagles (14-5 SU, 12-7 ATS) vs. Butler Bulldogs (15-4 SU, 12-7 ATS)
When: Friday, January 24, 9 p.m.
Where: Hinkle Fieldhouse, Indianapolis
TV: FS1
Point Spread: MARQ +5.5/BUT-5.5 (Best Basketball Lines)
Total: O/U 137.5
Last Time Out:
Marquette beat St. John's 82-68; Butler lost 76-61 to Villanova.
Scouting the Golden Eagles:
Are things starting to look up in Milwaukee, and is it going to be enough to matter? On the one hand, Marquette is blessed to have Markus Howard, who leads the nation in scoring, wearing its uniform, which is one reason why the Golden Eagles boast a top-50 offense. On the other, Howard is often the only chunk of offense that Marquette has to its name, and when he isn't doing the scoring, things can quickly collapse for the Golden Eagles.
So, which version of Marquette basketball is Hinkle Fieldhouse going to see? Much of that depends on which version of Howard is actually going to show up. For all of his scoring talent, much of his ability comes from the fact that he shoots the ball as often as he does. Only three times this season has he managed to shoot above 50 percent in a game, and none of those have been against an opponent who can play quality defense. Against Maryland, the fallacy in relying too much on Howard got completely exposed when Maryland focused on him and allowed him to shoot just 1-of-12 from the floor.
Scouting the Bulldogs:
What's the problem with the Bulldogs? Butler losing to the likes of Villanova and Seton Hall is one thing, but the Bulldogs also threw in a loss to DePaul, and while the Blue Demons are much improved from where they've been in years past, a loss to them is still a cause for concern. So what's the issue for Butler? A large part of the problem is that the Bulldogs haven't been playing the kind of defense they need to in order to get wins. Butler doesn't play a particularly fast style and doesn't put up a lot of points, which means that the Bulldogs' equation for victory is dependent on their ability to get stops.
That's exactly what the Bulldogs didn't do in their past three games. Butler has allowed each of its previous three opponents to break 76 points, and that's been a recipe for disaster for the Bulldogs. Prior to the Seton Hall loss, Butler hadn't let anyone break 70 points all season, and only four opponents had even broken 60. When one thing is off, it can change everything for a team like Butler.
X-Factor:
Markus Howard. He's one of the only players in college basketball who is talented enough to take over a game and has the experience of doing so at the college level. The job that Butler does against him is almost certainly going to show up in the final score. If the Bulldogs can hold him to 20 or less, Marquette is going to be hard-pressed to find enough points to make up for it, especially if Butler clamps down on the other four Golden Eagles. If Howard is able to get free consistently, it's going to be another setback for the Bulldogs.
Marquette will Cover if:
Sacar Anim can continue to be Robin to Howard's Batman. Howard's career has been a little like the Christian Bale Batman franchise, as he's mostly had to work alone to produce results. Anim, however, has shown signs of becoming a quality No. 2 option. When Maryland shut Howard down, Anim stepped up for 21 points to at least keep the final margin somewhat respectable. In the Golden Eagles' three straight wins, Anim has played at least 36 minutes and scored double digits in all of them.
Butler will Cover if:
Butler plays the kind of defense that initially earned it a No. 5 national ranking. The Bulldogs are more balanced but less flashy than the Golden Eagles, and that means that scoring isn't going to be the way they win games. They cannot play Marquette's game of trying to win the scoring contest; they have to play their way and win with tenacious defense. If they don't, this won't end well.
Dan's Pick to Cover the Spread:
I got burned by going against the home team that was struggling earlier this week when I took South Carolina to beat Auburn. I'm not going to make that mistake again. Lost in Marquette's win streak was that two of the three wins came in Milwaukee, and they came against three of the four weakest teams in the Big East. Butler might be struggling, but the one home loss was to Seton Hall, which is the one team in the Big East that I see as a genuine contender. Losing at Villanova and DePaul is something a lot of teams are going to do, and I don't think there's any kind of issue here just because a team does that.
I feel comfortable backing the Bulldogs at Hinkle. Where are you betting your Marquette/Butler pick? Does your bookie offer you the ability to bet on every single game at discounted odds? NO he doesn't! Stop overpaying for your bets! Start saving a ton of cash TODAY by making the switch to -105 sports betting at 5Dimes! You'll be so glad you did! 
STOP LOSING TODAY! START WINNING WITH DOC'S TEAM OF PROFESSIONALS! GET A FREE NO STRINGS ATTACHED $60 FOR THIS WEEKEND'S GAMES!