Marquette Golden Eagles vs. Seton Hall Pirates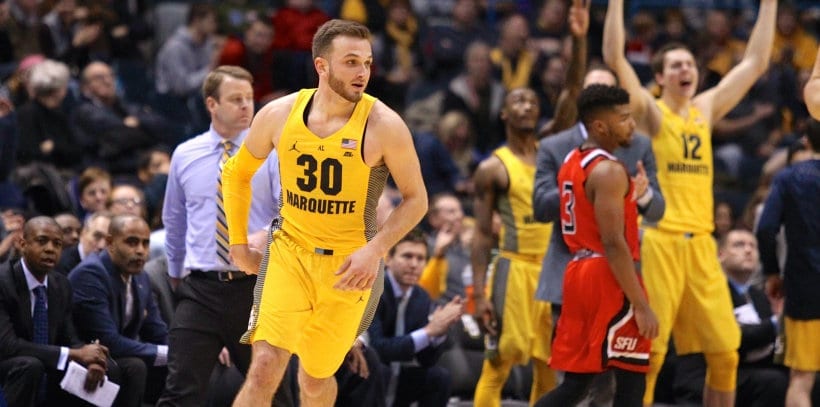 Marquette Golden Eagles (23-6 SU, 18-11 ATS) vs. Seton Hall Pirates (16-12 SU, 12-16 ATS)
When: Wednesday, March 6, 2019 – 6:30 PM ET
Where: Prudential Center, Newark, N.J.
TV: FS1
By: Dan Jamison, College Basketball Handicapper, Predictem.com
Point Spread: MARQ -2/HALL +2 (Bovada)
Total: O/U 145.5
Last Time Out: Marquette lost 66-60 to Creighton; Seton Hall lost 77-71 to Georgetown in double overtime.
Scouting the Golden Eagles:
A week ago, the Golden Eagles were seemingly on their way to dethroning Villanova as the Big East champion and setting themselves up for a top seed in the NCAA tournament. But after losing at Villanova and at home to Creighton, things have gotten a tad more precarious. The Golden Eagles aren't going to miss the tournament, but they're now a game back of Villanova and have to pull out a pair of wins to claim a share of the Big East title.
Currently, Marquette's biggest problem is that it's not getting anywhere near enough offense outside of Markus Howard. In the Golden Eagles' past two defeats, Howard has scored a combined 58 points, while his teammates have managed just 63 points total in that stretch. In order to get back on track, Marquette has to get the rest of its roster back on track.
Scouting the Pirates:
Seton Hall is backsliding at the worst possible time, and it has much of the same problems that Marquette does. Like the Golden Eagles, the Pirates have a genuine star scoring option, with Myles Powell averaging 22.3 points per game. Like the Golden Eagles and Howard, Powell isn't getting much help at all, which has caused the Pirates to drop their past three contests to the likes of Georgetown, St. John's and Xavier. The big difference between the Golden Eagles and the Pirates is their defense: Marquette boasts the best defense in the Big East, while Seton Hall has shown trouble stopping opponents, giving up 75 points or more in four of their past five games.
Today's NBA Picks: Sixers vs Bulls | Lakers vs Nuggets
X-Factor:
Motivation. Which team is going to decide that it has more to play for in this contest? It should be the Pirates, who need a signature win in order to earn a bid to the NCAAs and are playing on their home court, but Seton Hall has played this thing about as poorly as a team possibly could over the past two weeks. Incredibly, Seton Hall could still finish dead last in the Big East, which speaks to how balanced, if not brilliant, the league has been. Marquette isn't going to care one bit about that, as it still has a chance to win the Big East by winning its final two games. Slip up once, however, and the title belongs to Villanova, which should provide plenty of motivation for the struggling Eagles to right the ship. Whichever team decides it wants the carrot in front of it will be the team that claims it.
Marquette will Cover if:
The Golden Eagles can get their offense back on track. Remember, this is a team that scored 92 points on DePaul on Feb. 12, an outstanding performance in a challenging road environment. The talent is there for Marquette to put up big offensive numbers, but it's just not happening for the Golden Eagles at the moment. Put simply, Marquette can't afford to have Sam Hauser score just three points, or they'll waste another great defensive performance.
Seton Hall will Cover if:
The Pirates can avoid mistakes when the game is on the line. Seton Hall played an excellent game in the first meeting in Milwaukee, and the Pirates likely would have pulled it out if not for Marquette getting some unexpected help from Theo John down the stretch. But that's been the way the season has gone for the Pirates: they've managed to put themselves in position to win but haven't been able to close the deal. They have to get themselves a slight boost from somewhere to get over the finish line and close out a game. That's exactly what didn't happen against Georgetown: Seton Hall coughed it up 19 times against the Hoyas.
Dan's Pick to Cover the Spread:
These two teams are almost carbon copies of each other: dependent on one major star for their points, not a lot of help behind them, not a lot that either of them does particularly well or is deficient in as a squad. The difference comes from the defense: Marquette is simply better at stopping its opponents when it needs to be. The Golden Eagles boast more consistency at both ends of the court, and that's the main reason why they're near the top of the Big East and Seton Hall could fall to the bottom.
When making a pick like this, it's always better to go with the more consistent team, and there's no question that Marquette's the choice in that metric. That's why the Golden Eagles will be my choice here.
More NCAA Hoops Picks: LSU vs Florida
Who else wants $60 of FREE member picks & predictions?
(NO commitments. NO Credit Card. NO Salesman.)