Michigan State Spartans vs. Penn State Nittany Lions Pick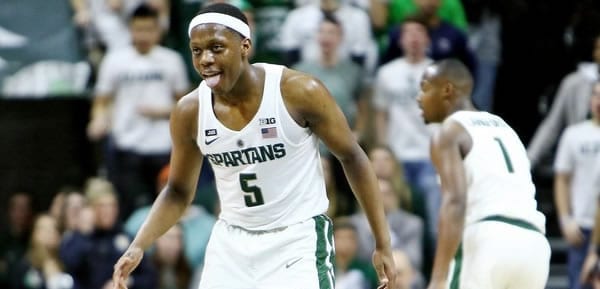 Michigan State Spartans (20-9 SU, 13-16 ATS) vs. Penn State Nittany Lions (21-8 SU, 16-12-1 ATS)
When: Tuesday, March 3, at 7 p.m.
Where: Bryce Jordan Center, University Park, Pa.
TV: ESPN
Point Spread: MIST -1/PSU +1 (Bookmaker - Highest Betting Limits! Fast Payouts!)
Total: O/U 143
Last Time Out:
Michigan State handled Maryland 78-66; Penn State lost 77-68 to Iowa.
Scouting the Spartans:
Is Michigan State really playing better, as so many analysts are suggesting, or is their recent success more of a product of a weaker schedule? Michigan State had a very weird month in February, as the Spartans went 4-4 and absorbed defeats against Wisconsin, Michigan, Maryland, and Penn State but picked up wins over Illinois, Nebraska, Iowa, and Maryland.
What has people thinking the Spartans might have turned a corner is the play of Cassius Winston, who stepped up at the right time in a win at Maryland, something nobody else in college basketball can claim they've done. Winston was critical in the win over the Terrapins with 20 points, and his shooting mirrored the accuracy the Spartans have shown over their past three games. Michigan State has hit at least 47.5 percent from the floor in each of their previous three contests, which has to repeat itself if they're going to win another big game on the road.
More Picks: TENN/UK Prediction >>>
Scouting the Nittany Lions:
Everything that the experts are saying about the Spartans, they're not speaking about the Nittany Lions. Penn State has been struggling as of late, losing three of its past four and barely escaping with the fourth after it blew a huge lead and escaped with a one-point win over Rutgers. There's no denying that Penn State is not playing the way that it did when it went to East Lansing and beat Michigan State 75-70, riding a wave of turnovers and rebounds to get the job done.
The problem is that other than Lamar Stevens, Penn State isn't getting consistent production from its scorers. Seth Lundy was great against Iowa, but that was the first time he had gotten anything going at any point in recent games. Myles Dread has been decent, but Penn State needs more than just 10 points a game from its second option. Myreon Jones has been injured for most of February and appears to finally be back on track as the Nittany Lions enter March. Penn State has to get someone playing on Stevens' level if it's going to pull things back together and make this a strong finish to what has been a great year.
X-Factor:
Complacency. Does Penn State think that it's already done its job? When a team hasn't had success in a while and comes up with a big season out of nowhere, it's not uncommon for it to reach its peak and then stop doing the things that made it have success. The Nittany Lions haven't been here before and entered the year trying to save Pat Chambers' job. His job is secure for sure now, as the Nittany Lions are trying to tie their record for most wins in a Big Ten season with 12. But Penn State has really not looked like the team that made itself an NCAA squad in the first two months of the season, and there's a real concern that this team might be on its way to a one-and-done in the NCAA tournament. Do the Nittany Lions have more in the tank or have they gone as far as they can go?
Michigan State will Cover if:
The Spartans can avoid the mistakes that they made in the first meeting. Michigan State got ripped on the glass and turned it over 15 times, which added up to never being able to get even with Penn State and taking a rare home loss. The Spartans seem to be back on track now, but the question remains as to whether Maryland was a one-game fluke or if Michigan State really has its ball-control issues figured out. If the Spartans can take care of the ball, they will earn a win.
Penn State will Cover if:
The Nittany Lions can get Stevens some help. Stevens is playing like a senior, but the rest of the Nittany Lions haven't really matched his intensity. What the Nittany Lions need to do is be opportunistic with any mistakes. Penn State scored 36 of its 75 points off of turnovers and offensive rebounds in East Lansing, and the Nittany Lions need to take care of those chances again.
Dan's Pick to Cover the Spread:
I'm not entirely sold on Michigan State right now, but I'm not sold on Penn State and the way that the Nittany Lions seem to be folding down the stretch. This team really isn't looking like the No. 4 seed that it was once projected as, and I'm already expecting to take the Nittany Lions' opponents when the tournament gets going. But for the time being, I've got to look at what's been happening in University Park, and while Penn State has been tough to beat at Bryce Jordan, the Nittany Lions did lose to Illinois and should have lost to Rutgers.
By contrast, Michigan State is coming off a win in College Park. Any team that goes to Maryland and wins isn't going to find University Park intimidating in the slightest. Give me the Spartans here to cover the small spread. Bet today's NCAA basketball picks for FREE by taking advantage of a special offer (only offered to Predictem readers!) where you can deposit anywhere from $100 to $300 and get a dollar for dolar matching REAL CASH bonus from one of the best sportsbooks on the net! —> MyBookie. Must sign up through this link and use bonus code PREDICT100.