Michigan State Spartans vs. Wisconsin Badgers Pick 2/1/20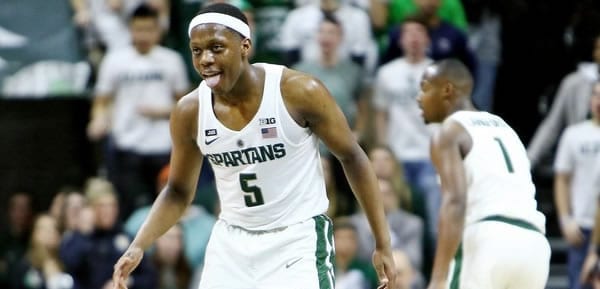 Michigan State Spartans (16-5 SU, 11-10 ATS) vs. Wisconsin Badgers (12-9 SU, 8-11-2 ATS)
When: Saturday, February 1, 1 p.m.
Where: Kohl Center, Madison, Wis.
TV: FOX
Point Spread: MIST -5.5/WIS +5.5 (5Dimes - Lay only -105 on games there! HUGE SAVINGS!)
Total: O/U 130.5
Last Time Out:
Michigan State crushed Northwestern 79-50; Wisconsin lost 68-62 at Iowa
Scouting the Spartans:
The Spartans showed that they could win on the road at the start of the week by besting Minnesota, but can they do it again at an even tougher building? Michigan State had been struggling on the road with losses to Indiana and Purdue. That said, the Spartans have looked solid in each of their past two games, handling Northwestern by 29 and beating Minnesota by 18 on the road.
However, there's reason to wonder whether Michigan State's recent success has had more to do with the Spartans hitting their stride or the quality of the opposition scraping the bottom of the barrel in the Big Ten. Minnesota is a middling foe, and Northwestern is probably the closest thing to a pushover the league has this season. Coach Tom Izzo wasn't particularly pleased with the Spartans' performance against the Wildcats, as Michigan State shot just 42 percent at home, a performance that would have meant doom against most opponents. Northwestern wasn't talented enough to take advantage of the Spartans' poor shooting, but Wisconsin is.
Scouting the Badgers:
It's been a lousy week for Wisconsin, and it's only gotten worse going into this game, as they're going into this matchup down two players. First, the Badgers found out that Kobe King, who had been their second-leading scorer, has decided to transfer out of the program, a severe blow to an offense that has failed to break 65 points in four of its past five games. Second, the Badgers are also down Brad Davison, as the junior guard committed a flagrant foul against Iowa and is suspended for Saturday.
So how do the Badgers overcome that? Basically, they're going to have to put out their best defensive performance of the season. Wisconsin did a good job on defense against Michigan State when the teams met in East Lansing, but the Spartans still shot 46.6 percent from the floor and were able to hold Wisconsin to a mere 55 points. Down two starters, the Badgers have to turn this into an ugly defensive battle that might have 100 points total between the two teams. If Michigan State gets any room at all to get the offense going, this isn't going to work.
X-Factor:
Desperation. Wisconsin is starting to run out of time to get some good wins and get itself in the mix for an NCAA tournament bid, and with just ten games left before the Big Ten tournament, this represents the Badgers' best shot at a win over a quality opponent. Wisconsin played a brutal schedule to start the year, but Wisconsin does have a few solid wins to its name in Penn State, Maryland, and what was once a top-5 Ohio State squad. Winning a game like this would do wonders for the Badgers' hopes at the NCAA tournament, while a loss would give them ten defeats with not much time left to get that ledger going in a positive direction.
Find the
Best Sportsbooks
for bonuses, lines, parlay and teaser payouts and more!
Michigan State will Cover if:
The Spartans can get Cassius Winston going. With the Badgers shorthanded, Wisconsin's defense could open up compared to how this matchup usually goes, and Winston is by far the one best positioned to take advantage of it. There's also a good chance that he's going to come out fired up to put up some big numbers after how poorly he played against Northwestern. This is his chance to come out and lead his team, and he's likely to take advantage.
Wisconsin will Cover if:
The Badgers can come together and play as one in the face of adversity. Wisconsin had no business losing to Iowa, and with the adversity that they've had to deal with this week, there's a reasonable question to ask. Will the Badgers play as one or fall apart? Wisconsin has to get itself in the right mindset, or this one won't be close.
Dan's Pick to Cover the Spread:
It's really hard to pick Michigan State to win in Madison. After all, the Badgers are still a talented group, and the Grateful Red is a tough student section to play in front of. But this Wisconsin squad has been through too much this week to really expect much from it in this game. Legendary North Carolina coach Dean Smith loved to say that you can play one great game without a key player, but that was a situation where said key player was going to be coming back and his Tar Heels used their fallen teammate's situation to rally together and ensure that things would remain in good shape when their teammate did return.
King isn't coming back, and I'm not going to trust this shorthanded Wisconsin squad against the best that the Big Ten has to offer. It's a significant risk, but I want the Spartans.
STOP LOSING TODAY! START WINNING WITH DOC'S TEAM OF PROFESSIONALS! GET A FREE NO STRINGS ATTACHED $60 FOR THIS WEEKEND'S GAMES!