Free Pick: NC State Wolfpack at Duke Blue Devils 2/16/19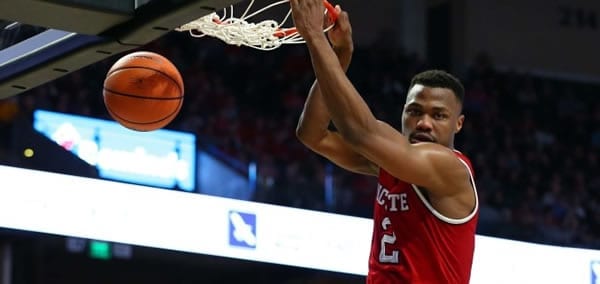 NC State Wolfpack (18-7, 15-10) vs. No. 2 Duke Blue Devils (22-2, 15-9 ATS)
When: Saturday, February 16th, 2019 – 6:00 pm
Where: Cameron Indoor – Durham, NC
TV: ESPN
Point Spread: NCST +17/DUKE -17 (Bookmaker)
Total: 159.5
I love the smell of college basketball in the morning. Here in the City of Brotherly Love, the birds are chirping, the sun is starting to peek through, and there are real signs that Winter Is Ending. Our Long Night is finally over, and now our watch has ended. And the end of winter can only mean one thing: it's almost tourney time. It's too early for #Bracketology, but I'm just going to share two ideas with you quickly. This is not official gambling advice. Just a thought that I'm sharing. Ready? Here it is: Gonzaga and Virginia are both +800 to win the national championship. Eight. To. One. Stew on that for a minute.
With the conclusion of Kyle Cash's Future Bets of the Day, let's move on to a more pressing matter; namely, the game tonight between the NC State Wolfpack and the Duke Zions. In their last time out, the Wolfpack were able to bounce back from a string of conference losses to take down the Syracuse Orange and get back on track. Meanwhile, our hero Zion was busy orchestrating a frantic 23-point comeback down in Louisville whole simultaneously putting the country on notice: Duke is here, and they ain't going nowhere. Red Sox parade, Patriots parade, possible impending Duke parade. It's good to see these struggling teams win championships, isn't it? Personal feelings aside, the Blue Devils come into the game as 17-point favorites at home with the total set to a solid 159.5 points. Come with me if you want to live.
Torin Dorn That Wall
Kevin Keatts' team has seen better days. It's not that NC State is a bottom-feeder. The aforementioned Dorn is one of the most exciting and skilled upperclassmen in the country, and the Markell Johnson-Braxton Beverly combo works to provide a smart, dependable back-court. But the reason that the Wolfpack are always a dicey ACC foe is that they always have one guy. They always have one who spurned Kentucky or Duke or UNC and just decided to go to the state school. But this team doesn't have a TJ Warren or a Dennis Smith Jr., and they lack the pizazz that they usually have in spades.
Statistically, however, NC State can get the job done. I was impressed at some of the benchmarks they have been able to surpass as a team. Offensively, they've become one of the better teams in the country. They have elite ranks in shooting, scoring, passing and rebounding, and KenPom likes them as the 36th best offense in the country. But I think their balanced attack isn't taken into account enough. Sometimes, having a bunch of guys that all don't suck is extremely dangerous.
And that will be their sole strategy on Saturday night. NC State would need to be allowed to defend with crowbars if they wanted a chance to take out Duke, and I don't see another miracle upset in the Wolfpack's future. But if they can light up Duke's new zone with the long ball and turn this into an NBA-style shootout, the number won't be hard to cover. Not for the fabled Torin Dorn, at least.
Enter The Matrix
I've droned on before about how James Harden's box scores should come with a parental advisory warning, but I really think that the video of Zion jumping 130 feet in the air to block a corner 3-point attempt should be flagged as inappropriate content on YouTube. Zion's purpose for being on this Earth is to unleash a dunk or a block that will legitimately destroy the fragile framework of the social media that we have become addicted to. He's going to topple skyscrapers and cripple the economy. The world will plunge into darkness and despair as he does a 720-dunk in a conference title game. His name alone is the ultimate irony. Zion is supposed to convey images of a paradise beyond this world, but his presence is going to be the inciting incident that finishes us off. Fear Zion. I beg you.
And especially fear Zion if you have to play his team in Cameron Indoor any time soon. Duke's crazy road comeback at Louisville finally showed that they have the gumption to succeed in any arena, and their passion and determination on the defensive end was the most impressive part of their rally. If they can muster even 50% of that grit on Saturday – sayonara, Wolfpack.
If not, Duke has other ways to beat you. Cam Reddish has finally cemented his role as a safety valve shooter and playmaker, and he's had the most dynamic story arc of any of the Blue Devils' freshmen this season. R.J. Barrett is giving us Kobe vibes (both the good and the bad kind), and a Mamba Mentality is necessary when you're trying to cover a huge spread. And finally – no, I'm not going to do it. You already know what Zion is and what he does. We don't need me to pile on the hype train anymore. If you want to bet against him, so be it. It's your funeral.
Best Bet
For a team that plays in one of the elite conferences in college basketball, Duke's cream puff schedule hasn't seemed to have gotten any harder. I suppose a UVA-Louisville two-pack is difficult in theory, and Duke certainly had a scare on Tuesday night. But NC State doesn't have the coaching or player talent that Louisville possessed, and the Cardinals had the benefit of playing in their home arena. Duke has the Cameron Crazies for a reason: they're lunatics. Ultimately, the Wolfpack are just a footnote in the growing legend of Zion Williamson, and I have a hard time believing that Torin Dorn is going to become the equal and opposite antagonist that we need for Duke's prodigy. It's a Saturday night in February, and NC State is a lamb walking into a lion's den. Don't overthink this one.
Final Score Prediction: Duke Blue Devils 91 – NC State Wolfpack 66