NC State Wolfpack vs. Duke Blue Devils Pick 3/2/20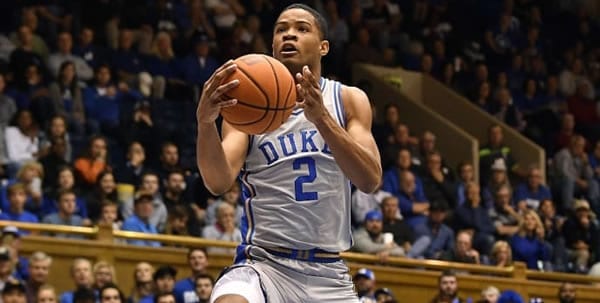 NC State Wolfpack (18-11 SU, 13-16 ATS) vs. Duke Blue Devils (23-6 SU, 14-15 ATS)
When: Monday, March 2, 7 p.m.
Where: Cameron Indoor Stadium, Durham, N.C.
TV: ESPN
Point Spread: NCSU +13/DUKE -13 (Best Basketball Lines - Bet games at -105 instead of -110!)
Total: O/U 151.5
Last Time Out:
NC State beat Pittsburgh 77-73; Duke lost 52-50 to Virginia.
Scouting the Wolfpack:
Well, Kevin Keatts, what do you do now? NC State was in an excellent position to pull itself off the bubble and into the field after spanking Duke in Raleigh, but the Pack has lost two of their past three to fall right back to the bubble. Losing to Florida State at home is fine, but losing to North Carolina anywhere this season is nothing short of a disaster. The Wolfpack doesn't have the schedule to withstand bad losses, as they've gotten very little out of the ACC this year.
What the Wolfpack have gotten out of the ACC was a dominant win over Duke, and they're going to have to come up with something that allows them to get good shots on a regular basis again. In the win in Raleigh, State neutralized Vernon Carey by hitting deep shots when they came available and putting the game in the hands of their guards. Markell Johnson and Devon Daniels went a combined 18-for-34 from the field. That's about what they're going to have to repeat in order to get a result here. That could be problematic, however, as Duke tends to play much better defense at Cameron than it does away from home. Only two teams have exceeded 70 points in Durham this year: Louisville and Stephen F. Austin, both of which managed to knock off the Blue Devils.
Get expert basketball picks free each day!
Scouting the Blue Devils:
Maybe there was no pendulum with the Blue Devils. Perhaps all of Duke's struggles can be explained by the postulate that the Blue Devils simply aren't very good away from Durham. It would certainly explain what's happened in the short term, as Duke has lost three straight road games to State, Wake and Virginia, should have lost a fourth at Carolina and really hasn't looked good against anyone on the road since facing Syracuse — and that was a month ago.
Proving that Mike Krzyzewski does not, in fact, set the schedule, the Blue Devils' last month was brutal, as they faced six road games against just three home games. But now things even out: Duke gets to play its final two games at home before likely spending the next two weeks at the Greensboro Coliseum for the ACC tournament and the first two rounds of the NCAA tournament. Whether that's a good thing is up for debate, as the last time Duke played in Greensboro, the Blue Devils were dismissed by 15th seeded Lehigh, but that's a discussion for another day.
What does need to be discussed is just how dominant Vernon Carey was against State in the first meeting. Carey was the one Duke player who made a real contribution, scoring 27 points in the win and grabbing 12 rebounds. Had he gotten anything resembling help from his teammates, Duke might have stayed in the contest, but Tre Jones was off with his shooting, and the rest of the Blue Devils essentially did nothing on offense. Duke cannot shoot below 40 percent again and hope to pick up a victory.
X-Factor:
The quick turnaround. N.C. State is more susceptible to a Saturday-Monday turn than most teams because the Wolfpack are one of the thinnest teams in the country. In their win over Pittsburgh, every State starter played at least 27 minutes, and three of them sat for six minutes or less. It could have been even worse, but DJ Funderburk fouled out after 29 minutes on the court. Duke used a much deeper rotation at Virginia, with only Tre Jones playing more than 29 minutes in the loss to the Cavaliers. As such, the Blue Devils are much better equipped to handle playing again in 48 hours than the Wolfpack are, and that could be a huge factor in how this game goes.
The key for State will be to avoid getting down early because when tired legs become a factor in the final 10 minutes, the Wolfpack likely won't have enough left to try to overcome a deficit. If State can play with the lead or close to it, it'll have a chance to push through it.
NC State will Cover if:
The Wolfpack can win the rebounding battle again. State isn't going to shoot 61 percent from behind the arc again, but the Wolfpack can battle on the boards and extend their possessions. Critically, they have to keep their possessions from ending in the arms of Vernon Carey. If Carey has another monster day on the boards, this is going to be a long day for State unless the Wolfpack again shoot the lights out.
Duke will Cover if:
The Blue Devils can step up the defense on the arc. Duke showed no interest whatsoever in competing in the first meeting between these teams, and that reflected itself in the Blue Devils' defense. Duke has to get out and defend and at least make State work for its shots. If the Blue Devils give up open looks to the Wolfpack again, this will be another bad loss.
Dan's Pick to Cover the Spread:
I think this Duke team is heading toward a second-round loss in the NCAA tournament, but there will be time to worry about that later. Right now, Duke is still getting to play in Cameron and is likely to come in ticked off, given the beating that the Blue Devils took from the Wolfpack earlier this month. The way that the Wolfpack won that game was with a lot of 3-point shooting, which is far from a sustainable way to win basketball games.
Throw in that the Wolfpack are likely to come in at less than full strength after what they had to go through to beat Pittsburgh, and this seems to be potential for a really ugly outcome. Give me the Blue Devils here to even up the score. Bet this week's college basketball picks FOR FREE by taking advantage of a special "Deposit $300 and get $300 FREE" at one of the web's biggest and best sportsbooks —> MyBookie (Must use this link and enter special promo code PREDICT100). 
STOP LOSING TODAY! START WINNING WITH DOC'S TEAM OF PROFESSIONALS! GET A FREE NO STRINGS ATTACHED $60 FOR THIS WEEKEND'S GAMES!