North Carolina Tar Heels vs. Duke Blue Devils Pick 3/7/20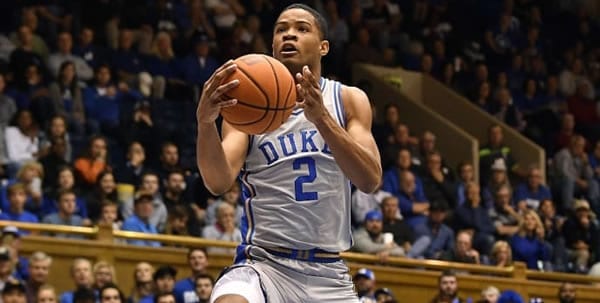 North Carolina Tar Heels (13-17 SU, 13-17 ATS) vs. Duke Blue Devils (24-6 SU, 15-15 ATS)
When: Saturday, March 7, at 6 p.m.
Where: Cameron Indoor Stadium, Durham, N.C.
TV: ESPN
Point Spread: UNC +11.5/DUKE -11.5 (Bovada - 50% Bonus up to $250 FREE! CC's work here!)
Total: O/U 152.5
Last Time Out:
North Carolina beat Wake Forest 93-83; Duke crushed North Carolina State 88-69
Scouting the Tar Heels:
Well, it's not exactly setting the world on fire, but the Heels have won three in a row going into this game, including completing a season sweep of N.C. State and likely costing the Wolfpack an NCAA tournament bid. If you've been paying attention, you know that North Carolina is a little better than its record and is playing pretty decent basketball as of late. The Heels have covered six of nine and just missed on a seventh when they lost by two to Virginia when the line was 1.
One of their seven spread wins was over Duke in a game that really should have gone their way. Carolina led by 13 late, and Duke needed a pair of miracles to steal the win. For this one to go Carolina's way, the Heels will have to get another strong performance out of Garrison Brooks. Brooks has been a top scorer for Carolina during its winning streak, scoring 25 or more points in each of the Heels' past three wins. If he's on target, the Heels should be able to score with Duke throughout the evening.
More Picks: Kansas at Texas Tech Predictions >>>
Scouting the Blue Devils:
Boy, did Duke need that game. The Blue Devils have been struggling badly away from Cameron, but as it usually is, Cameron has been Duke's fortress (unless they're facing Stephen F. Austin). But what really helped Duke against State wasn't so much Cameron as it was Cassius Stanley and their bench. Too many times, Duke has found itself reliant completely on Vernon Carey and Tre Jones, and when one or both struggles, the Blue Devils have become very easy to beat. Stanley scored 18 against the Wolfpack, and the Duke reserves combined to score 38 points to put the game away.
Carey and Jones will be an essential part of the game plan against Carolina, but if Duke can count on other players, it'll make the task much easier. After all, emotions will be running high in Durham because it's the final home game of the season, as well as the first time that several of these Duke players will have played against Carolina in Cameron. That always makes for a stressful atmosphere, and Duke must rise to the challenge.
X-Factor:
The rivalry. The fact that North Carolina is four games under .500 hasn't stopped ESPN from continuing to hype the heck out of the rivalry, even as more meaningful games will be played during the day. The records don't mean that much here because this is still a huge game even if one team has performed poorly, and despite that poor performance all year from Carolina, the Heels are finally rounding into form at the best possible time. This matchup remains capable of producing some huge moments, and that could lead the Heels to keep the game a lot closer than people expect — or it could lead the Blue Devils to blast them out of the building.
North Carolina will Cover if:
The Tar Heels can dominate the interior. North Carolina set itself up to win last time because it did two things well: it won the battle of the boards, and it shot over 50 percent from the floor. Carolina traditionally takes smart shots and dominates on the glass, and with that showing up again, the Heels are going to give themselves a chance to steal a win.
Duke will Cover if:
The Blue Devils can force mistakes from North Carolina. The Heels turned it over 18 times in Chapel Hill, which is usually a fantastic way to lose a basketball game. It took Carolina until overtime to lose because of other things the Heels did well, but Duke can make life tough for the Heels by forcing them into mistakes and neutralizing those other advantages. Rebounds don't mean much if the ball ends up in the other team's hands because of a steal.
Dan's Pick to Cover the Spread:
Duke has done a great job at Cameron this season, but Carolina is playing with nothing to lose here. The Tar Heels don't have a seed to worry about playing for; they're simply playing for pride and the chance to ruin a rival's day and future. There couldn't be any less pressure on the Heels, and they're playing fairly well as of late. By contrast, Duke is showing signs of getting picked off in the second round or Sweet 16. Cameron remains their salve, but Roy Williams is very comfortable coaching at Cameron, and his team shouldn't be intimidated at all. I like Carolina to stay close in a hard-fought loss. Give me the Heels and the points. Where are you betting your March Madness picks? Does your bookie give you -105 odds? If not, you're overpaying! Stop wasting your hard earned money and start betting smarter TODAY at 5Dimes! You'll save TONS! Click here to start enjoying discount odds!