[et_pb_dcsbcm_divi_breadcrumbs_module hide_homebreadcrumb="off" homebreadcrumbtext="Home" separator="sep-raquo" hide_currentbreadcrumb="off" homebreadcrumborientation="left" _builder_version="3.8″ fontsbreadcrumbs_font="Lato||||||||" fontsbreadcrumbs_text_color="#000000″ fontsbreadcrumbs_font_size="15px" fontsbreadcrumbs_line_height="16px" fontsseperator_font="||||||||" fontsbreadcrumblinks_font="||||||||" fontsbreadcrumblinks_text_color="#2567cf" custom_margin="25px|||" custom_margin_phone="30px|||" custom_margin_last_edited="off|desktop" custom_css_main_element="font-family: Helvetica Regular;" disabled="on" global_module="3641″ saved_tabs="all"][/et_pb_dcsbcm_divi_breadcrumbs_module]
Northwestern Wildcats vs. Michigan Wolverines Pick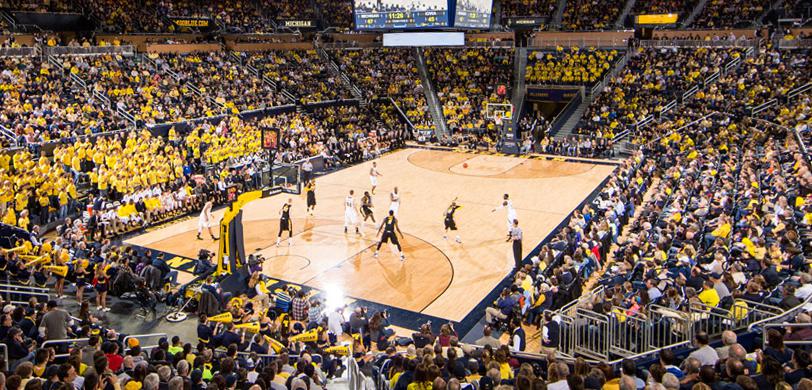 Northwestern Wildcats (10-6 SU, 7-8-1 ATS) vs. Michigan Wolverines (16-0 SU, 8-8 ATS)
When:
Sunday, January 13, 2019 – 7:30 PM ET
Where
: Crisler Center, Ann Arbor, Mich.
TV
: Big Ten Network
By
: Dan Jamison, College Basketball Handicapper, Predictem.com
Point Spread: NW +12/MICH -12 (Bovada Sportsbook)
Total: O/U 126
Last Time Out: Northwestern lost 73-63 to Iowa; Michigan beat Illinois 79-69.
Scouting the Wildcats:
Since nearly toppling Michigan, Northwestern hasn't been the same team it was, and that's not a good thing. Whether it was the schedule getting more difficult or the Wildcats themselves simply hitting a slump, Northwestern has gone just 4-3 since that game and won just two games against power conference foes in that stretch. When the Wildcats have gotten the job done, they've chosen to rely on both their defense and senior forward Vic Law, who has managed double digits in all but one Northwestern game this season. The Wildcats predictably lost that game by 26 to Michigan State, underscoring just how much Law means to them.
Scouting the Wolverines:
Michigan didn't play great against Illinois, but it didn't have to play great in order to get the victory. That was a game where the Wolverines had to do just enough to separate themselves, and they did exactly that to pull out a hard-fought win. As usual, Michigan is at its best when it denies open looks at the basket, mainly in the form of dunks, layups or 3-pointers. The Wolverines want every shot to be a contested look, and they are excellent at forcing their opponents to try to beat a defender rather than getting a clear shot at the hoop.
Eagles vs. New Orleans Saints: Read The Pick For Today's Game!
X-Factor:
The rematch. This is the return game between Northwestern and Michigan, so unlike every opponent Michigan has faced this season, the Wildcats have already gotten a look at the Wolverines' defense and what they do that makes life so frustrating for their opponents. Northwestern nearly had Michigan beaten when the teams met in Evanston, so there's no way that the Wildcats will come in fearing anything. If anything, they're likely to come in confident because they know how close they came to knocking off one of the only two unbeatens in the nation. Michigan has to be ready to play against a confident opponent who knows it well.
Northwestern will Cover if:
The Wildcats can get Law some good looks at the basket. Northwestern might not have the defense Michigan does, but it still has a pretty solid outfit on that side of the ball and can make life uncomfortable for the Wolverines if it has time to set up properly. In order to do that, the Wildcats have to limit transition opportunities for Michigan, and that means getting a big scoring night out of Law. If he plays well, the Wildcats have a chance to steal the game. If he struggles, Northwestern is probably beat during the first half.
Michigan will Cover if:
The Wolverines can wear the Wildcats down. Northwestern is not a deep team in any sense of the idea, relying on four players to play for more than 30 minutes a contest. Michigan, on the other hand, rotates seven players on a regular basis and gets a fair amount of help from off of its bench. While that isn't a strength against most teams, it's enough of a strength against Northwestern to make it a viable strategy and Michigan's best path to victory. Get one or more Wildcats in foul trouble, or exhaust at least one, and the Wolverines will have a much easier time controlling the clock and the game.
Dan's Pick to Cover the Spread:
Michigan is going to lose a game at some point this season. That's something that's not that difficult of a pick, given the quality of the Big Ten and just how hard it is to go undefeated. But could Northwestern be the team that pulls it off?
Honestly, they could, but their best chance to do it has already come and gone. Michigan isn't likely to get picked off in front of its home fans in the Crisler Center, and the fact that the Wolverines are facing an opponent they already had problems beating means that overconfidence isn't going to be an issue in this game. Michigan is going to be ready for Northwestern from the beginning, and that's going to be a serious problem for the Wildcats' chances of pulling an upset.
In second games like these, where the favorite has more talent and is playing at home, what tends to happen is the second game ends up a blowout because the underdog already has the favorite's full attention thanks to nearly winning the first meeting. That's why I'm going to trust Michigan here despite the 12 points I've got to give with the Wolverines. Even though this matchup was nearly decided in Northwestern's favor the first time around, I don't see that happening again. I'm going with Michigan to cover the large margin.
TIRED OF YOUR CREDIT CARD NOT WORKING AT SPORTSBOOKS? IT WILL AT BOVADA + GET A 50% BONUS!